Golden Netanyahu Statue Offers Tel Aviv Unexpected Chance to Topple Israeli Leader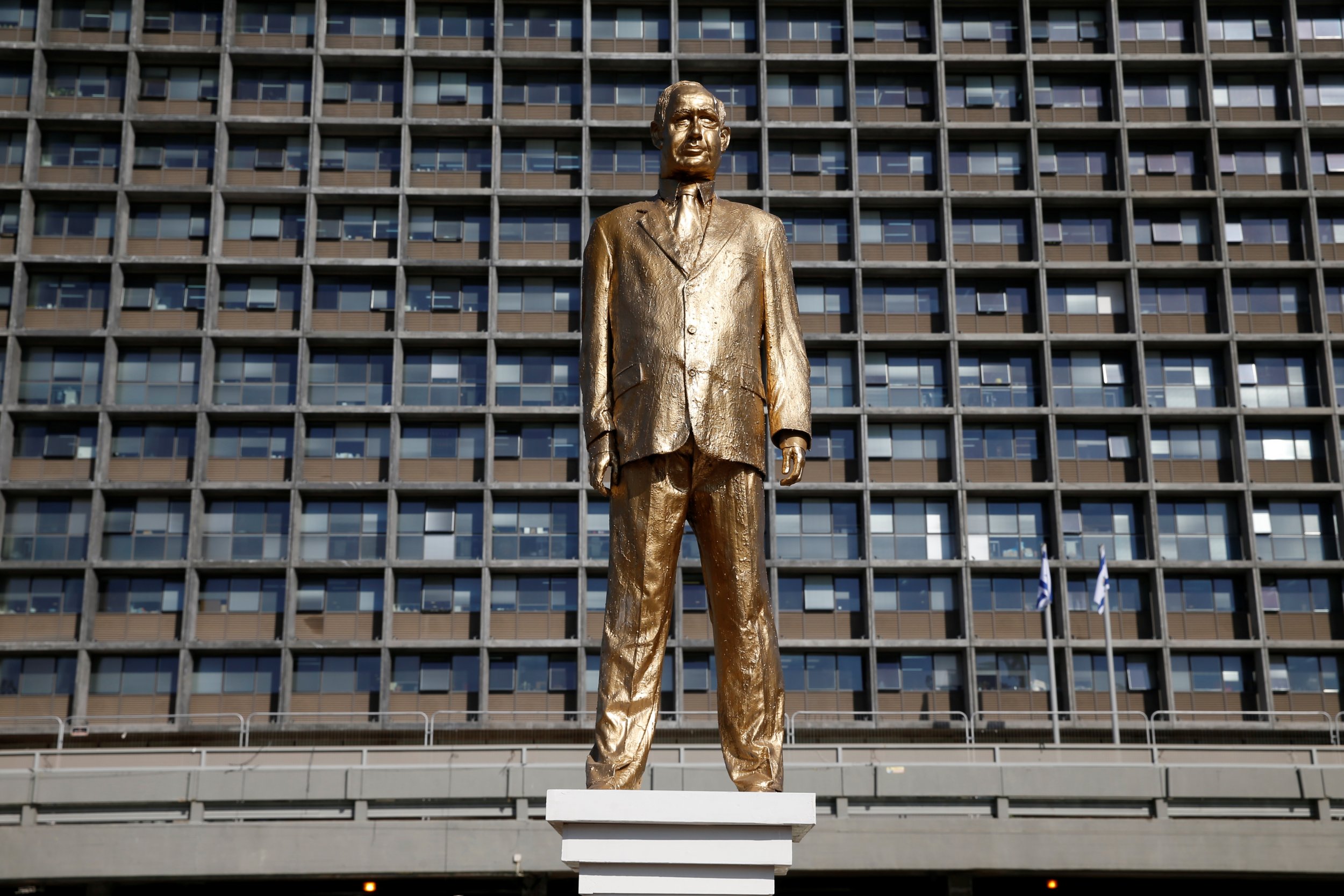 In scenes reminiscent of the toppling of Saddam Hussein's statue in Baghdad, Israelis in liberal Tel Aviv toppled a golden statue of Prime Minister Benjamin Netanyahu—dubbed 'King Bibi'—which had been erected Tuesday to the shock of many in the coastal city's Rabin Square.
The 15-foot statue, placed in front of Tel Aviv's city hall on a white platform, appeared to confuse Israeli commentators as to whether it was a political protest or stunt that praised Netanyahu. But artist and creator of the sculpture, Itay Zalait, put any doubts to rest.
The artist told Israel's Channel 2 that the statue was meant to push the boundaries of freedom of expression in Israel under Netanyahu's rule and poke fun at some Israelis' worship of the country's leader, the Associated Press has reported.
Zalait told the station that "maybe something that starts as a curiosity… or something artistic can become a reality." The artist had contacted numerous Israeli publications before the stunt to inform them that he "will undertake a subversive political act which will garner much media attention."
In his fourth term, Netanyahu is the second longest-serving prime minister in Israel's history, behind the country's founder David Ben-Gurion, and leads one of the most right-wing governments in the country's history.
Eyewitness Eliyahu Kamisher, a journalist for the Jerusalem Post, tweeted that an onlooker had pushed over the golden statue because it was "an insult to Rabin," the former Israeli leader who was assassinated by a far-right extremist Jew in 1995 in a peace rally, motivated by his opposition to Rabin's attempts at peace with the Palestinians. The statue appeared tied up in red ropes.
Kamisher then tweeted: "Feels like Baghdad in Tel Aviv as golden statue of Bibi is torn down."
The statue provoked a mixed reaction from onlookers and members of Netanyahu's government. One onlooker, a former council official, told Israeli newspaper Haaretz that the statue was a "big middle finger in all our faces. Like [Netanyahu] is the king of Amona, he is the king of Tel Aviv. It shows that Tel Aviv too is under Netanyahu's regime."
Related: Netanyahu says government "doing what we want" on settlements
While an onlooker pushed it over, cabinet ministers appeared to want the artwork toppled for different reasons. Culture Minister Miri Regev, writing on her Facebook page, said the sculpture was an "expression of hatred towards Netanyahu." Tel Aviv officials have now ordered the statue removed.
Tel Aviv, a traditionally liberal hub within Israel, has in the past year seen tens of thousands of citizens protest against Netanyahu's policies in the West Bank, right-wing incitement against President Reuven Rivlin and the appointment of far-right Defense Minister Avigdor Lieberman, who lives in a West Bank settlement.