The Arizona transgender community is getting support from a seemingly unlikely source: state Republican legislators.
Although Republicans nationwide have largely supported bills targeting the transgender community, GOP legislators in Arizona helped defeat three such bills last week.
The bills would have blocked transgender and nonbinary people from using public restrooms matching their gender identities, receiving gender-affirming care and having nonbinary markers placed on their state-issued documents.
One of the bills, House Bill 2314, proposed allowing parents to sue schools that let transgender students use toilet or locker room facilities matching their gender identities. If it had become law, trans students would have had to use a single-occupancy room or bathrooms normally reserved for school staff.
The bill stalled in committee after Republican Chairwoman Michelle Udall held the bill without voting against it, the online LGBTQ publication Them reported.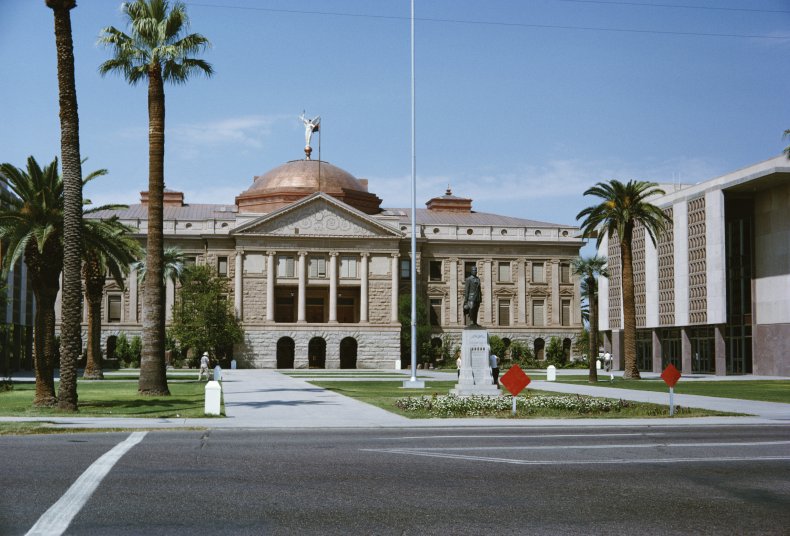 The second bill, HB 2294, would have required documents issued by any state agency, board, commission or department to indicate an individual's sex as either only male or female. At least 23 other states allow nonbinary markers on drivers licenses, birth certificates and other documents.
The bill failed after Republican House Speaker Russell Bowers defied members of his party and voted against it last Thursday, according to Them.
The third bill, Senate Bill 1138, originally sought to ban all gender-affirming care for trans youth, including hormone replacement therapy and "puberty blockers." Both are commonly used to stop the onset of irreversible physical changes in adolescence.
However, Republican State Senator Tyler Pace blocked the bill, narrowing its scope to only forbid "genital reassignment" surgeries for people under the age of 18.
In a hearing of the state Senate's Health and Human Services Committee, Pace said that the testimonies of transgender youth and their families influenced him.
"Many people...are using these avenues of medical treatments to save lives, to improve lives. I don't want to stop those great things that are going on," Pace said.
A 2010 study in the Journal of Child and Adolescent Psychiatric Nursing showed that familial support and gender-affirming health care can reduce suicide attempts in trans youth by 50 percent.
Conservatives have typically supported such legislation, saying that such bills protect young people from possible sexual assault in single-sex spaces and from undergoing "abusive" medical care.
Republicans have introduced similar bills targeting the trans community in 31 states, according to the self-described bipartisan LGBTQ watchdog organization Freedom for All Americans.
But LGBTQ advocates say that bathroom access, health care and nonbinary gender markers can help improve transgender people's health and reduce violence against them.
"It's not surprising to see Arizona Republicans oppose anti-trans legislation," Jeanne Woodbury, the policy and communications director of state LGBTQ organization Equality Arizona, said in a statement to Newsweek.
"This kind of targeted discrimination is popular only among certain interests, who feel that they can find political success by exaggerating differences to exacerbate division, but it is not popular among the majority of Americans of any party," the statement continued. "What we're seeing now from some Republican leaders is an acknowledgment that anti-LGBTQ+ legislation is out of line with principled politics and out of touch with the real needs of Arizona's communities. This is the result of years of good-faith conversation and relationship building."
Despite the defeat of these bills, Arizona legislators are still considering at least one other anti-trans bill which would ban student-athletes from playing on sports teams matching their gender identity.
It's unclear whether the state's Republican Governor Doug Ducey will sign any anti-LGBTQ legislation into law.
In 2021, Ducey vetoed a bill that would have restricted schools from discussing gender identity or gender expression without parental consent. In 2019, he repealed a law blocking public schools from discussing anything that "promoted homosexuality."
Update (3/6/2022, 7:15 p.m.): This article has been updated to include a statement from Equality Arizona.