China Launches a 'Surrogate Drinking' Service so People Can Outsource Their Alcohol Consumption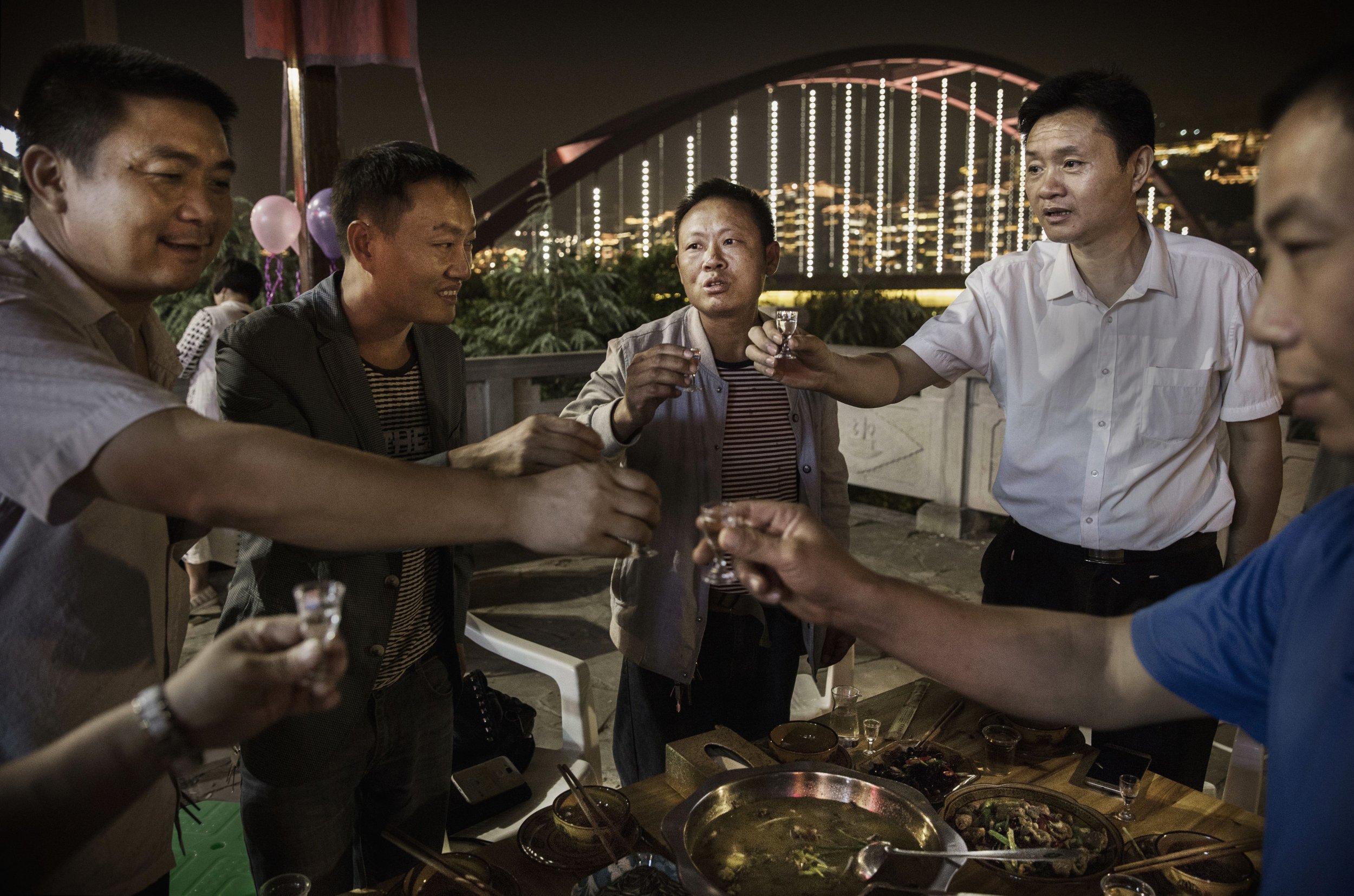 A Beijing tech company has created an app that allows users to pay for "surrogate drinkers," and 100,000 people signed up within 24 hours of its launch.
The service was introduced on Thursday by eDaijia, China's largest mobile-based designated-driving service provider, reported the South China Morning Post (SCMP).
The app, called eDaihe, links "surrogate drinkers" with users looking to hire them. The user pays the drinker to follow them around for an evening, consuming their alcoholic beverages along the way.
Like Uber, eDaihe is location-based, so users can choose their surrogates based on proximity, as well as how much liquor they can drink.
Residents wanting to make money as surrogates can create a profile. It must include their name, gender, location, a photo and how much they can drink, along with a short introduction.
One user's profile introduced him as an "Olympian on the drinking battlefield." The service provider also claimed he could drink nine shots of Chinese baijiu (a Chinese alcoholic beverage), three bottles of beer and a dozen bottles of wine in one sitting, reported SCMP.
"Most people who drink are social animals, so we thought, Why don't we launch a surrogate drinking service to help them make friends," said He Dongpeng, a spokesman for eDaijia, told the SCMP.
The app is now available in Beijing, Shanghai, Guangzhou and 33 other cities in China.
Why does this service exist?
In China, being able to consume large quantities of alcohol is a crucial skill. Whether it's an important business meeting or a social gathering, a guest is expected to drink and eat whatever is given to him or her. Culturally, the quantity of food and alcohol consumed at an event is directly linked to the respect the guest has for his or her host.
A popular survival tip for an outing in China is to take it slow. Chinese dinners and social events tend to resemble a marathon, and during business deals it is often the last one standing who earns the respect of the host.
Over the past few years, China's alcohol industry has pulled in approximately $2.4 billion a year, according to the SCMP. That recent boom, coupled with the rise of the gig economy, has created an industry of sober drivers and surrogate drinkers.
Founded in 2011, eDaijia is famous for creating an app that to links designated drivers with intoxicated car owners.
According to the Beijing company, it recently had more than 200,000 full-time and part time drivers across 331 cities. In 2016, more than 253 million bookings were made for a sober driver, with 97.8 percent due to the owner of the car being too intoxicated to drive.
Research by AliResearch estimated that the mobile internet payment services will create a new labor market of 400 million jobs by 2036, reported the SCMP.
China Launches a 'Surrogate Drinking' Service so People Can Outsource Their Alcohol Consumption | World