Bronx Teen Dragged Out of Store And Fatally Stabbed, Surveillance Footage Shows
A 15-year-old boy died earlier this week after he was dragged out of a Bronx bodega by a group of thugs and repeatedly stabbed and hacked at with a machete.
Surveillance footage of the incident, released by the New York Post on Friday, shows Lesandro Guzman-Feliz being dragged out of a grocery store in Belmont by a group of four men at around 11.40 p.m on Wednesday evening.
Outside, one of the attackers can be seen slashing at Guzman-Feliz with a large blade while another repeatedly stabs him, before the group fled in two cars, leaving the teenager fatally wounded. Guzman-Feliz managed to stand up and can be seen screaming before stumbling across the road. He reportedly ran to the nearby Saint Barnabus Hospital where he later died.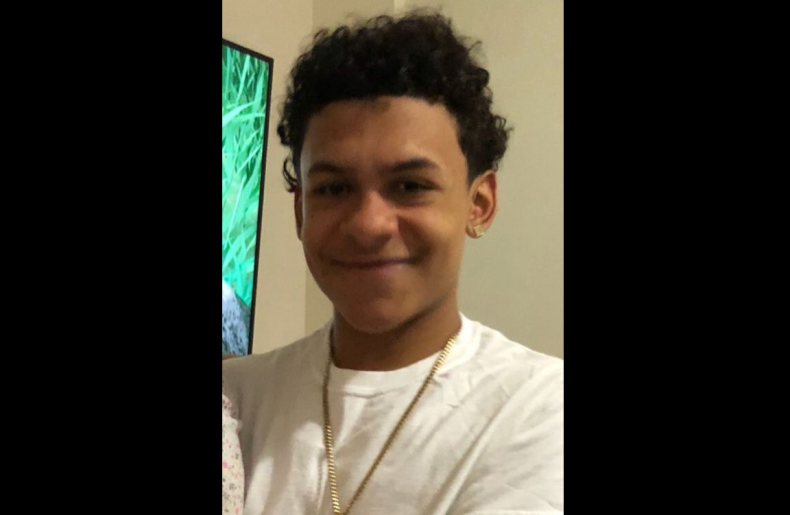 On Friday, authorities released a video of the group of attackers walking in and out of the store. Police say they are still looking for the men in the footage, reported CBS Local.
Another video, which was posted on Facebook, showed Guzman-Feliz sitting outside Saint Barnabus Hospital while people around him attempted to treat his wounds, reported Inquisitr.
Guzman-Feliz's mother said the teenager went to the bodega to lend a friend money, reported News 12 Brooklyn. Authorities are offering a $2,500 reward for any information that leads to the arrest of the attackers in the surveillance footage.
Genesis Collado-Feliz, 17, told the New York Post that Guzman-Feliz was "a good student". "He tried to run into the store because he thought he'd be safe. They dragged him from the store like a dog," she said. "He is not a criminal."
Police have confirmed that Guzman-Feliz did not have any criminal convictions.