Survival of the Fittest: Dems Cut Funding for Frosh, Back Veterans in Tough Races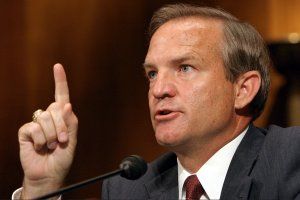 As expected for several weeks, the Democratic Congressional Campaign Committee has begun cutting funding to House candidates who look too far gone for it to save. But even as it seems to concede defeat in some races, the DCCC is mounting new pushes in several others.
With projections suggesting Democrats will lose dozens of seats in midterm elections next month, the DCCC is prioritizing its spending to benefit candidates who look salvageable, The Washington Post's Aaron Blake reports. In plain English, that means some candidates are being cut loose and left to the fates—and their own funding.
So who's getting bad news? The DCCC is pulling all its ad funding for three freshman representatives in key swing states: Suzanne Kosmas of Florida, Pennsylvania's Kathy Dahlkemper, and Steve Driehaus of Ohio. All three were swept into Congress in the 2008 Democratic wave, taking seats that had been held by Republicans for multiple terms. It's a sign of Democrats' having to give up gains that they'd hoped might represent longer-term shifts in the electorate. (In a case of unintended symbolism, a Driehaus loss would actually seem like going back in time: he looks likely to lose to Steve Chabot, a seven-term representative from whom he captured the seat two years ago).
Elsewhere, there's slimming but not reduction. South Dakota's Stephanie Herseth Sandlin, a Blue Dog in a very tight race, will get slightly less cash. Chet Edwards, a Texas rep, will also get fewer DCCC ad buys. That's bad news for Edwards, who's been one of the highest-profile Democrats to run away from the president and Speaker Nancy Pelosi, actively denouncing them in campaign ads. The Democratic leadership has sat on its hands and borne the abuse—saying they didn't care what candidates said as long as they won. Given that they were willing to plug their ears, their yanking of funds shows they're close to giving up hope on Edwards, who's trailing by as much as 20 points in some polls.
It's not all bad news for Democrats. In Louisiana's Second District, Democrats are feeling good enough about state Rep. Cedric Richmond's upsetting Rep. Joseph Cao—the lone Republican to vote for an early version of health-care reform—that they're pulling back there.
That's just as well, because they'll need every dollar they can get in the districts still in play. And in fact, this is also the DCCC's biggest spending week of the cycle: it's spending more money in more districts than it has yet. While some freshmen are left on the sacrificial altar, incumbents in tough races—like North Dakota's Earl Pomeroy and Pennsylvania's Frank Kratovil—are getting some backup.