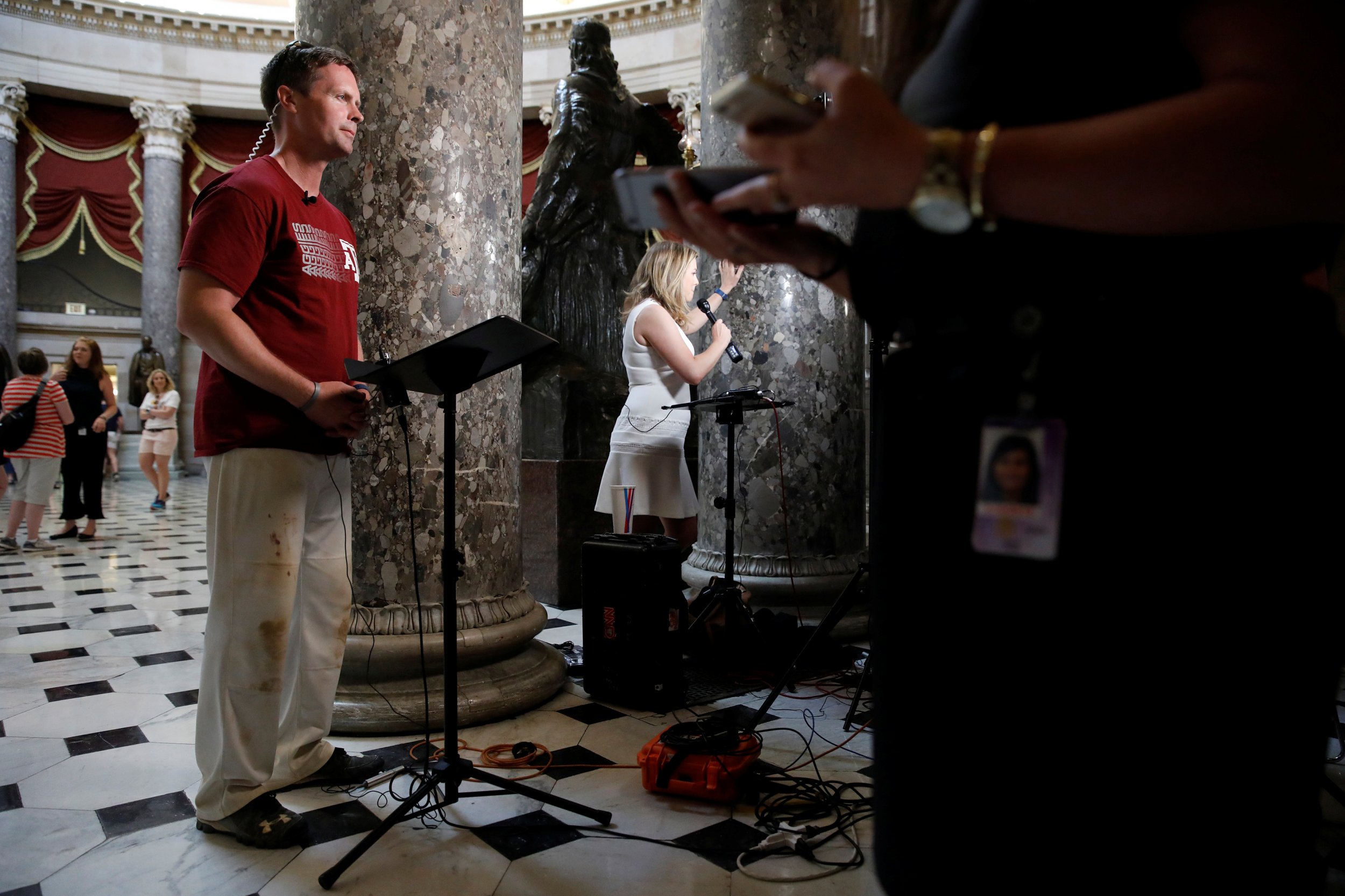 A Republican representative who survived Wednesday's shooting at a GOP Congressional baseball practice said he is enjoying the best Father's Day of his life.
Rep. Rodney Davis was among those at the baseball practice in Alexandria, Virginia on June 14 ahead of a charity game when a shooter opened fire, injuring four people including House Majority Whip Steve Scalise.
Following the shooting, Davis said in an interview with Fox News Sunday that he had appreciated being with his family more than ever before.
"I can tell you this is the best Father's Day I've ever had, to be able to come back home and see the outpouring of care and support from the people that know me best, including my family," he said in the interview.
"It's been a really humbling event and very memorable for me and my family," he added.
Security questions were raised after the attack, which left Scalise in a critical condition, updated to 'serious' on Saturday, with bipartisan politicians calling for heightened protection in the wake of last week's incident.
A number of lawmakers spoke about threats they had received as they left a law enforcement briefing with officials in Washington, D.C., on Thursday.
"Everyone's getting a bunch of death threats right now," Democrat Representative Ruben Gallego told The Los Angeles Times. "A lot of members were asking for changes."
The gunman, who was identified by law enforcement officials as James Hodgkinson, 66, of Belleville, Illinois, was fatally shot by police following the incident.
Meanwhile the victims of the shooting, who included congressional aide Zach Barth, police officer Crystal Griner and Tyson Foods lobbyist Matt Mika, along with two others who were injured during the incident, are expected to make a full recovery.
And despite finding a new lease of life, Davis said he had been shaken up by the attack, which saw lawmakers running for cover as the gunman carried out his attack.
"There are times when I'm probably a little more agitated," Davis told Fox News Sunday, adding: "There are things I will do differently in my life and in my workplace to ensure that we probably put security more as a priority than we have in the past."