Heather Heyer's Mom Files $12 Million Lawsuit to Ensure James Fields Doesn't "Profit" From Daughter's Killing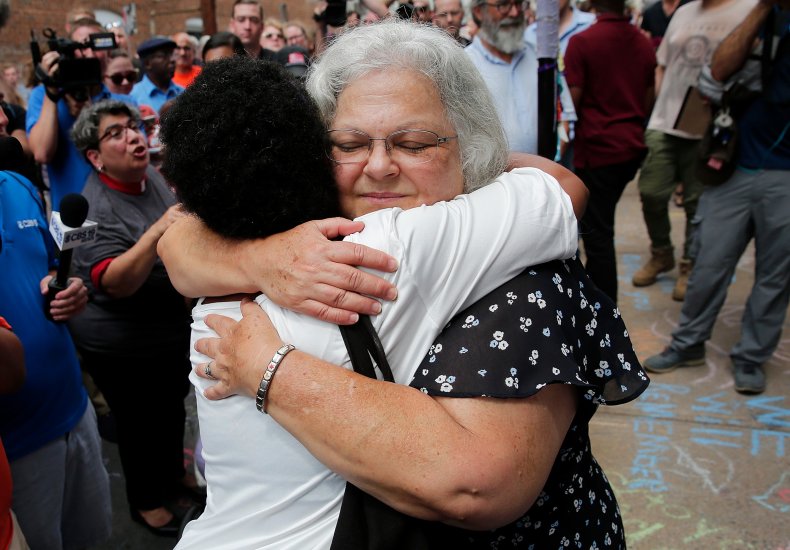 The mother of Heather Heyer, a peace advocate who was killed in 2017 by a white supremacist at a right-wing rally in Charlottesville, Virginia, filed a wrongful death lawsuit against her daughter's killer in Virginia state court last week.
Susan Bro — Heyer's mother who has taken up the mantle of her anti-racism work in the wake of the incident — is suing James Alex Fields, Jr. (who was punished in both state and federal court for the killing) for $10 million in compensatory damages and an additional $2 million in punitive damages.
Earlier this year, Fields pleaded guilty to federal hate crimes charges and in June was sentenced to life imprisonment. He was previously convicted in state court of murdering Heyer, and received an additional life sentence in July from a Charlottesville Circuit Court judge.
"A racially and ethnically diverse crowd of individuals had gathered two blocks away [from Fields]," the lawsuit recounts about the lead-in to Heyer's murder. "Many of the individuals in the crowd were chanting and carrying signs promoting equality and protesting against discrimination."
Fields marched with the neo-Nazi group Vanguard America at the rally and was filmed mouthing words alongside Vanguard members, who were audibly chanting "Jews will not replace us."
A cellphone video capturing the murder shows Fields plowing his car into counter-protesters, flinging several people into the air and providing Heyer with the injuries that would ultimately take her life.
Five other people have been sentenced in state court for violent crimes connected to the August 2017 "Unite the Right" rally, a planned demonstration attended by a loose coalition of white nationalists, alt-right supporters, neo-Nazis and other hate groups. Counter-protesters had organized a response to drown out messages of hate and white supremacy that were anticipated to be on display.
In response to a request for comment about her lawsuit, Bro told Newsweek that, with this legal action, she hopes "to send a strong message to others who would use murder as a hate crime, that there are ongoing financial consequences on top of criminal consequences."
"We want to ensure [James Fields] does not profit from his crimes," she said. "This is done in light of the examples of James Hinkley and Charles Manson."
After Charlottesville, Bro created a charitable foundation, named for her daughter, to honor her work in social justice. The Heather Heyer Foundation awards scholarships to individuals who pursue social equity through outlets such as legal studies, social work and education.
Heyer herself was a paralegal at a Virginia law firm who worked on behalf of the poor in the Charlottesville community.
One of Fields' prior defense attorneys did not respond to an inquiry seeking comment.