Susan Collins Almost Tied With Democratic Challenger After SCOTUS 'No' Vote: Poll
Senator Susan Collins is almost neck-and-neck with Democratic challenger Sara Gideon after standing firm on her decision to vote against the confirmation of Supreme Court Justice Amy Coney Barrett earlier this week, a new poll has found.
The latest survey conducted by SurveyUSA and shared with Bangor Daily News found Gideon held a slim 1-point lead over Collins with only a few days left until election day—a stark contrast with poll data from September.
SurveyUSA pollsters revealed that 46 percent of likely voters in Maine intended to back Gideon's bid for a Senate seat, while 45 percent said they would vote for Collins to have another term in the upper chamber.
A further 5 percent of voters said they would back third-party candidates Lisa Savage and Max Linn. When those options were taken off the table, Gideon was backed by 51 percent of voters, putting her just 2 points ahead of Collins.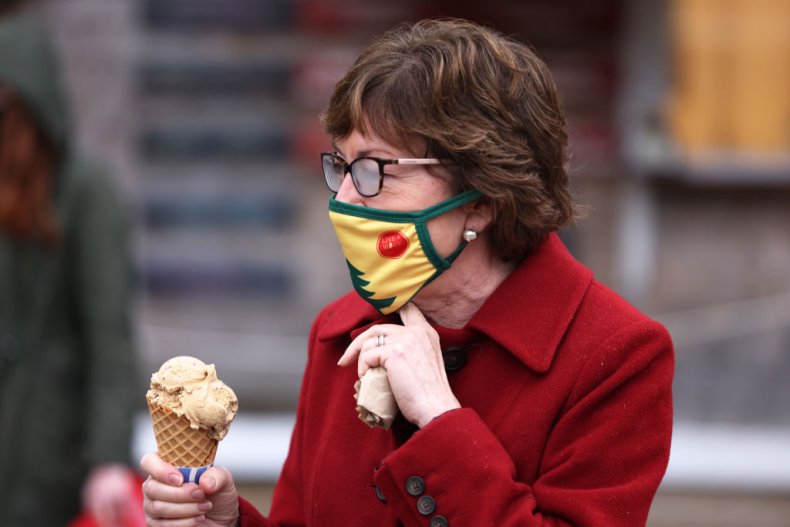 Several polls conducted in September showed the Democratic challenger with much wider leads over the incumbent. One survey released by Quinnipiac University on September 15 found Gideon 12 points ahead of Collins.
Another poll from Siena College and The New York Times gave the Democrat a 5-point lead, and a third survey from Suffolk University put the same distance between the two candidates.
The latest SurveyUSA poll was based on interviews with 1,007 likely voters in Maine between October 23 and October 27. Gideon's lead is within the survey's 3.7 percentage point margin of error.
Maine's Senate race has tightened after Sen. Collins became the lone Republican to vote against Justice Barrett's SCOTUS nomination earlier this week, having spent the previous month signaling that she would not back President Donald Trump's latest appointment to the top court.
"To be clear, my vote does not reflect any conclusion that I have reached about Judge Barrett's qualifications to serve on the Supreme Court," Collins said in a statement earlier this month. "What I have concentrated on is being fair and consistent, and I do not think it is fair nor consistent to have a Senate confirmation vote prior to the election."
Her snub of the president's nominee did not win her plaudits in the administration. Trump said she was "not worth the work" as he complained about a "nasty rumor" that she would not vote to back Barrett ahead of election day.
"There is a nasty rumor out there that Senator Collins of Maine will not be supporting our great United States Supreme Court Nominee," he tweeted at the time. "Well, she didn't support Healthcare or my opening up 5000 square miles of Ocean to Maine, so why should this be any different. Not worth the work!"
According to Cook Political Report analysts, the race for Collin's seat is a "toss-up" contest that plausibly could still go either way.