Susan Collins in Danger of Losing Her Senate Seat to a Democrat, Polls Show
Senator Susan Collins, a Republican from Maine, appears to be behind her Democratic challenger Sara Gideon, according to multiple recent polls.
Collins trailed Gideon by 4 points in the latest polling conducted by Public Policy Polling (PPP) from July 2 to 3. The GOP incumbent was backed by 42 percent of respondents. Her Democratic rival was supported by 46 percent and 11 percent of voters said they were still unsure who to support. Gideon currently serves as the speaker of Maine's House of Representatives.
A spokesperson for Collins' re-election campaign dismissed the results as coming from a "Democratic polling firm."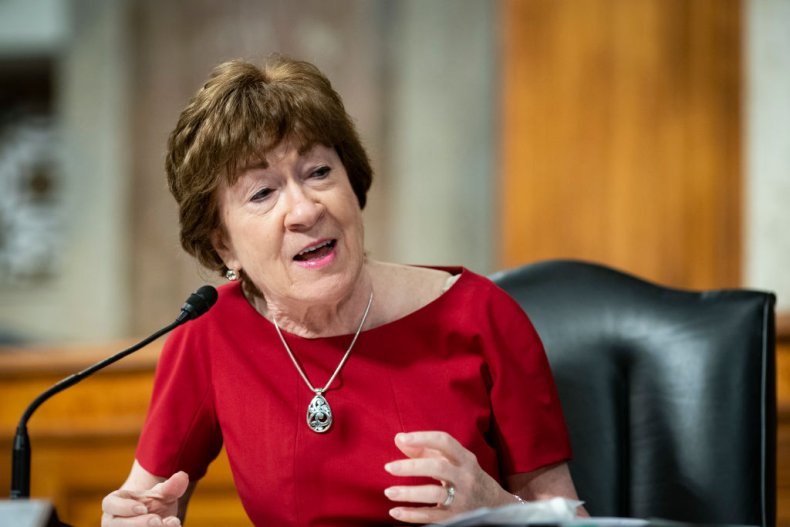 "I would say that PPP is a Democratic polling firm, and Republicans typically perform poorly in their polls, so this comes as no surprise," the spokesperson told Newsweek in an email. Gideon's campaign did not respond to Newsweek's request for comment by the time of publication. Collins' spokesperson also pointed Newsweek to another recent poll showing Collins in the lead.
That polling from Moore Information, a firm that has worked primarily with Republicans, showed Collins ahead by 8 points. Gideon was backed by just 37 percent of respondents while the Republican senator was supported by 45 percent. That polling was carried out from June 20 to 24.
But May polling by Victory Geek showed Collins trailing Gideon as well. The Democrat was backed by 51 percent of respondents while Collins was supported by just 42 percent, a difference of 9 points. The current Real Clear Politics average of Maine polls shows Gideon ahead by an average of 2.5 points.
At the end of 2019, Collins had the highest level of disapproval of any senator, according to Morning Consult's polling. Over half (52 percent) of respondents said they disapproved of the job the GOP senator was doing, while just 42 percent approved. Senate Majority Leader Mitch McConnell, a Republican from Kentucky, was the second most unpopular, with 50 percent of respondents saying they disapprove of his leadership.
While Democrats are focused on electing their presidential nominee Joe Biden, who served as President Barack Obama's vice president, they are also aiming to win back control of the Senate. Collins long had been viewed as a more moderate member of the upper chamber of Congress, and she has shown a willingness to publicly criticize President Donald Trump. But Democrats see her seat as particularly vulnerable, as she has frustrated Republican supporters of the president in Maine while also angering Democratic voters who see her as overly supportive of Trump.
The PPP results showed that the majority (51 percent) of voters in Maine believe Trump should have been impeached and removed from office. Collins, although she criticized the president's actions, voted to acquit Trump during his Senate trial. The polling showed that Biden has a significant lead over Trump in Maine as well, with 53 percent of voters backing the Democratic candidate compared with 42 percent who support the president.