Susan Collins Markets Herself as 'Pro-Choice,' Her Record Says Different
Senator Susan Collins' "pro-choice" image has come under scrutiny following a report that the Supreme Court plans to overturn Roe v. Wade.
Collins, a centrist Maine Republican, has long marketed herself as for abortion rights to her constituents. But her record on abortion rights is more complicated since she has voted in support of dozens of anti-abortion judges throughout her tenure.
Many abortion rights advocates are renewing a focus on her record after a leaked document appeared to show the Supreme Court preparing to overturn the federal case that ensures abortion rights across the United States. Justice Brett Kavanaugh, who Collins voted in favor of, reportedly signed onto the decision.
She has long faced criticism for her support of Kavanaugh, who went through a contentious confirmation hearing. Abortion rights supporters pointed to her vote for him as key to efforts to overturn the decision.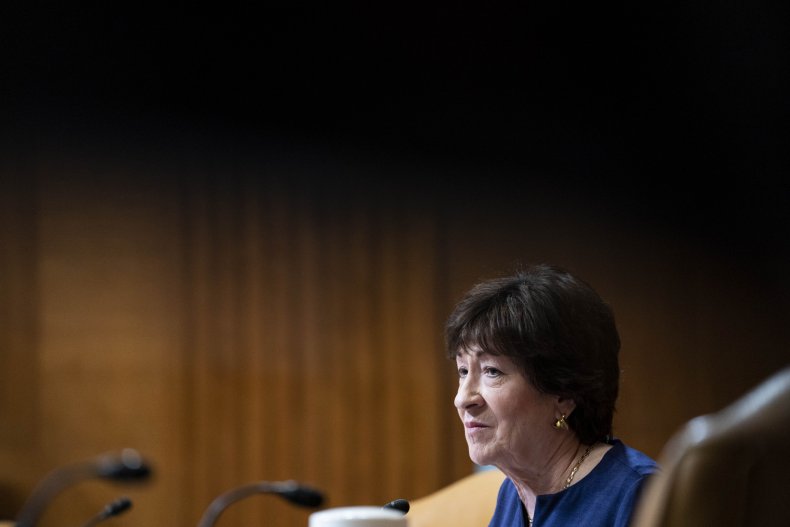 Collins told CNN in 2018 she would not vote in favor of a nominee who had "demonstrated hostility" toward Roe v. Wade, while abortion rights advocates warned that Kavanaugh could vote to overturn the decision.
But Collins ultimately voted in his favor, arguing that she believed he agreed the case is established law.
He is not the only anti-abortion judge Collins has voted to support.
Collins has a long record of voting in favor of judges regardless of the party of the president who appointed them. Rather than ideology, Collins said she uses qualifications, experience, and respect for precedent when considering judicial nominees.
Still, she has voted for judicial nominees who have opposed Roe v. Wade.
NAARL Pro-Choice America, an abortion-rights advocacy group, called out Collins for voting in favor of two of former President Donald Trump's nominees for the Southern District of Illinois, Judges Stephen McGlynn and David Dugan.
Both nominees had previously expressed anti-abortion views before their nomination, with Dugan saying he had "been deeply involved in various organizations as a pro-life advocate."
Collins has also voted in favor of judges including Stephen Clark and Andrew Oldham, who have opposed abortion rights. Clark served as director of the advocacy group Lawyers for Life.
Collins also declined to support the Women's Health Protection Act in 2021, angering many abortion-rights advocates. The bill, passed by Democrats in the House of Representatives, was meant to codify abortion access into the law, which Collins said she supports and later introduced another bill to do so.
She told the Los Angeles Times she would not support the bill because it would weaken the Religious Freedom Restoration Act and that she found some of its language "extreme."
"I support codifying Roe. Unfortunately the bill ... goes way beyond that. It would severely weaken the conscious exceptions that are in the current law," she said.
In February, Collins and Senator Lisa Murkowski, an Alaska Republican, introduced their bill to codify abortion rights into law "without undercutting statutes that have been in place for decades and provide basic conscience protections that are relied upon by health care providers who have religious objections to performing abortions."
Newsweek reached out to Senator Collins' office for comment.