Susan Collins Says CBP 'Discouraged' By Biden Policies As President Wants More Time to Address Surge
Senator Susan Collins says U.S. Customs and Border Patrol (CBP) officers are "discouraged" by President Joe Biden's immigration policies as Biden asks for more time to address the migrant surge at the southern border.
"Border Patrol is overwhelmed, overworked, & discouraged by new policies," Collins tweeted on Friday. "Agents took us through a dangerous path to the Rio Grande where we could hear the Cartel members taunting us across the river. Human trafficking, child abuse, & drug smuggling are rampant. This is a crisis."
The Maine senator joined 17 of her fellow Senate Republicans on a trip to the border, led by Texas Senators Ted Cruz and John Cornyn, in the early hours of Friday morning.
Collins tweeted that, during the trip, she and the other senators spent three hours on a night shift with Border Patrol in McAllen, Texas, to learn "about the huge influx, 3,000 people per day, including unaccompanied children, illegally entering." She also tweeted, "Mexican cartels control who crosses the border. A young mother from Guatemala, sitting on an aluminum blanket with her 1-year-old, told me she paid smugglers $6,000."
Her remarks comes as Biden faces mounting pressure over the situation at the border—an issue he has asked for more time to address.
On Thursday, in his first news conference, the president said he would allow journalists into the CBP facilities "very shortly," but added that he was not sure how soon that would be.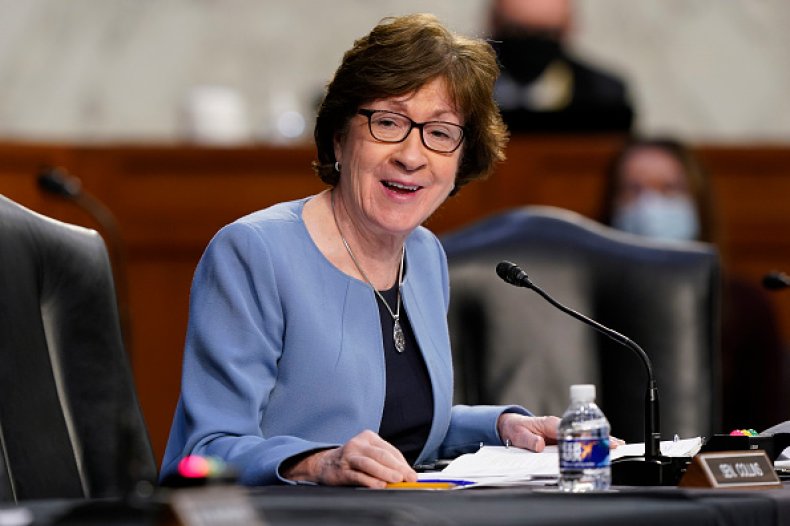 "I will commit when my plan, very shortly, is underway to let you have access to not just them, but other facilities as well," he told reporters at the White House on Thursday.
"I will commit to transparency, and as soon as I'm in a position to be able to implement what we're doing right now," Biden added.
The Biden administration has been criticized for not granting press access to the migrant shelters, which have reportedly become crowded with unaccompanied minors who have flooded the border.
On Thursday, 21 House Republicans wrote a letter to Biden calling on him to stop blocking media access as soon as possible.
"This crisis is out of control," the letter reads. "Indeed, it is far worse than most realize, largely because your Administration is not only mischaracterizing the crisis but also prohibiting journalists from witnessing and documenting the crisis up close."
The Biden administration has urged migrants to refrain from coming to the border as the federal government works to reverse Trump-era policies and implement more "humane" measures, but that message has largely been dismissed by the influx of people crossing the border in recent weeks.
Newsweek reached out to the White House for comment, but did not hear back before publication.