Susan Collins Says She Won't 'Back Down' After Lincoln Project Spends $1 Million on Attack Ads
Republican Senator Susan Collins of Maine, on Wednesday, released a new campaign video, saying she won't "back down" after the Lincoln Project spends $1 million on ads attacking her.
"My opponents say I've changed. I haven't, but politics sure has," Collins said in her video posted to Twitter. "The nonstop false attacks against me began more than a year ago. Especially offensive are the outrageous attacks on my integrity."
Collins continues in the video saying, "Mainers have entrusted me with their vote in the Senate."
"I will not back down from doing what I believe is right for Maine," Collins adds as the video ends.
Collins' comments during her video come shortly after the Lincoln Project, a national political action committee formed by Republicans, released a video criticizing her relationship with President Donald Trump. According to the Portland Press Herald in Maine, the most recent video released by the Lincoln Project is part of a $1 million advertising campaign attacking the senator.
The Lincoln Project video begins by saying, "Great independent leaders rise from Maine's hard soil. Always have and always will." The video then goes on to show former U.S. representative and senator from Maine, Margaret Chase Smith, who "called out" former Wisconsin Senator Joseph McCarthy, who is known for his anti-Communist activities and questionable tactics, i.e., "McCarthyism."
"Just like Susan Collins stands up to Donald Trump," the narrator of the video says, just before the screen cuts and a record scratch can be heard.
"Oh wait, Susan Collins never stands up to Donald Trump. That's why Maine is done with her weakness and excuses. Collins isn't an independent. She's a fraud," the video continues. "Mitch McConnell and Donald Trump control her voice. She makes excuses for corruption, for criminality, for cruelty, all while pretending she's worried, concerned."
As the video continues, so does criticism for Collins, saying that she never does what a Maine leader should do.
"Susan Collins doesn't work for Maine, she works for them," the narrator says, while showing a picture of Trump, Senate Majority Leader McConnell, Vice President Mike Pence and U.S. Secretary of Treasury Steven Mnuchin. "And Maine deserves a leader, not a Trump stooge. It's time for Susan Collins to go."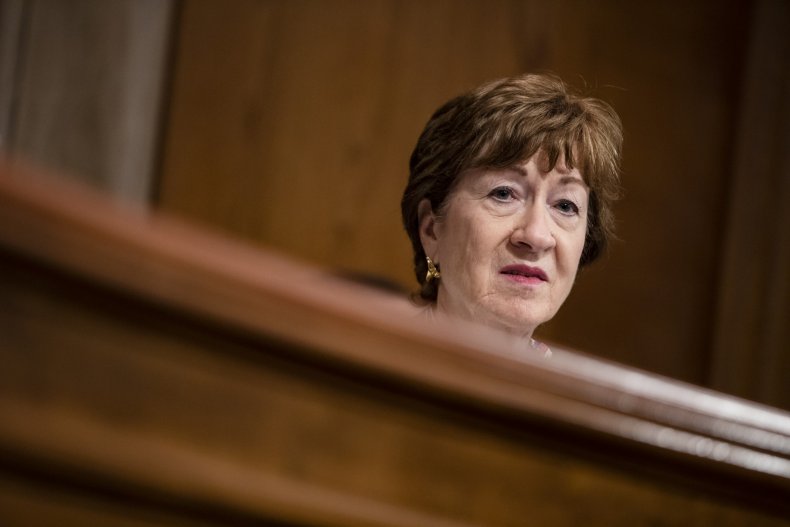 Collins is running against Democratic challenger Sara Gideon, in the Maine Senate race on November 3. According to a recent poll conducted by Colby College, Collins trails Gideon by 5 points, as she received 39 percent of votes, compared with Gideon's 44 percent. This poll surveyed 888 likely voters was conducted between July 15 and July 20 and has a margin of error of plus or minus 3.9 percentage points.
In an email sent to Newsweek, Riley Ploch, a spokesperson for Collins' campaign, said that the Lincoln Project video was an example of "false advertising."
"Mainers know Senator Collins, and they've shown over and over again that this type of venomous, DC-style scorched earth politics doesn't work in our state," Ploch wrote in the email.
Newsweek reached out to the Lincoln Project for comment but did not hear back in time for publication.