Susan Collins Trails Challenger in Race That Could Give Dems the Senate
Republican Maine Senator Susan Collins is tracking behind Maine's Speaker of the House Sara Gideon by 5 percentage points, according to polling data released Tuesday by Colby College.
Democrats are keeping close tabs on the Maine senate race. If Gideon defeats Collins, then Gideon's victory could help the Democrats gain a majority in the Senate. Democrats need to win a maximum of four seats to take control of the Senate away from the Republican party.
According to the poll, Gideon had 44 percent of voter support while Collins garnered 39 percent of Maine voter backing. While 36 percent of those surveyed had an unfavorable opinion of Gideon, 51 percent felt the same way about Collins.
Newsweek reached out to the Gideon campaign for comment.
"We need new leadership," Gideon said after winning the state primary election in July, "because after 24 years in Washington, Senator Collins has become a part of that broken system, putting special interests and her political party first. And Mainers know it and feel it."
Collins received criticism from women's groups after she voted in 2018 to approve pro-life advocate Brett Kavanaugh as a U.S. Supreme Court Justice. In response, the Be a Hero Fund was created. Crowdsourced from Maine residents and others across the U.S., the money from the fund was earmarked to be given to Collins' opponent if she voted to confirm Kavanaugh's appointment to the U.S. Supreme Court. Gideon's campaign received $3.7 million from the fund in July.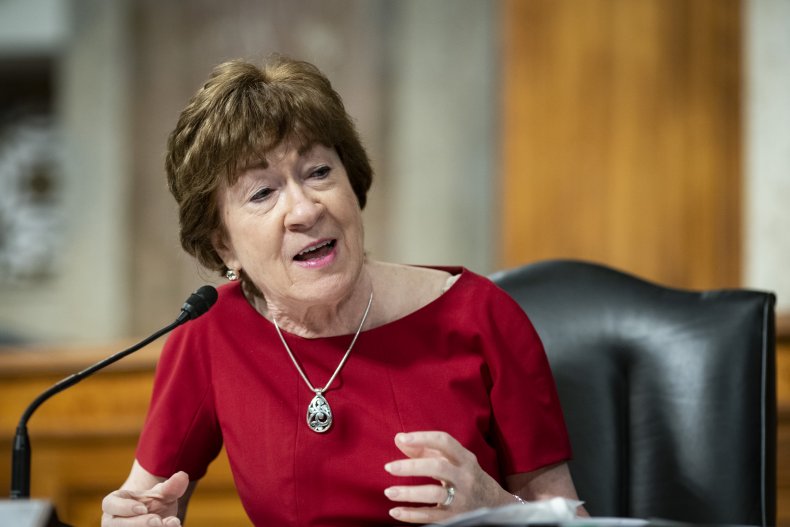 In July, Collins' campaign released an advertisement calling the donation to Gideon "bribe money." According to the campaign, the Be a Hero Fund was designed to influence Collins' 2018 vote. Since she did not vote the way some organizations wished her to, the campaign alleged, then Gideon became the recipient of the money.
"We do intend on accepting these funds," Gideon said in July. "The people here had the choice to express their opinion about that."
Some observers perceive Collins as a centrist who has not always agreed with the views of President Donald Trump. When Trump visited a Maine pharmaceutical products manufacturer in June, Collins remained in Washington, D.C. to fulfill prior engagements.
Senator Collins also told CNN in July that she would not endorse Trump's reelection campaign.
"I have a difficult race," Collins said. "And I am concentrating on that race."
Gideon initially called for five debates against Collins, but Collins said in a July statement that would not be enough.
"I believe five debates is far too limited a schedule for such an important race," Collins wrote in July. "To that end, I propose that we have 16 live, televised, in-person debates, one in each of Maine's counties."
Gideon said she was "looking forward" to debating Collins. "We have heard over and over again from people that they have not seen Senator Collins in a forum where they are able to ask her questions," Gideon said in July.