Susan Collins Will Vote Against Trump's SC Nominee Before Election, Says GOP Needs to 'Play by Same Rules' As Garland
Republican Senator Susan Collins on Tuesday said she will vote against President Donald Trump's Supreme Court nominee before Election Day and urged her party to follow the same procedure set by Merrick Garland's nomination in 2016.
"I made it very clear, yes, that I did not think there should be a vote prior to the election. And if there is one, I would oppose the nominee," Collins told reporters, "not because I might not support that nominee under normal circumstances, but we're simply too close to the election."
The GOP lawmaker noted that Republicans should act consistently with the decision in 2016 to block Garland, former President Barack Obama's nominee. During that time, the GOP-led Senate refused to hold a vote or hearing as they believed it was too close to the election.
"We're simply too close to the election, and in the interest of being fair to the American people—and consistent, since it was with the Garland nomination," Collins said. "The decision was made not to proceed, a decision that I disagreed with, but my position did not prevail. I now think we need to play by the same set of rules."
Newsweek reached out to Senate Majority Leader Mitch McConnell for comment.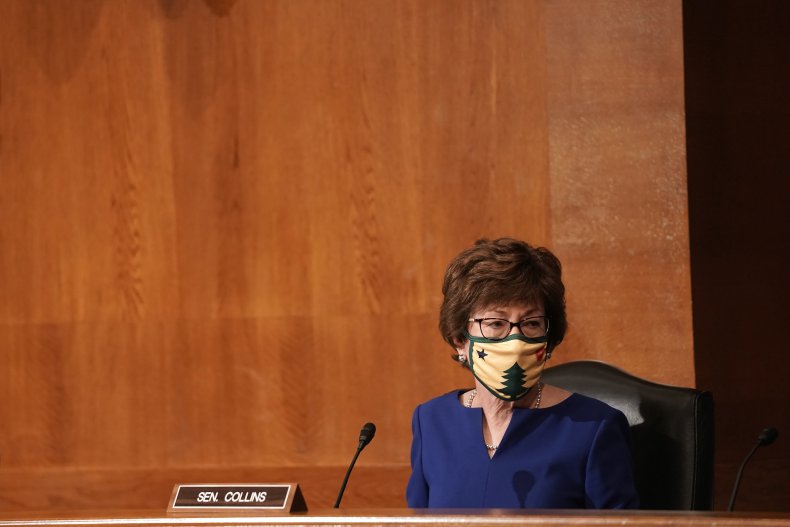 Trump is expected to announce his pick to replace the late Justice Ruth Bader Ginsburg on Saturday. Senate Majority Leader Mitch McConnell has said he will bring that pick before the Senate floor in 2020. However, he has declined to confirm whether a vote could take place before the presidential election on November 3.
While Collins has broken with the party, swing vote senators Mitt Romney of Utah and Cory Gardner of Colorado have indicated that they could support a vote on Trump's nominee before Election Day. Republican Lisa Murkowski of Alaska has sided with Collins in her belief that the Senate shouldn't vote before Americans vote.
"Given the proximity of the presidential election, however, I do not believe that the Senate should vote on the nominee prior to the election," Collins said on Saturday. "In fairness to the American people, who will either be re-electing the President or selecting a new one, the decision on a lifetime appointment to the Supreme Court should be made by the President who is elected on November 3rd."
The Supreme Court vacancy has further heightened tensions in Washington D.C. in a fraught election cycle. Democrats have condemned Republicans for pushing to fill the lifetime seat before the end of Trump's first term as they attempt to gain control of the Senate.