Susan Feroz: Afghanistan's First Female Rapper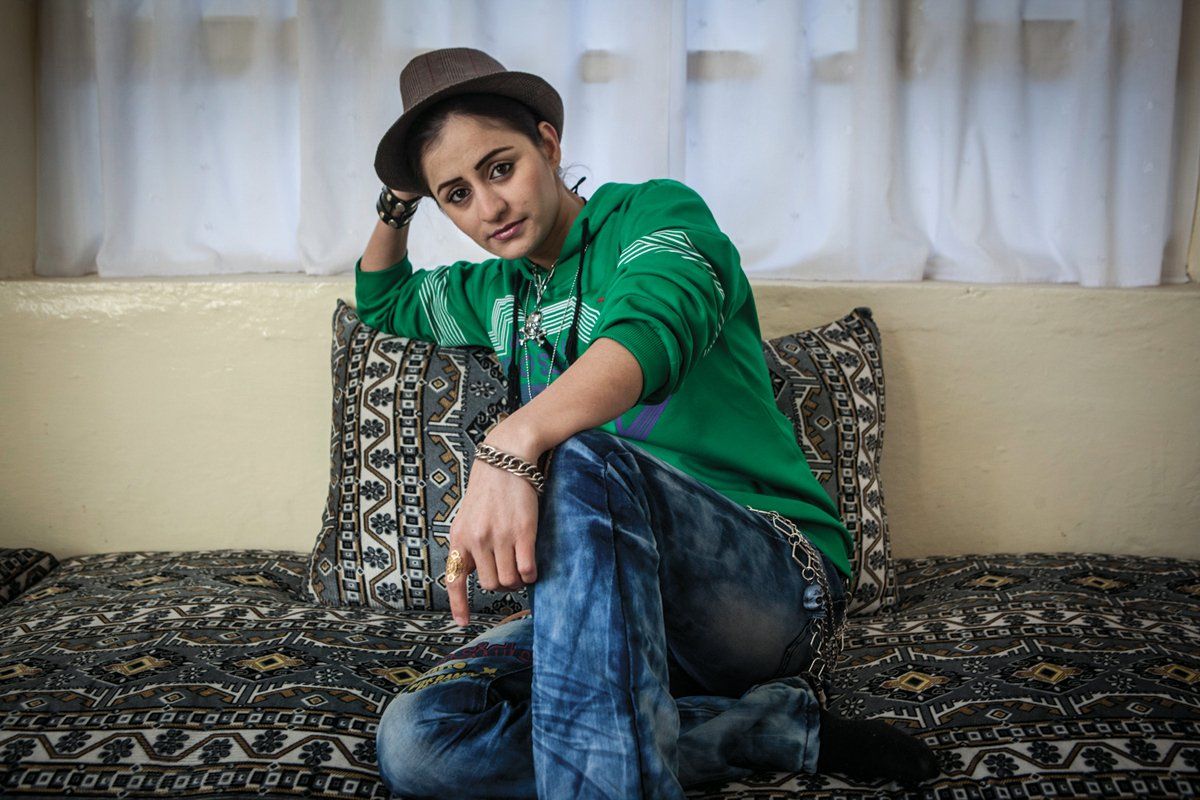 "Listen to my voice/It's not just your choice," raps Susan Feroz on her new track "Naqisul Aqal," an Islamic term that means "mentally disturbed" and is frequently used to insult women. "I am not just a woman/I am also human."
It's a simple message, but as Afghanistan's first female rapper, Feroz is hoping it will make a difference in her tradition-bound homeland. "Men should have this feeling that women are half of our society. Right now, men see woman as having little or no value," she says. "I want to encourage women, and to make men understand we can do the same things that they do."
Born in Afghanistan and raised in neighboring Iran, Feroz—who speaks Farsi—began rapping a year ago to 
express the suffering that her family and fellow Afghan refugees experienced during their exile in Iran and Pakistan. Her first recording, "Our Neighbors," details the difficulties of immigrant life. The song quickly became popular, as well as controversial—conservative Afghans were opposed to the idea of a girl rapping, while others protested against her comments on Iran. "I'm surprised how famous I became with one song," she says.
In "Our Neighbors," Feroz recalls the insults and humiliation she endured abroad. In Iran, where she lived with her family for seven years, she was rarely allowed to go to school. Some bureaucratic excuse always surfaced to prevent her and other refugees from registering, she says. The daily trip to the bakery to buy bread was often a harrowing ordeal. More than once, men would take her by the ear and pull her to the back of the queue, telling her, "The place for you dirty Afghans is at the end of the line." She says she always shot back at them: "We are working in your country and not begging."
"If you looked a man in the eyes, he would call you all kinds of names," she says. "As a result of these insults, I think half of us became terrorists and the other half, drug addicts." The three years she spent in Pakistan were hardly better. "The Pakistani police were always bothering us," she says.
She returned to Afghanistan in 2003, when her father landed a job in the southern city of Kandahar. Happy to be home again, she wanted to study to be a doctor or an engineer—but as a Farsi speaker, she was unable to attend the Pashto-language schools there. With her education on hold, she pursued her love of singing and acting. Her breakthrough came 18 months ago, when the family moved to Kabul and she began to rap to express her frustrations. With most popular Afghan music hewing to syrupy romantic ballads, Feroz's songs were a novelty—and she caught the eye of Farid Rastagar, Afghanistan's top music director, who promoted her talents. (Rastagar's wife, Wajiha, is the country's most famous singer.) Thanks to her newfound fame, Feroz landed parts in Afghan TV soaps and movies, and has become the family's sole breadwinner.
Feroz's parents have been supportive of her musical career, even as she shatters the traditionally subservient role for women in patriarchal Afghanistan. Her father acts as her manager and even helped produce "Naqisul Aqal," with its iconoclastic lyrics. But Feroz's songs and her style—she performs on stage in blue jeans and a sweatshirt, with a cricket cap perched sideways over her long black hair—have generated decidedly mixed reviews. The rest of her extended family has disowned her: "My cousins have cut off all their relationships with us," she says. "They do not want me to sing. They say I am shaming them." Posts on her Facebook profile are equally harsh. "Talk for yourself BITCH. Your [sic] a disgrace," reads one. But other Afghans welcome her brutal honesty. Another posting reflects, "Her lyrics is [sic] the truth."
The young singer has also received threats—telephone calls from unknown cell numbers, with strange voices communicating graphic and frightening scenarios. The callers tell her that she is insulting Iran, and they threaten to kill her, throw acid in her face, or kidnap her. But Feroz is undeterred. "This is the harsh reality," she says. "I tell them, you have already insulted me and Afghans a lot. We don't have good memories of Iran."
The threats, she says, only encourage her to keep rapping to express the dard hai dil, or "heartaches," of the Afghan people. Feroz is even considering penning a rap to the Taliban, to express her wish for 
a peaceful Afghanistan. "My request to the Taliban is that they stop killing innocent people," she says. "They should work to be accepted by the people."
After the U.S. withdraws its troops in 2014, she says, Afghans should be able to pull together and stay united. "It's not important what will happen if the foreigners leave," she says. "What's important is for us to do what we can to improve our country's situation together ... I hope Afghanistan can become stable."
The oppressed status of women is also high on Feroz's agenda. She's noticed that when the Afghan Parliament meets, many of the seats held by men are often vacant, while the small minority of seats held by women are always filled. So she has a message for President Hamid Karzai: if half of the members of Parliament were women, the legislature would always have a quorum. "People laugh when they see empty seats in Parliament," she says. "Women will make a difference. They will always be present."