Speaking on the Senate floor Friday afternoon, Republican Senator Susan Collins of Maine gave a lengthy, passionate speech about why she plans to vote in favor of confirming Supreme Court nominee Judge Brett Kavanaugh.
Immediately following Collins's speech, Democratic Senator Joe Manchin of West Virginia, who was previously undecided, announced he would join Collins in voting to confirm Kavanaugh in the final vote set to be held Saturday.
The move by Collins and Manchin announcing their support for the president's nominee, who's been accused by multiple women of past sexual misconduct—accusations that he adamantly denies—all but guarantees Kavanaugh will become the next justice of the country's most powerful court.
Collins's 45-minute Senate floor speech could also have decided her future Democratic opponent for 2020: President Barack Obama's former national security adviser, Susan Rice.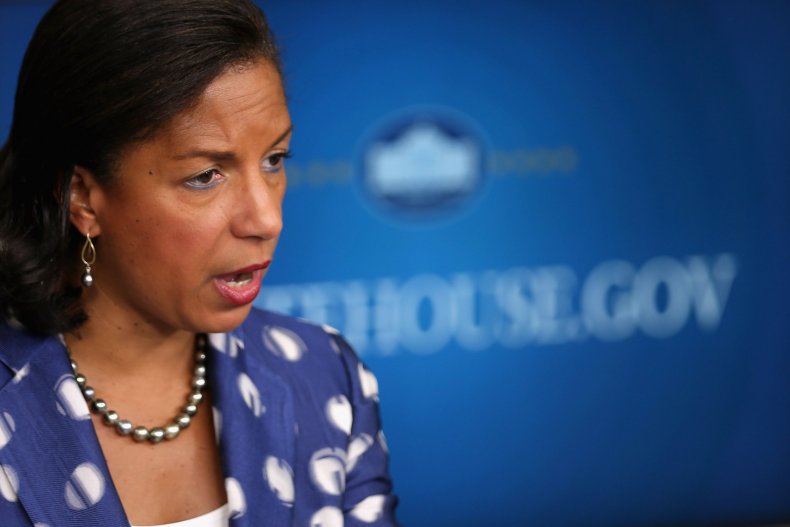 Suggesting on Twitter that she would be interested in running against Collins, Rice said she had not yet made a final decision.
"Many thanks for the encouragement," Rice said. "I'm not making any announcements. Like so many Americans, I am deeply disappointed in Senator Collins' vote for Kavanaugh. Maine and America deserve better."
If she does officially decide to run, Rice already has $2 million in campaign money waiting for her.
Immediately proving to be a lucrative fundraising effort for her future, yet-to-be-determined, Democratic appointment, Collins's speech brought in tens of thousands of dollars pledged in a matter of minutes to a crowdfunding campaign. It was established to donate the money to her future opponent, assuming Collins votes yes on Kavanaugh.
The crowdfunding campaign is led by progressive activist Ady Barkan and two grassroots organizations—Maine People's Alliance and Mainers for Accountable Leadership. Donation pledges poured in during the GOP senator's speech, tipping it over the $2 million mark as Collins was speaking. The total amount of money pledged spiked by more than $26,000 over the course of 14 minutes from 3:17 p.m. to 3:31 p.m. Collins began speaking shortly after 3 p.m. and finished around 3:50 p.m.
The crowdfunding campaign told Collins there are two possible scenarios on what can become of the millions of dollars pledged: Either Collins votes no on Kavanaugh and the money will not be collected and no money will go to fund her future opponent, or Collins votes yes on Kavanaugh and all of the money gets donated to her opponent's campaign, once that opponent has been identified.
The reasons cited by the campaign for advocating against Kavanaugh were not the same reasons that many Democrats, activists and sexual assault survivors have cited, which were the numerous sexual assault allegations leveled against the federal judge. The campaign's donation page said the reason for opposing Kavanaugh is because of his possible stance on positions as a Supreme Court justice. They feared Kavanaugh may vote to further dismantle parts of the Affordable Care Act or to overturn the signature Roe v Wade case that legalized abortion.
"The people of Maine are asking you to be a hero, Senator Collins," the campaign wrote.
As of Friday afternoon, more than 72,000 people pledged a total of $2,066,000, with many of the donations for $20.20 in reference to when Collins will be up for re-election.
"I consider this quid pro quo fundraising to be the equivalent of an attempt to bribe me to vote against Judge Kavanaugh," Collins told Newsmax in September. "I think it demonstrates the new lows to which the judge's opponents have stooped."