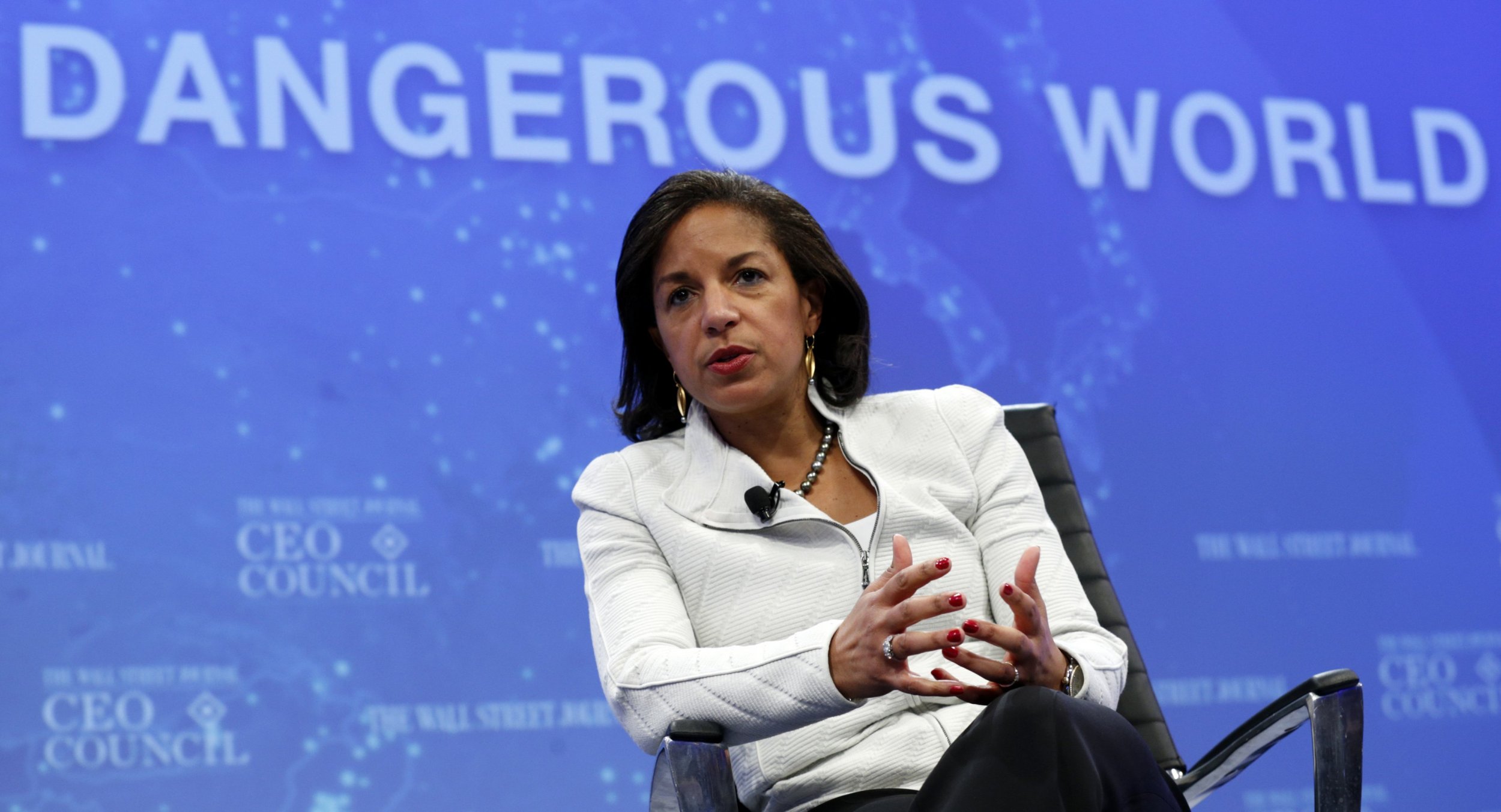 Who runs American foreign policy? Over the past year, as President Barack Obama has struggled with a string of overseas crises—from the Russian invasion of Crimea to the rise of ISIS—the answer has been a mystery. But with the ouster of Chuck Hagel—the third defense secretary in six years—all arrows now point to Susan Rice. She's the president's national security adviser and one of his closest allies. But some question whether she has the strategic chops for the job.
A diminutive but commanding presence in the White House, Rice frequently clashed with Hagel, especially in recent months as the former Republican senator from Nebraska criticized Obama's Syria policy and seemed in no rush to sign off on transferring low-level detainees from the U.S. prison in Guantanamo Bay. Closing Gitmo has been one of the president's priorities, and Hagel's foot-dragging—he wanted to be sure that no prisoner would ever post a threat on the outside—so angered Rice that she reportedly fired off a blistering memo ordering him to step up the pace of the transfers and report every two weeks on his progress.
If there were any doubts about Rice's status, Obama quickly dispelled them. Not long after announcing that Hagel was stepping down, the president dropped by a meeting of the National Security Council (NSC), which Rice directs, and said that over the next two years he was counting on the group to shore up his foreign policy plans. And with good reason. Rice is fiercely intelligent and eminently qualified. A Stanford graduate and Rhodes scholar with a doctorate in international relations, she worked as a top NSC and State Department hand during the Clinton administration. Before becoming Obama's national security adviser in July 2013, Rice also served as his ambassador to the United Nations, one of the country's highest-profile diplomatic posts.
But Rice is also a study in contrasts. Insiders say she regularly peppers her remarks with four-letter words, raising questions about her temperament and shocking some of her colleagues and foreign envoys. One much-publicized anecdote involved a March meeting between Obama and Palestinian President Mahmoud Abbas at the White House. The Palestinians rejected a forward-leaning U.S. proposal, setting the stage for the latest collapse of the peace process. After the meeting broke, a witness recalled that Rice scolded Saeb Erekat, the chief Palestinian negotiator: "You fucking Palestinians can never see the fucking big picture," she said.
Not everyone is fazed by Rice's crude language. Martin Indyk, the special U.S. envoy for the Middle East who was at that meeting, didn't blink. "I found it refreshingly candid, and Erekat did too," he told Newsweek. "But I can imagine others might find it startling and potentially offensive."
Others have taken issue with her bluntness. After Rice dropped a "motherfucker" during a 2013 huddle with German officials to win support for military action against Syria, Christoph Heusgen, her German counterpart, reportedly said it was the worst meeting of his career.
Rice, however, is no stranger to controversy or confrontation. Over the years, she's vanquished a host of formidable foreign policy figures. Among them is Richard Holbrooke, the former special representative for Afghanistan and Pakistan. His self-regard and bullying were legendary, and as U.N. ambassador, Rice dared to question some of his policy proposals. "Those two absolutely hated each other," said William Johnson, a former senior State Department official.
In the end, Rice prevailed. "One of the ways you can tell how important someone is at the State Department is how close he or she is to the seventh floor," Johnson said, referring to the secretary of state's suite of offices. "Holbrooke was real close to the seventh floor initially, but by the time Obama had been in office for a year, he was in the basement, down the hall from cafeteria. They ignored him."
After Holbrooke died unexpectedly from a ruptured aorta in December 2010, the administration eliminated his job, and Rice assumed a greater role in the country's Afghanistan policy. She also managed to outmaneuver and outlast other prominent colleagues, including former secretary of state Hillary Rodham Clinton and former defense secretaries Robert Gates and Leon Panetta, all of whom groused about the White House's tight control over foreign policy.
Rice's influence flows from her close relationship with Obama. Their ties go back to 2006, when she signed onto his first presidential campaign as a foreign policy advisor. Today, she's part of a small group of campaign veterans in the White House, including Chief of Staff Denis McDonough, domestic political adviser Valerie Jarrett and Rice's deputy, Benjamin Rhodes.
"There is a reason why Obama has an intense loyalty to Susan," a former NSC staffer said, speaking on condition of anonymity to discuss internal White House politics. "In 2006, she could have easily gone to the Hillary camp. She took a significant career risk by signing on with his campaign. He views her like a sister."
The former staffer added that Obama had seriously considered Rice to be his second-term secretary of state. But Rice sparked a political controversy when she made erroneous statements about the deadly 2012 attack against the U.S. mission in Benghazi, Libya. The president sympathized when she bowed out of the running.
Her setback was only temporary. Today, Rice wields enormous power, and she's adopted a much higher profile than previous national security advisers, such as Henry Kissinger and Brent Scowcroft. While they quietly counseled their presidents and discreetly carried out sensitive missions for them, Rice's foreign policy statements and trips overseas have signaled to foreign leaders who really has the president's ear.
Of course, Rice isn't the only influential member of Obama's foreign policy team. She's remained in close touch with Secretary of State John Kerry, who is deeply involved in the negotiations for an Iran nuclear deal—and a possible foreign policy legacy for the president. With the deadline extended until June, Rice will be able to keep close tabs on Kerry as Anthony Linken, her former deputy, takes up the No. 2 position at State. Ashton Carter, Obama's nominee for defense secretary, is widely expected to win his Senate confirmation early next year. But his success may hinge more on following Rice's lead than forging his own path. "The problem," said Johnson, the former senior State Department official. "is that Susan Rice will continue to run the department."
As the Iran talks and other critical international issues play out, some say Rice lacks the proper vision to steer American foreign policy. "The NSC needs to be strategic," said David Rothkopf, an expert on the National Security Council and author of the just published National Insecurity: American Leadership in an Age of Fear. "Rice and the president are too tactical."
A retired ambassador who knows Rice and is familiar with the workings of the NSC, agreed, pointing to the U.S.'s 2011 intervention in Libya. Serving as U.N. ambassador at the time, Rice was one of several administration voices strongly urging Obama to prevent troops loyal to strongman Muammar el-Qadaffi from massacring rebel forces in Benghazi. At the time, she said her position was influenced by the U.S.'s failure to prevent the Rwandan genocide. But little thought was given to the fact that America had few interests in Libya and no plan for how to deal with the country after Qadaffi's fall, the former ambassador said. "Today, Libya is a disaster," he added, asking for anonymity to discuss Rice's performance frankly. "Susan is smart, but smart is not the only quality you need to be national security adviser."
Indeed, critics say that in the year and a half that Rice has served in her current role, Obama and his team have lurched from crisis to crisis overseas, struggling to stay ahead of the revolutions and wars in the Middle East, Russian aggression in and Ukraine, the fallout from the National Security Agency scandal and the rise of ISIS. "There's a cascading effect from the lack of a real course," Rothkopf said. "Do you blame that on Susan, or do you blame that on the president? I don't know. But clearly, in each one of these instances, there's a role that the national security adviser and the NSC should be playing to help ensure that these things don't happen."
Rice's defenders say she's smart, pragmatic and results-oriented. With crises crackling from Mosul to Moscow, they note that she's encountered a Rubik's Cube of policy challenges that few of her predecessors ever faced. Despite Republican demands, her boosters add that she remains rightly skeptical of getting more involved in Syria's civil war and supplying Ukraine with weapons to confront Russian-backed separatists. And while she probably could have reacted sooner to the rise of ISIS, supporters point out that her policies have helped contain the threat.
Ultimately, of course, it's what the president wants that will dictate how Rice will manage America's interests abroad. And with the exception of reaching a nuclear deal with Iran, Obama has indicated he'll be adopting a minimalist approach to foreign relations in his final two years. "You hit singles, you hit doubles; every once in a while we may be able to hit a home run," the president said in April.
Later, he boiled his foreign policy doctrine down to a simple admonition: "Don't do stupid shit."
That sounds a lot like something Rice can get behind. And something she might even say herself.