Obama's National Security Advisor Susan Rice Slams 'Crazy' Trump Decision to Withdraw Troops from Syria: 'It's Just Appalling'
Obama-era National Security Advisor Susan Rice decried President Donald Trump's "bats**t crazy" decision to pull U.S. troops from the Syria-Turkey border in a TV interview Monday night.
The former U.S. Ambassador to the United Nations told The Late Show with Stephen Colbert that the retreat gave Turkey permission to "go for it", referring to the country's plans to invade northern Syria and push out Kurdish forces.
Kurdish fighters have been key allies of the U.S. in the fight to liberate Syria from ISIS control, but have long been in the crosshairs of Turkish President Recep Tayyip Erdogan, who considers the Kurdish militia a terrorist insurgency.
The White House announced Sunday that Trump would withdraw U.S. troops from the area along the Turkish border in northern Syria—a move that experts believe could open up opportunities for ISIS prison breaks.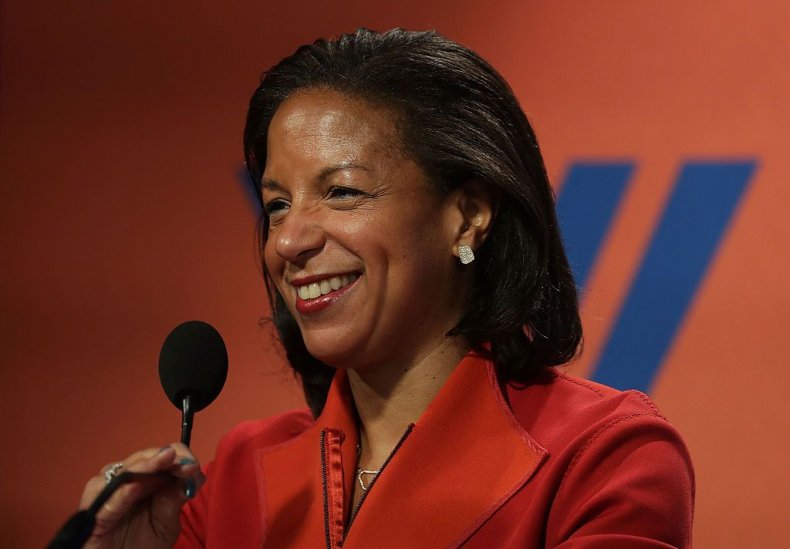 Newsweek revealed Monday that Trump's decision came after he was "rolled" by Erdogan in a phone call about Turkey's plans to invade Syria, according to a National Security Council official.
Speaking to Stephen Colbert on The Late Show, Rice said she woke up to the news and put her head in her hands.
"This is bats**t crazy," Rice continued to applause and cheers from the studio audience.
Asked to explain why it was "bats**t crazy", the former U.N. ambassador said: "These are the people who for the last four years have been fighting on our behalf, with our equipment, to defeat ISIS.
"And they have done it with enormous efficacy. They've sacrificed immensely and we've basically just said to them: 'See ya.'"
She went on to dub Turks "the hungry wolf trying to kill the lamb," and said they had been given permission to "go for it" as a result of Trump's decision to pull U.S. troops from the Syria-Turkey border.
"It's just appalling because we promised them our partnership. And we promised them that if they worked with us to defeat our common enemy... then we would stand with them."
The former national security advisor later added that Republicans in Congress had "gotten a pulse" over the withdrawal decision. "It must be really, really bad," she said.
GOP South Carolina Senator Lindsey Graham is among the top Republicans who have lashed out over the abandonment of Kurdish militias in northern Syria.
"By abandoning the Kurds we have sent the most dangerous signal possible—America is an unreliable ally and it's just a matter of time before China, Russia, Iran, and North Korea act out in dangerous ways," Graham tweeted yesterday.
Florida Sen. Marco Rubio, a Trump rival during the 2016 GOP primaries, also described the decision as leaving Kurds to "face annihilation at the hands of the Turkish military."