One of the suspects arrested and charged in connection to a large ammunition bust near the site of this week's MLB All-Star Game has a decade-long history of weapons and drug charges.
Richard Platt, who was arrested in Denver on Friday night, has faced charges in three different counties—Jefferson County, Douglas County and Boulder County—over the last eleven years.
He previously pleaded guilty to multiple charges, including theft, drugs, weapons, child abuse related to negligence with no injury and felony menacing, related to 2016 incidents, according to court records. He also pleaded guilty to drug possession in another case in 2010 and is still facing drugs and weapons charges from a case last year.
Platt was arrested with two other men and one woman at the Maven Hotel this weekend after a housekeeper tipped police about finding more than a dozen weapons and more than 1,000 rounds of ammunition inside their room.
Platt was charged with one count of possession of a weapon by a previous offender and two counts of possession of a controlled substance with intent to distribute.
He appeared in court on Sunday, where a Denver magistrate judge set his bond at $50,000 cash.
He and his lawyer pleaded for a different bond, arguing that he would not be a flight risk and that he had a record of showing up for previous court dates.
"I do have a brand new job, and I do have and I've made every court date on my last cases. I made every one. I have not missed any court dates," Platt told the judge.
Judge Kathleen Boland denied Platt's request, citing the "grave public safety concerns" of the case.
The other suspects—Gabriel Rodriguez, Ricardo Rodriguez and Kanoelehua Serikawa—are expected to be in court Monday.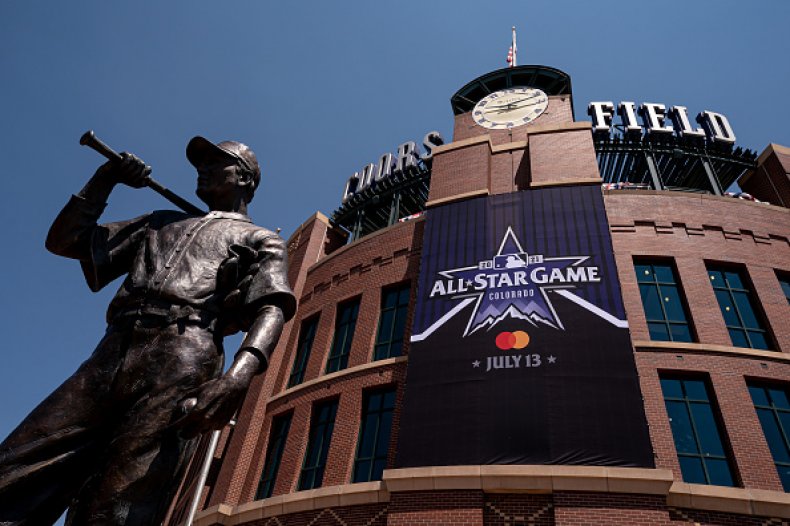 Denver police feared that the number of weapons, ammo and vantage point from the eighth floor of the hotel, which is located a block from Coors Field, could have resulted in a "Las Vegas-style shooting" at Tuesday's game.
However, the Federal Bureau of Investigations said on Sunday that they don't believe Friday's arrests were terror-related or connected to the All-Star Game.
"We have no reason to believe this incident was connected to terrorism or a threat directed at the All-Star Game. We are not aware of any threat to the All-Star Game events, venues, players, or the community at this time," the statement read.
Denver Police Chief Paul Pazen said the investigation is still in its early stages and is not ruling anything out yet.
"That's what the investigation is all about. We need to identify exactly, to the extent possible, why individuals were here in the first place, why in proximity to downtown. We don't have those answers," Pazen said at a Sunday press conference.
Thousands of fans have arrived in Denver to celebrate festivities surrounding the big game. The annual event is known to draw big crowds. More than 36,000 people attended the last All-Star Game in 2019. Last year's game was canceled due to the coronavirus pandemic.