Suspect Arrested, Facing Hate Crime Charges for Setting Fire to Pride Flags at Harlem Gay Bar
New York police say they have arrested the man responsible for burning three rainbow pride flags during two separate incidents outside a gay bar in the Harlem neighborhood of Manhattan.
Surveillance footage shows a man setting fire to a pride flag hanging in front of the Alibi Lounge, the city's only black-owned gay bar, around 12:30 a.m. Monday, July 8.
That wasn't the first time the popular gay bar's property had been destroyed. On May 31, a man was caught on camera setting fire to two pride flags outside the same bar.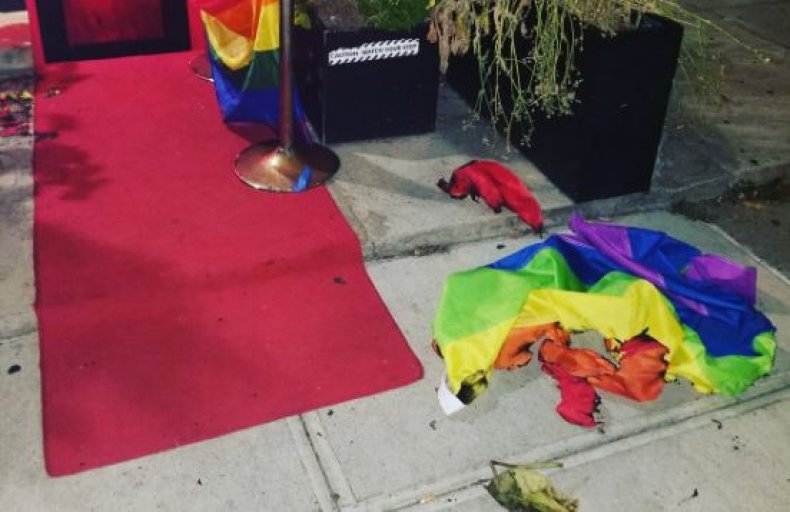 Along with a security cam still of the suspect, the NYPD tweeted Tuesday evening: "ARRESTED!! Thank you to calls from the community to @NYPDTips and the work of the Detectives in Hate Crime Task Force, this individual has been arrested and charged for both incidents of flag burning at @lounge_alibi #stophate"
Police arrested Tyresse Singleton, 20, of Manhattan, in connection with both incidents. He is charged with two counts each of criminal mischief as a hate crime and arson.
New York Gov. Andrew Cuomo had directed the state police hate crimes unit to assist the NYPD in its investigation.
"I am appalled by the burning of yet another pride flag outside an LGBTQ bar in Harlem," Cuomo said in a statement Monday. "This act of hate is repugnant to our values of equality and inclusion, and we will not stand by and allow these cowardly acts to continue in New York."
Anti-LGBT hate crimes have been on the rise nationwide according to the FBI: The number of incidents based on sexual orientation rose each year from 2014 to 2017, when 1,303 incidents were reported.
Statistics from the NYPD show that hate crimes have shot up 64 percent in New York this year so far. There have already been 18 incidents reportedly motivated by the victim's sexual orientation in 2019, up from 15 at this time in 2018.
"It brings a sense of resolution and serves as a cautionary tale to anyone thinking of doing something similar not only to us, but to anyone who thinks of targeting anyone else for reasons of gender, sexual orientation, or ethnicity," Alibi owner Alex Minko told The Daily Beast of the arrest.
He continued: "It is also a reminder that we live in a civilized world and more often than not you get the resolution you deserve. We're really relieved to put this behind us and just move forward."
Suspect Arrested, Facing Hate Crime Charges for Setting Fire to Pride Flags at Harlem Gay Bar | U.S.