Kansas City Bar Shooting: Police Warn Suspect at Large Is 'Armed and Dangerous' After One Arrested
Police have warned that a suspect in the Kansas City bar shooting who remains at large is "armed and dangerous" after they arrested one suspect.
Hugo Villanueva-Morales, 29, and Javier Alatorre, 23, have each been charged with four counts of murder in the first degree. Bail for each has been set at $1 million.
Alatorre was taken into custody late on Sunday afternoon near the 2600 block of Quincy Street in Kansas City, Missouri, the Kansas City Kansas Police Department said.
But Villanueva-Morales remains at large. He should be considered "armed and dangerous," police said.
Police said the two men walked into Tequila KC, a bar on Central Avenue in Kansas City, Kansas, at around 1.30 a.m. on Sunday and opened fire.
Four victims were found dead inside the bar. Five others were found with gunshot wounds outside and taken to area hospitals, where they were last reported to be in a stable condition.
Around 40 people were inside the small bar when gunfire erupted around 1.30 a.m., police spokesman Thomas Tomasic told the Associated Press.
The gunfire sent people running for the exits, with the injured leaving trails of blood as they fled. "It's a pretty small bar, so if you have two guys come in and start shooting, people are just running, running anywhere they can," Tomasic said.
Among the dead was a man in his late 50s, another in his mid-30s and two in their mid-20s, police said.
All four men who were killed were Hispanic, but Tomasic said authorities did not believe the shooting was racially motivated. The shooting happened in a neighborhood with a large Hispanic population.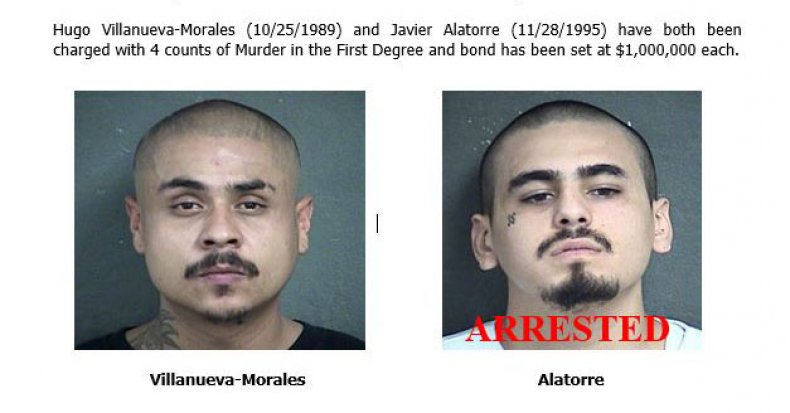 Police believe the shooting was prompted by an earlier fight at the bar. "The preliminary investigation is revealing that an earlier dispute occurred inside the bar which lead to the shooting incident," a KCKPD spokesman said. "The suspects were armed with handguns and fled the scene."
Bartender Jose Valdez told WDAF that the shooting occurred after he refused to serve a man who had caused problems at the bar months ago.
Valdez said the man was thrown out of the bar after he threw a glass at him. The man returned later with another man and started shooting.
"When he came in the second time, he did not say nothing," Valdez told WTAF. "He just walked in and looked for who he was looking for and started shooting."
Witness Shay Celedon told the Kansas City Star that it took four people to kick the man out after he was refused service at around 11 p.m.
She said thee man started a fight with at least one person outside the bar and she went home, fearing something bad would happen.
Celedon said her friend who remained at the bar gave her fiancé CPR after he was shot, but he died in her arms. The couple had been hoping to wed next October.
"She held her husband until he took his last breath," Celedon told the Kansas City Star.
The KCKPD is urging anyone who sees Villanueva-Morales to not approach him. Anyone who sees him or knows of his whereabouts should call 911 or the TIPS hotline at 816-474-8477.