Suspect Arrested in Case of Bullet-Riddled Corpse Found in Sleeping Bag in the Nevada Desert
A suspect has been arrested in conjunction with the murder of a Nevada man whose bullet-riddled corpse was found wrapped in a sleeping bag in the desert.
The body of Raul James Salazar, 47, was discovered September 20 by Red Rock Search and Rescue off Lake Mead Boulevard, east of Las Vegas. The team was on the hunt for another missing persons when they stumbled upon Salazar unexpectedly.
After homicide detectives with the Las Vegas Metropolitan Police Department examined the scene, they determined that Salazar had been shot and killed in another location and his corpse transported to the desert. His identity was released to the public in hopes of helping authorities identify his killer.
On Tuesday, authorities arrested 19-year-old Michael Miller on suspicion of Salazar's murder. Miller was taken him without incident from the 4600 block of Stacey Avenue, near West Lake Mead and North Decatur boulevards.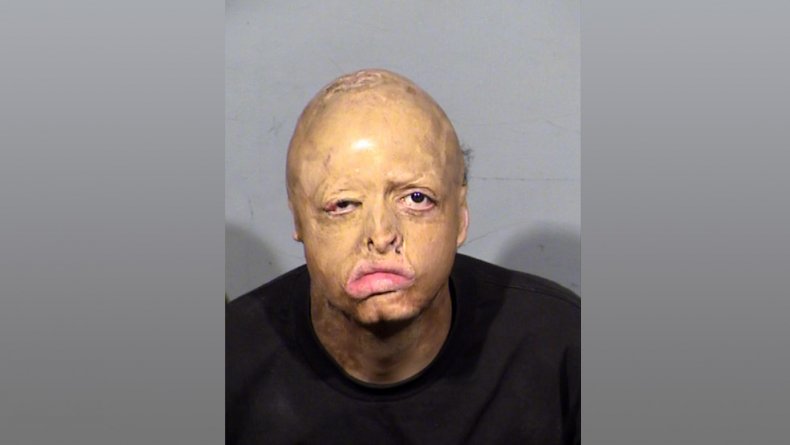 Miller was severely burned in an apartment fire In July of 2003, that also killed his 4-year-old cousin. In addition to suffering facial disfigurement, he also has required the use of a wheelchair.
Miller's uncle told the Las Vegas Review-Journal that his nephew had spent part of his childhood homeless on the west side of the Las Vegas valley. He also said Miller never mentioned Salazar to him, and the older man did not match the description of any of his friends.
However, 8 News Now reports that, according to other friends and family, Miller had been living with Salazar at the time of his death. The extent of their relationship or a possible motive has not been released, however.
Salazar's brother told 8 News Now that Salazar was a dedicated soccer coach who loved and cared for children.
Miller is being held without bail at Clark County Detention Center. He will appear in court on September 27 for an initial hearing, where he will be officially charged. Police did not indicate if they are seeking any additional suspects.
Earlier in the month, a woman's body was discovered in a 55-gallon drum in the southwest Las Vegas valley. Chuck Chaiyakul, 38, was arrested on suspicion of open murder after police found the body of Jennifer Ann Ratay, 39, in a barrel in his garage.
Her cause of death was listed as multiple gunshot wounds, according to Las Vegas Metropolitan Police. Investigators say they received a call from an individual who said Ratay, who had been missing since August 29, was at the house. The caller said he could hear arguing and a possible struggle before the phone disconnected.