Suspect Detained in Shooting Deaths of 3 British-Iraqi Family Members in France in 2012
French authorities said Wednesday that they arrested a suspect in the 2012 unsolved killings of a British-Iraqi family and a French cyclist.
Ikbal al-Hilli, her husband Saad and her mother Souhaila al-Allaf were fatally shot in their car on a remote road in the French Alps near Lake Annecy. Local cyclist Sylvain Mollier was also killed at point-blank range after happening upon the scene, The Guardian reported.
The couple's two young daughters, then-4-year-old Zeena and 7-year-old Zainab, were also in the car during the shooting but survived. Zeena did not witness anything because she was hiding under her mother's legs, prosecutor Eric Maillaud said. Zainab was shot in the shoulder and badly beaten when authorities found her.
Prosecutor Line Bonnet tweeted that detectives had arrested someone in the Chambéry region "in connection with the investigation into the murders of the al-Hilli family and Sylvain Mollier, known as the 'Chevaline events' of Sept. 5, 2012." As the investigation is ongoing, she did not give more information.
According to The Guardian, police told French media that they had taken an unidentified man into custody and searched his home. They said they are in the process of verifying the man's whereabouts on the days surrounding the killings.
The BBC reported that the two girls have been given new identities since the killings and authorities interviewed them again in 2020 to try to move the investigation forward.
Several suspects have been questioned over the years, including Saad al-Hilli's brother Zaid, who admitted to fighting with his brother in late 2011 over a family property but denied any involvement in the killings, The Guardian reported. Due to insufficient evidence, he was never charged.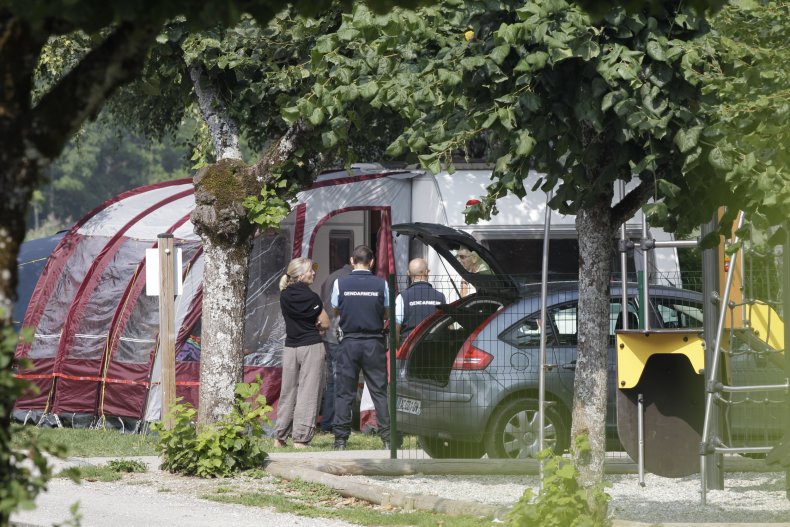 The case has international ramifications with links tying the slain family to Britain, Iraq, Sweden and Spain.
In 2015, the prosecutor found no evidence to implicate a French motorcyclist that had been questioned by police in Annecy after British police issued a sketch of a motorcyclist seen near the crime scene.
The four victims and the two young survivors were discovered by police in a wooded area on an isolated mountain road from the village of Chevaline, near bucolic Lake Annecy in eastern France.
The prosecutor has said 25 gun cartridges that were found inside the family vehicle. All those killed were found with at least three bullet wounds, each with a single shot to the head.
The Associated Press contributed to this report.