Louisville, Kentucky police have publicly identified the suspect who was arrested for allegedly shooting two officers during a protest Wednesday evening.
Louisville Metro Police Department (LMPD) Chief of Police Robert Schroeder identified the alleged shooter as 26-year-old Larynzo Johnson during a Thursday news conference. Johnson was taken into custody Wednesday evening and has been charged with two counts of assault in the first degree and 14 counts of wanton endangerment, Schroeder said.
The police chief also identified the two officers who were shot as Major Aubrey Gregory, who was commanding the LMPD's special operations division at the time of the shooting, and Officer Robinson Desroches. Gregory was struck in the leg and Desroches was struck in the abdomen during the shooting, but neither officer suffered life-threatening injuries, Schroeder said.
Gregory has already been treated and released, and Desroches underwent surgeries for his injuries and was in stable condition Thursday morning, the police chief said.
In addition to the injuries Gregory and Desroches suffered, at least two sergeants were injured in Wednesday night's protests and another officer was spit upon, Schroeder said.
"It's been a very emotional time for our officers and our city," Schroeder said.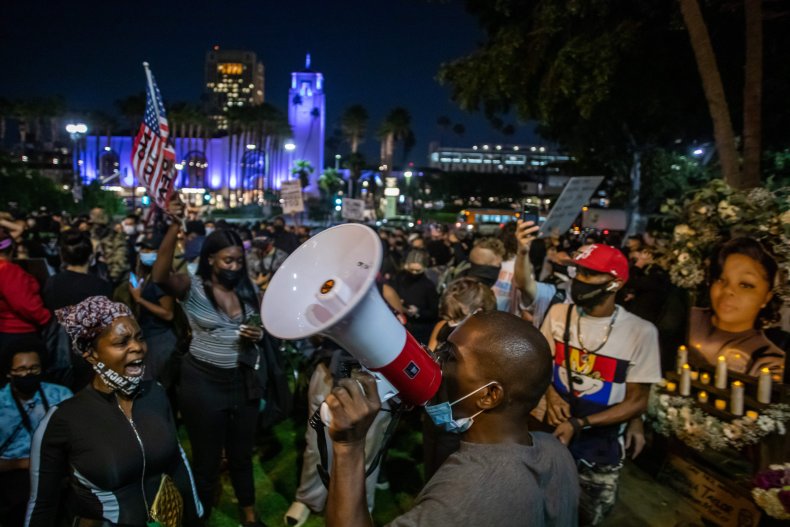 The shooting is under investigation, and Schroeder said it was too early to say whether the shooter was a protest participant or what their motive might have been. The weapon used in the shooting was a handgun, but how it was obtained was also part of the ongoing investigation, Schroeder said.
Federal Bureau of Investigation (FBI) Louisville is assisting in the investigation and has asked witnesses to submit any videos they may have of the shooting.
A total of 127 people were arrested in connection with the protests that began after a grand jury announced charges in the Breonna Taylor investigation. Taylor, a 26-year-old Black woman, was fatally shot while inside her apartment after police attempted to serve a no-knock warrant the night of March 13. Her death is one of several incidents of alleged violence against Black Americans that have inspired protests in the U.S. and around the world this year.
In addition to the arrests, Schroeder said LMPD officers received reports Wednesday night of looting, property damage, fires and more as protests continued. In anticipation of the grand jury's announcement, the LMPD canceled all vacation and time-off requests until further notice, and Louisville Mayor Greg Fischer introduced a 72-hour curfew that started Wednesday night.
On Wednesday afternoon, the grand jury announced that one of the officers who was present the night that Taylor died, former LMPD officer Brett Hankison, was charged with three felony counts of wanton endangerment. None of the other officers involved were charged, though a federal investigation into the incident was ongoing, Cameron said.
Officers with the Kentucky State Police and the Kentucky National Guard were assisting LMPD officers in their response to the protests, Schroeder said.
When a reporter asked if Fischer intended to accept federal assistance that President Donald Trump offered on Wednesday, the mayor said: "We feel like we have the resources that we need on the ground right here in Louisville."
Both Schroeder and Fischer said they anticipated protest efforts to continue in the days to come and called for peaceful demonstrations.
"If you're going to demonstrate, please do so in the daylight hours," Fischer said. "Come out, be peaceful, be heard. Moving forward as a city obviously requires that we listen to each other, we respect the differences that we have, but we work toward a better future that we can own together."
Newsweek reached out to LMPD for further comment, but did not receive a response in time for publication.
This story has been updated with additional information and background.