Suspected North Korea 'Mad Dog Trump' Leaflets Reach Seoul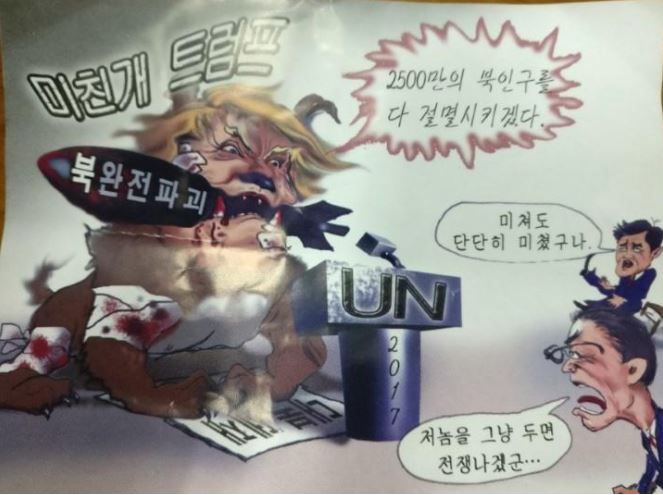 North Korea has dumped a new batch of propaganda fliers depicting President Donald Trump as a "mad dog" on the South Korean capital, according to a new report.
One of the color posters, which Reuters discovered on Monday, pictures a supine Trump with a dog's body being decapitated with an axe. The Korean-language caption reads: "Let's behead mad dog Trump for the future of a peaceful and warless world and mankind!"
Another leaflet shows Trump, again with a canine body, behind a United Nations podium with a rocket in his mouth that has "totally destroy North Korea" written on it.
"He's gone completely insane," says one man in the audience. "If we let him be, there will be war," adds another.
Another poster reads "Death to old lunatic Trump," while a fourth says, "This is our answer!" and features several rockets backed by the North Korean flag aimed at a crumbling U.S. Capitol building.
Taken together, the fliers fire back at Trump for his speech to the United Nations General Assembly last month that derided North Korean leader Kim Jong Un as "Rocket Man" and insisted the rogue state "is on a suicide mission." Trump also said the Pyongyang's "reckless pursuit of nuclear weapons and ballistic missiles threatens the entire world with unthinkable loss of human life" and warned he would "totally destroy" North Korea to protect the U.S. and its allies if necessary.
North Korean propaganda literature often is flown by balloon over the demilitarized zone to South Korea. The leaflets typically contain anti-American content, but the latest wave are aimed specifically at Trump. They were circulated on Twitter and found by Chad O'Carroll, managing director of NK News, a news subscription service in Seoul, as he was jogging.
"I am pretty sure it came from North Korea by balloon, since the prevailing winds during October have been from north to south and we've been getting reports of others finding them throughout Seoul," O'Carroll told Reuters.
North Korea has vowed to continue nuclear tests despite United Nations security council resolutions banning the country from developing ballistic missile technology. Kim Jong Un has repeatedly threatened to attack South Korea and the U.S., which is its main ally.
Suspected North Korea 'Mad Dog Trump' Leaflets Reach Seoul | World