The parents of suspected Michigan school shooter Ethan Crumbley will remain in jail after the judge refused to lower their bonds as they await trial on four counts of involuntary manslaughter.
Crumbley, 15, faces 24 charges, including terrorism and first-degree murder, after allegedly shooting and killing four students on November 30, 2021, and injuring seven others at Oxford High School. His parents, James and Jennifer Crumbley, who were arrested in early December, went missing shortly after the shooting.
Their bonds were set at $500,000 each, and neither has been able to come up with the money. The couple's attorneys asked for a lower bond of $100,000 apiece, but it was denied, the Associated Press reported.
Oakland County Circuit Judge Cheryl Matthews said Tuesday the parents' actions before the arrest "were premeditated to conceal their whereabouts" and "not consistent with cooperating with law enforcement," which may account for the denial of a lower bond, the AP said.
Arguments will be heard in their case on Tuesday. Lawyers Shannon Smith and Mariell Lehman, respectively, represent Jennifer and James as individuals.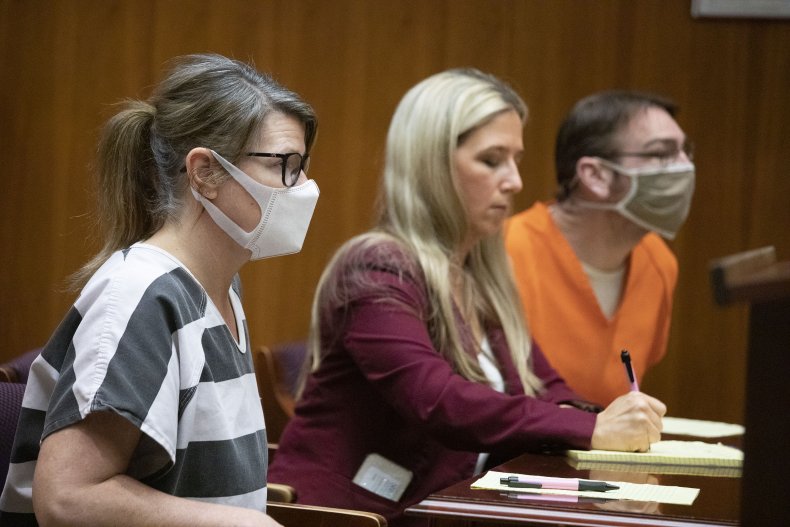 The parents, who have been in jail since December 4, are accused of failing to heed warnings that their son could carry out a violent act and supplied him with the gun he allegedly used.
The couple, who have been charged with four counts of involuntary manslaughter, are also accused of failing to keep a gun secure at home and failing to take care of their son when it was brought to their attention that he showed signs of emotional distress.
James and Jennifer Crumbley had been asked to come to the school after a teacher found a disturbing photo Ethan drew of a gun and bloody figure on the morning of the shooting.
Oakland County Prosecutor Karen McDonald said at the time that Ethan's parents "resisted" taking their son out of school and left without him.
At a hearing in February, testimony revealed that the teen kept a journal in which he allegedly expressed his desire to "do the biggest school shooting in Michigan's history," The Detroit News reported.
"The first victim has to be a pretty girl with a future so she can suffer like me," Ethan wrote, according to Oakland County Sheriff Department Lieutenant Timothy Willis, who read from the journal.
The journal also stated, "My parents won't listen to me about help or a therapist," according to WJBK-TV.
Newsweek reached out to James and Jennifer Crumbley's attorneys for comment.