Suspicious Letter Sent to Senator Susan Collins's Maine Home Following Kavanaugh Vote
On Monday, law enforcement officials responded to a report of a suspicious piece of mail at the Bangor, Maine, home of Republican Senator Susan Collins.
Bangor Police Department Sergeant Wade Betters told Newsweek in a statement that officers responded around 1:39 p.m. EDT to investigate a "suspicious letter." Members of the department's criminal investigation division were on the scene to conduct an investigation.
Also on the scene were the Bangor Fire Department and a hazmat team from Orono, Maine, to assist with the investigation. Betters explained that the police department had no reason to believe the public was in danger.
During a press conference, Betters confirmed the "suspicious letter" was delivered to Collins's house but wouldn't comment on who sent the letter or what was in it. Depending on how the case unfolds, it could be considered a federal crime.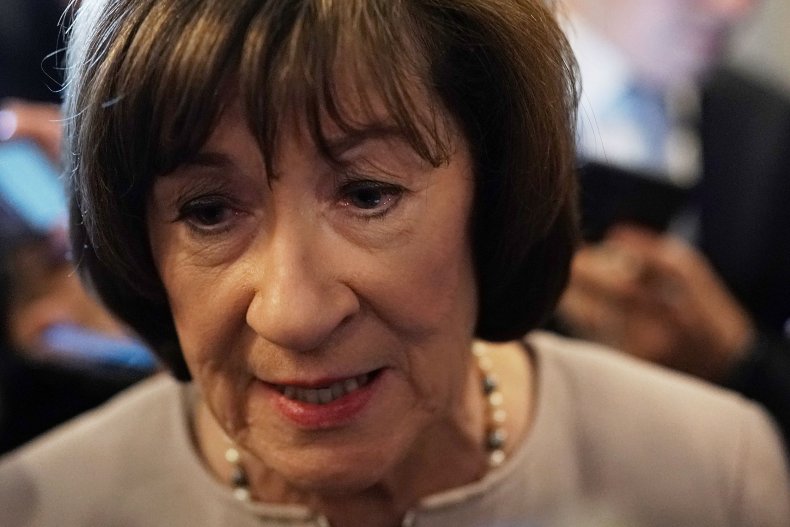 Fox News politics reporter Brooke Singman tweeted that the FBI was aware of what happened and that the senator's husband, Thomas Daffron, was at the home. Collins was on her way home at about 3:15 p.m. EDT, according to Singman.
At the time of the press conference, Betters said he had no information regarding any suspects but stated that depending on how the case unfolded, it could be a federal crime.
Given that the crime involved a senator, Betters referred future questions about the investigation to the United States Capitol Police.
Collins recently found herself on the receiving end of heavy criticism after she voted in favor of confirming Supreme Court nominee Judge Brett Kavanaugh. Seen as a key swing vote, many critics of Kavanaugh were hopeful that Collins would break from the Republican Party and vote against the nomination.
However, during an almost hour-long speech on the Senate floor, Collins announced that she planned to vote to confirm President Donald Trump's second Supreme Court nominee, prompting backlash from Kavanaugh detractors.
"Like so many Americans, I am deeply disappointed in Senator Collins' vote for Kavanaugh," former Ambassador to the United Nations Susan Rice tweeted. "Maine and America deserve better."
Collins isn't the only Republican politician to recently receive a suspicious item in the mail. On October 3, William Clyde Allen III, a Navy veteran, was arrested in connection with sending packages that tested positive for ricin to Trump and several Pentagon officials, including Defense Secretary James Mattis.
Texas Senator Ted Cruz's campaign headquarters in Houston also recently received a package containing a "white powdery substance," which sent two people to the hospital.
This is a developing story and will be updated as more information becomes available.