Sussexes Getting Annoyed Over 'South Park' Would Be 'Self-Destructive'
Prince Harry and Meghan Markle getting "annoyed" at adult animated comedy South Park's spoofing would be "completely self-destructive," according to a new episode of Newsweek's The Royal Report podcast.
The royal couple found themselves the target of one of South Park's legendary take-downs in the second episode of its 26th season, which aired on February 15, titled "The Worldwide Privacy Tour."
The pair were spoofed as the "Prince and Princess of Canada" characters who move to the town of South Park after leaving the monarchy and are shown to repeatedly profess a desire for privacy in public ways.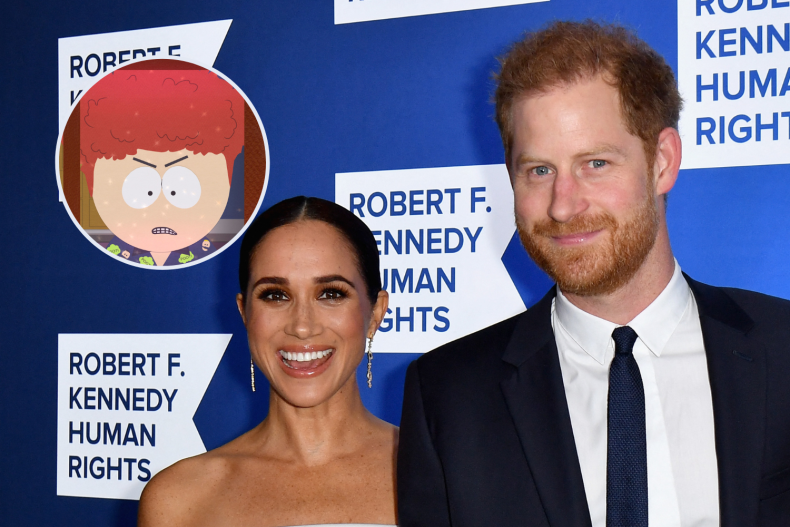 The episode was widely shared online, with many commentators and social media accounts using clips to mock or speak derogatively about the royals. However, for the couple to take this too seriously would be misjudged, Newsweek's chief royal correspondent, Jack Royston, told The Royal Report.
"It touches on several things that probably will in all honesty be cutting to Harry and Meghan," he said.
"One is that they describe Meghan as [the prince's] 'B-word wife.' Now, Meghan did a whole [Archetypes] episode on the b-word in which she refused to say the b-word [...] But essentially she said it was a sexist trope used to hold women back, and the fact that they've kind of just straightforwardly referred to her using this word is probably not going to go down all that well."
Meghan's Archetypes podcast launched in August 2022 and the royal stated that her aim through the series was to "dissect, explore, and subvert the labels that try to hold women back."
Meghan herself discussed the use of the "b-word" and the derogatory connotations is had when used against women on an episode of the show last November.
The use of the "b-word" may not be the only part of the South Park roast that the Sussexes will take issue with.
"They also repeat some of the kinds of tropes that you get a little bit of on social media, particularly on TikTok. When [the characters] are on the Canadian talk show, Harry is talking and Meghan kind of cuts him off," Royston explained. "So there probably are a couple of things that will sting a little bit."
After the show aired, speculation arose as to whether Harry and Meghan would sue the show for its representation of them. They were not actually named, but the link was obvious to viewers.
The couple have since denied that they are considering legal action, with a spokesperson telling Newsweek that the suggestion was "baseless and boring." How they react overall, however, could signal an important stage in their public development, Royston offered.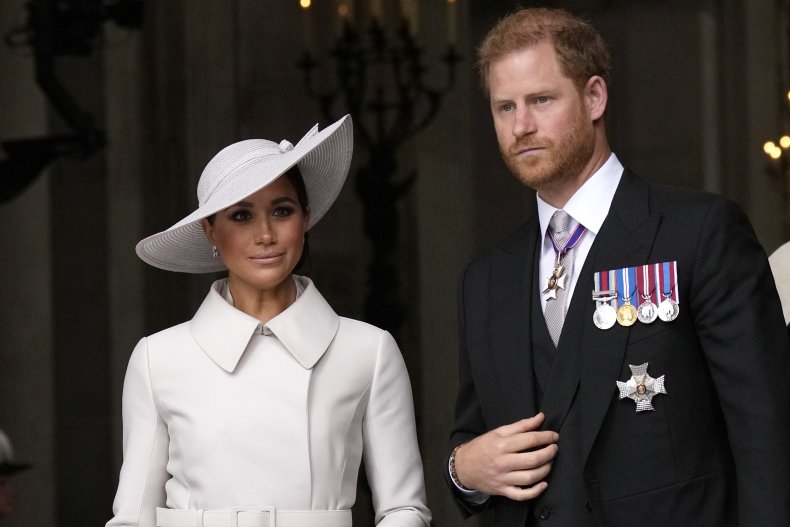 "One would hope that they have enough perspective to also see the funny side and just kind of take it in the spirit it was intended, in fact I think it's really important that they do try as hard they possibly can to see the funny side and to not get upset about it," he said.
"You just can't get annoyed with South Park. They have been so kind of wantonly insensitive for so long and it's also such an obvious parody that there's just no point in getting annoyed. It would be completely self-destructive to do so."
Harry and Meghan are not the only members of the British royal family to have been spoofed by South Park in the past. After Prince William married Kate Middleton, the show did a parody royal wedding episode, though the characters weren't as closely based on the real life couple as in the Sussexes' case.
Queen Elizabeth II was also spoofed in a past episode and Princess Diana was featured in a Christmas themed show.
James Crawford-Smith is Newsweek's royal reporter based in London. You can find him on Twitter at @jrcrawfordsmith and read his stories on Newsweek's The Royals Facebook page.
Do you have a question about King Charles III, William and Kate, Meghan and Harry, or their family that you would like our experienced royal correspondents to answer? Email royals@newsweek.com. We'd love to hear from you.