Many people across the U.S. are increasingly incorporating plant-based foods into their diets in the hopes of reducing their environmental impact. One in four Americans were trying to eat less meat, and one-third of Americans drink non-dairy milk every week, a Gallup poll in 2020 found. But calculating the environmental footprint of our food can be a confusing task.
For example, oat milk produces three times less greenhouse gas per liter than dairy milk, according to calculations by the University of Oxford. But, per gram of protein, oat milk actually produces more carbon dioxide than dairy milk.
In quantitative terms, if you look at data from the U.S. Department of Agriculture, whole cow's milk produces 0.9kg of carbon dioxide per 10g of protein, while oat milk produces 1.1kg*.
The question is, is this a fair comparison? Sustainability scientist Andrew Berardy thinks not.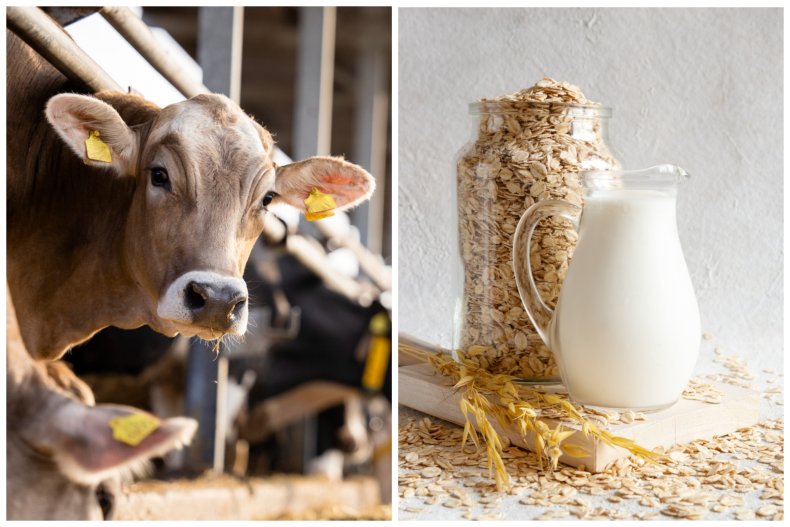 "Their comparison on a protein basis is irresponsible because it is neglecting a fundamental rule of Life Cycle Analysis—an appropriate functional unit," Berardy, a previous postdoctoral fellow at Loma Linda University and Director of Sustainability at Opsis Health, told Newsweek. "Unless you can convincingly argue that people drink oat milk for its protein content, it's not fair to compare it to dairy milk on that basis.
How To Measure Environmental Impact of Your Food
"Foods have to be compared on the basis of functional units, which represent the main purpose a person consumes them for [...] In the case of dairy and oat milk, maybe calcium would be an appropriate functional unit."
If you are looking for higher protein milk alternatives, Berardy recommends opting for soy or pea-based milk drinks. But emissions aren't the only thing to consider when assessing the environmental impact of certain foods. "In addition to greenhouse gas emissions, land use and water use are two big factors for many types of milk," Berardy said. "People should also think about what other nutrients besides protein they care about, like calcium, and make comparisons among those factors as well."
And it's not just the production stages that need to be considered either. "They should consider the full range of environmental impacts reported in life cycle assessments, which can include things such as land, water, and energy usage, resource depletion, human and environmental toxicity, acidification, and eutrophication," Berardy said. "That's a lot to compare at once."
4 Steps To Achieving More Sustainable Diet
So how can you navigate this confusing landscape? "To achieve a more sustainable diet, try to minimize four things—waste, processing, food miles, and animal-based foods," Berardy said. "Each one increases overall environmental impacts independently of the others, but there are trade-offs to consider. For example, oat milk imported from far away may still have lower environmental impacts than milk from a local dairy. Or extra processing to make the milk shelf stable may increase processing impacts but reduce its rate of spoilage and therefore reduce food waste."
Trying to remember all of these different metrics can be overwhelming, and you won't always get it right. But simply being mindful of the food you eat and cutting down on animal products and heavily processed foods, your overall carbon footprint can be significantly reduced.
"Remember that perfection is the enemy of good, and don't feel like you have to instantly be doing everything right," Berardy said. "The key is making continual progress, and not getting overwhelmed and giving up."
*Calculation for protein comparison:
There are 32.7g of protein in 1kg of whole cow's milk, according to the USDA.
The density of milk is roughly 1.03g per cm³. So there are 33.7g of protein in 1l of whole cow's milk.
There are 8g of protein in 1kg of oat milk, according to the USDA. Using the same density, this equates to 8.24g of protein in 1l of oat milk.
Producing 33.7g of protein from whole cow's milk releases 3.15kg of carbon dioxide, according to the University of Oxford. Therefore, 10g of protein releases 0.9kg of carbon dioxide.
Producing 8.43g of protein from oat milk releases 0.9kg of carbon dioxide. Therefore, 10g of protein releases 1.1kg of carbon dioxide.