"Antifa" Responsible for Sutherland Springs Murders, According to Far-Right Media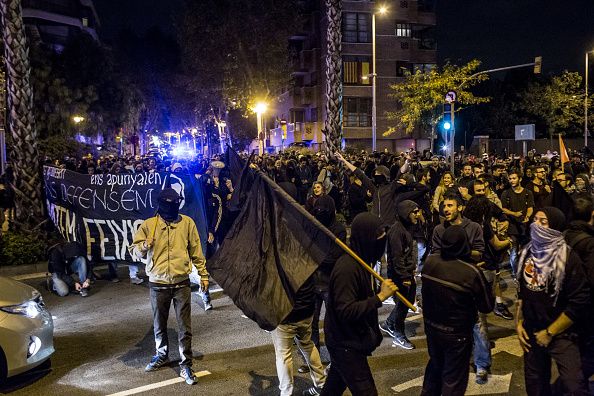 For anyone monitoring America's far-right, it was only a matter of time before Devin Patrick Kelley, the man identified as the Sutherland Springs, Texas, shooter, became "antifa."
Antifa, a leftist protest movement with no organizational hierarchy whatsoever, was blamed for the mass shooting in Las Vegas by Alex Jones' conspiracy website Info Wars. They were responsible for allegedly plotting a civil war involving supersoldiers Saturday—one that utterly failed to manifest. And on Sunday, after a man murdered at least 26 people in a Texas church, the right's conspiracy peddlers waited only a matter of hours to try to blame the violence on leftists.
Police did not immediately announce Kelley's motive in the mass shooting. But Mike Cernovich, a self-described "American nationalist," posted about the motive shortly after news of it broke. "Mass shooting at The First Baptist Church in Sutherland Springs, which has a largely white denomination," Cernovich wrote. "Antifa terrorist attack?"
Cernovich pushed the same idea further Sunday evening, citing only "photos." "Photos of Texas shooter is consistent with profile of Antifa member," Cernovich posted. "This is looking more and more like Antifa terror."
Alex Jones, who devoted his entire Saturday to doing live coverage on his web-show Info Wars on a second American civil war that absolutely never happened, also pushed the idea that the shooter could somehow be an antifa activist. "Was this part of the Antifa revolution against Christians and conservatives or a Isis op? [sic]," Jones tweeted Sunday afternoon to promote his show. "Live from the church."
Jack Posobiec, a pro-Trump figure with a large following on social media, who has a reputation for creating and pushing fake news stories about leftists, posted a screen shot of something that looked like a direct message conversation on Twitter. The conversation appeared to be between a man named Dave Pollack and It's Going Down (IGD), a self-described "digital community center for anarchist, anti-fascist, autonomous anti-capitalist and anti-colonial movements" frequently associated with "antifa" protests.
The Dave Pollack figure says in the screenshot: "Go after the heart of the far-right: conservative churches." A spokesperson for Its Going Down, who asked not to be named, told Newsweek through a direct message that the screenshot was entirely fabricated, but noted that many people on social media have seized onto the picture and shared it anyway. On ZeroHedge, a libertarian blog, one of the commenters on a post about the mass shooting summed it up this way: " He's Antifa, but you'll never see that confirmed because the FBI is a bunch of leftist commie sympathizing traitors," a user named Gaius Frakkin' wrote.
"Today we learned that Jack Posobiec was sharing a manufactured and fictitious conversation that was created to look like our account speaking with several others," the spokesperson for IGD wrote to Newsweek. "The conversation implied that anarchists and antifa organizers are somehow supportive of church shootings. Nothing could be further from the truth, and our hearts go out to people across the U.S. who have lost, and continue lose loved ones in these horrific mass shootings."
The spokesperson accused Posobiec and others of using the "pain and misery of working-class people" for profit.
"Posobiec wants to attack social movements to further his own reactionary political ends while growing his fame and career along the way," the spokesperson wrote. "For the sake of not only the truth but people's lives, it's imperative that people recognize these phonies for what they are and denounce them."
Update:
Jack Posobiec contacted Newsweek after the publication of this article and claimed that the screenshot that he posted was not taken from a direct message but from a comment left by someone on IGD's Facebook page. He added that he could not comment on the motivations of the shooter, and added that he posted the screenshot on November 3 without any knowledge of the shooting in Texas having taken place. He called IGD's depiction of him "completely false." The spokesperson for IGD denied knowledge of the Facebook comment and added in a phone conversation that "half of our Facebook comments are put there by alt-right trolls."
"Where it came from doesn't matter," the spokesperson said. "This is about insinuation and not fact."