SUV Driver Arrested After Plowing Through BLM Protesters in Manhattan
A 35-year-old man driving an SUV in Manhattan was taken into custody after he was allegedly captured on video driving through a crowd of Black Lives Matter demonstrators and over a barrier of bicycles blocking the road on Tuesday evening in midtown.
In the video uploaded online, a black Dodge Durango can be seen driving quickly down the street through a crowd of protesters as they yell after him. The person filming appears to be running after the vehicle while screaming for others to get the vehicle's license plate number.
A spokesperson for the New York Police Department told Newsweek that the incident occurred at around 9:11 p.m. The driver was taken into custody shortly afterward and the investigation into what occurred is ongoing, the spokesperson said. No injuries were reported after the incident.
"Upon arrival, police discovered a black Dodge Durango being driven by a 35-year-old male that had a bicycle under the vehicle. Responding officers took the driver into custody. Subsequent investigation has determined that several individuals—protesters—with bicycles were blocking the roadway at this location," the police spokesperson said.
"When the driver of the vehicle approached the intersection, he was surrounded by protesters who began to bang on the exterior of the vehicle. As the vehicle attempted to move forward, protesters began to place their bicycles under the vehicle to prevent movement. The vehicle fled the location but was stopped a short distance away," the spokesperson said.
Mary, a 23-year-old protester who helped organize the midtown protest, told the New York Post that "the driver kept moving" as demonstrators attempted to shut off access to the street. "There was a skater in front...the driver was being aggressive," she said. "[The skater] tried to make him understand that we weren't going to be long."
Gale Brewer, the Manhattan borough president, described the driver's alleged actions as "reprehensible" in a Tuesday evening tweet.
"New Yorkers were peacefully protesting in Manhattan when an SUV struck them. Luckily no one was seriously injured and a driver is now in custody," Brewer wrote. "To willingly drive your car into human beings using their voices to improve social conditions is reprehensible."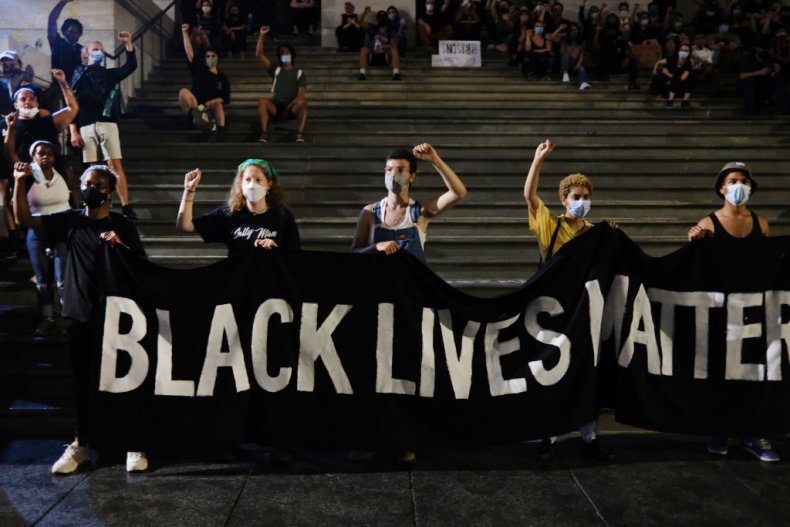 Similar incidents have occurred across the country as Black Lives Matter demonstrations have continued nationwide for well over a month following the May 25 death of George Floyd, an unarmed black man, in police custody in Minneapolis. Massive anti-racism protests have spread across the country and around the world, with activists calling for major reforms to what many see as systemic racing in policing and the justice system.
In Seattle, 24-year-old Summer Taylor died on Saturday evening after a vehicle drove into an anti-racism protest she was participating in. Another demonstrator was reportedly in serious condition as well.