SUV Driver Rams Persistent Traffic Cop Along Highway
A motorist was arrested in eastern China after a viral social media video allegedly showed him ramming a traffic officer along a highway while his wife and child were in the vehicle, in what appears to be a bout of road rage .
The incident took place outside an Guoliyuan Elementary School in Nantong's Chongchuan District, in the Jiangsu province, a few minutes after the driver had dropped off one of his two children early on Wednesday.
Footage released by district police shows a black SUV, allegedly driven by the 31-year-old man surnamed Yao, stopped on a pedestrian crossing while police officer Zhu Yongjin attempts a traffic stop.
A police statement on Thursday said Yao had performed an illegal U-turn on the busy highway, and he refused to stop when the uniformed motorcycle policeman flagged him down.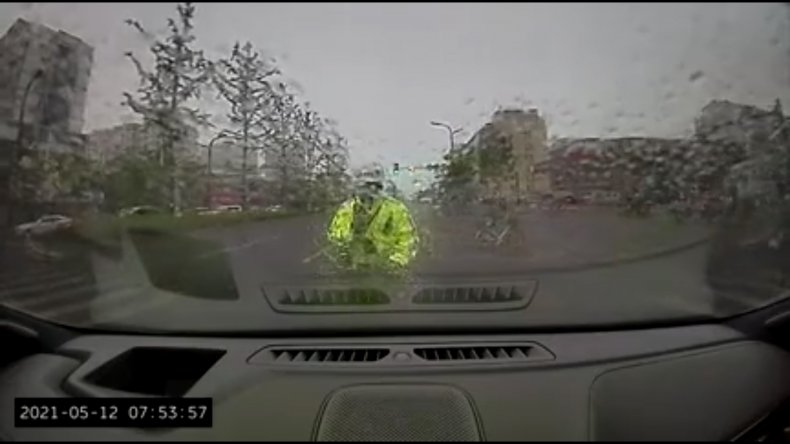 In the video, Yao can be seen driving forward along Gongnong Road, pushing Zhu more than 30 feet through an intersection while nearby witnesses film as they watch the incident unfold.
Dashcam footage, acquired by the authorities, was released along with the police report. It showed Zhu motioning for the driver to pull over, but the motorist goes around him and later drives into the officer as he stands in front of the vehicle.
Yao eventually stopped and got out to car to remonstrate with the officer, the police report said. Zhu, whose police radio was crushed by the SUV during the incident, was not harmed.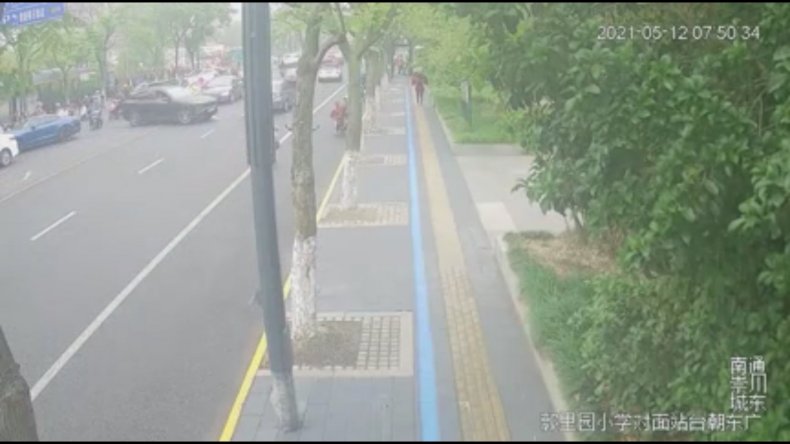 The officer told a Nantong Television report that he had tried to warn Yao not to do an illegal U-turn in front of the elementary school, but he ignored his instructions.
"He began indicating for a left turn while still near the curb," Zhu said. "I approached and motioned for him to keep driving straight, but he ignored me and did a U-turn through the solid yellow line."
The officer added: "He saw me stop in front of him, but he overtook me and kept driving east. I kept motioning for him to stop while he pushed me along the road, but he kept on driving, swerving left and right to shake me off."
A spokesperson for the Chongchuan District Public Security Bureau told Nantong Television that Yao was taken into custody and charged with assaulting a law enforcement officer.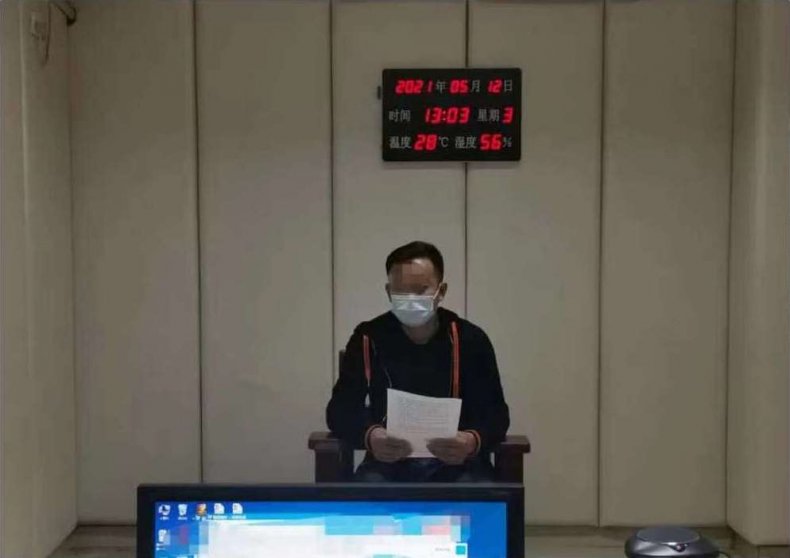 The driver told investigators he did not stop because he was afraid of losing his license, the spokesperson said.
Yao had already accumulated nine points on his driving permit. An additional three for a traffic violation would have seen the license revoked at 12 points. After serving a suspension, motorists are then required to retake their driving tests to obtain a new license.
Assaulting an officer carries a sentence of up to three years in China. Serious cases involving weapons can result in jail time of between three to seven years.