SUV Drives Through a Chicago Mall Captured on Video, Ramming Into Stores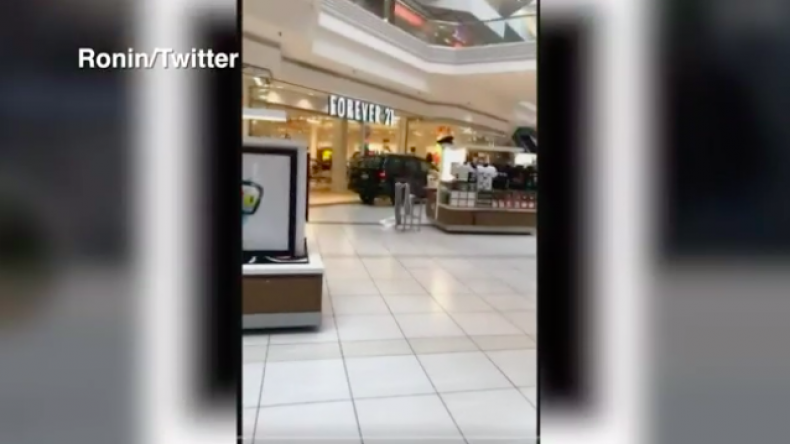 A vehicle drove through an Illinois mall Friday. Disturbing video of the incident was captured and posted to Twitter.
Warning: the video is disturbing and contains graphic language.
Police responded Friday afternoon after a black SUV drove through a Sears department store at the Woodfield Mall in Schaumburg, Illinois, a northwestern suburb of Chicago. Witnesses told WGN that the vehicle struck the mall at 2:30 p.m. local time, hitting kiosks and the exterior of stores within the mall.
In the video posted to Twitter, the vehicle can be seen ramming into a kiosk, passing a Forever 21 store and then striking another store. There are witness reports of multiple injuries, but a Schaumburg police spokesperson told the Chicago Tribune that "at this time, no injuries have been reported."
Witnesses say police apprehended the driver and he did not resist arrest.
Further video of the destruction was posted to Twitter by Chicago CBS News anchor Eric Cox. The video was taken moments after the SUV originally struck the Sears store.
Multiple emergency responses vehicles responded to the scene.
"We have officers on the scene and inside the mall,' a Schaumburg police spokesperson said.
Chicago ABC 7 reported an employee at the Rainforest Cafe indicated in a phone call that authorities closed down the mall. The Sears store is closed off as well.
Initial reports on social media indicated there was an active shooter situation in the mall, but a Schaumburg police representative said there's "no evidence of an active shooter situation."
The Chicago division of the FBI said in a statement they are aware of the situation, and there is no threat to public safety.
One eyewitness told Chicago's WGN9 that it was "definitely intentional."
"I don't understand how that could be an accident," the witness said.
One witness told Chicago's ABC7 that he was in the food court when he heard the car barreled into the mall from the Sears store.
"As he went past that point everybody started running, saying 'shooter, shooter,' or 'bomb,' just panic," Lateef Farooqui said.
Asked whether it looked like the driver was targeting any particular store, Farooqui said it was more like a "pinball."
"Yeah, it was like a pinball going right to left," Farooqui said. "I don't know if it was like an anger issue going after Forever 21, but that one was the most obvious one he went through. And then he backed out of there and then moved to the complete opposite side."
Another witness told Chicago's ABC 7 the driver appeared to pass a kids area in the mall intentionally.