SUV Slams Into Preschool in California, Sending 19 Kids, Adult to Hospital
Two children were found pinned under an SUV after the driver crashed into a preschool in Anderson, California, sending 19 kids to the hospital, police said.
There were 19 children and two staff members inside Great Adventures Christian Preschool just before 2:30 p.m. Thursday when the vehicle struck the main area of the school, where the children and staffers were gathered, police said.
Members of the Anderson Police Department, Anderson Fire Department and medical personnel responded to the scene and arrived within two minutes, according to Anderson police.
Mercy Medical Center said nine of the children were transferred to its hospital. Three other children were taken to St. Elizabeth Hospital and reported to be in stable condition, according to KCRA. The other children were taken to a hospital by their parents, and a preschool employee was also taken to a medical center for care.
Two patients admitted to Mercy have been sent to UC Medical Center via helicopter, according to KHSL-TV. Three children rushed to St. Elizabeth's have been discharged.
"[The] children were transported by ambulance to local hospitals for varying level of injures, with the majority of those transported being for precautionary reasons," Anderson police said in a statement.
No one has died and the severity of the injuries is unknown at this time, police added.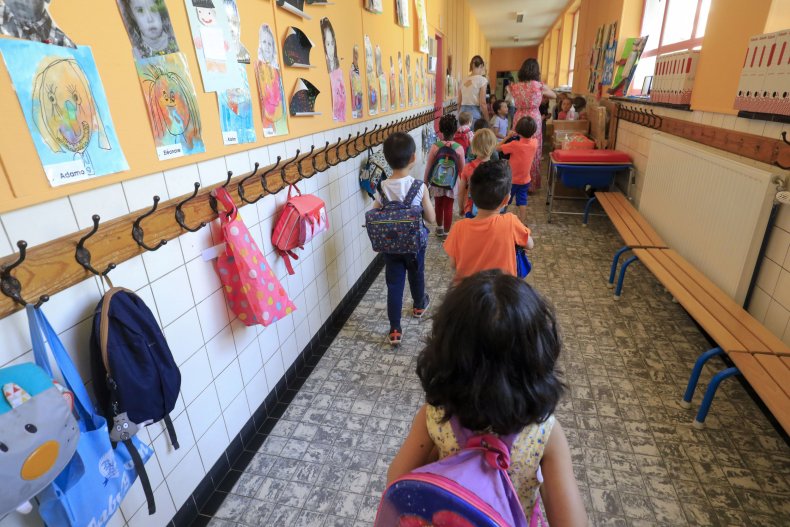 Anderson police said two of the children were pinned under the vehicle when officers arrived at the scene. Just before 4:30 p.m., officials were able to dislodge the vehicle from the building.
Police questioned two individuals at the crash scene, who are cooperating with officers in the investigation. No arrests have been made at this time. Police say drugs and alcohol do not appear to be factors.
The investigation into the cause of the collision and the moments before impact is ongoing.
Anyone with information about this case is asked to contact SHASCOM dispatch at (530) 245-6526 or by emailing the Detectives Division at tips@ci.anderson.ca.us.