Suzanne Mubarak: Egypt's Mean Queen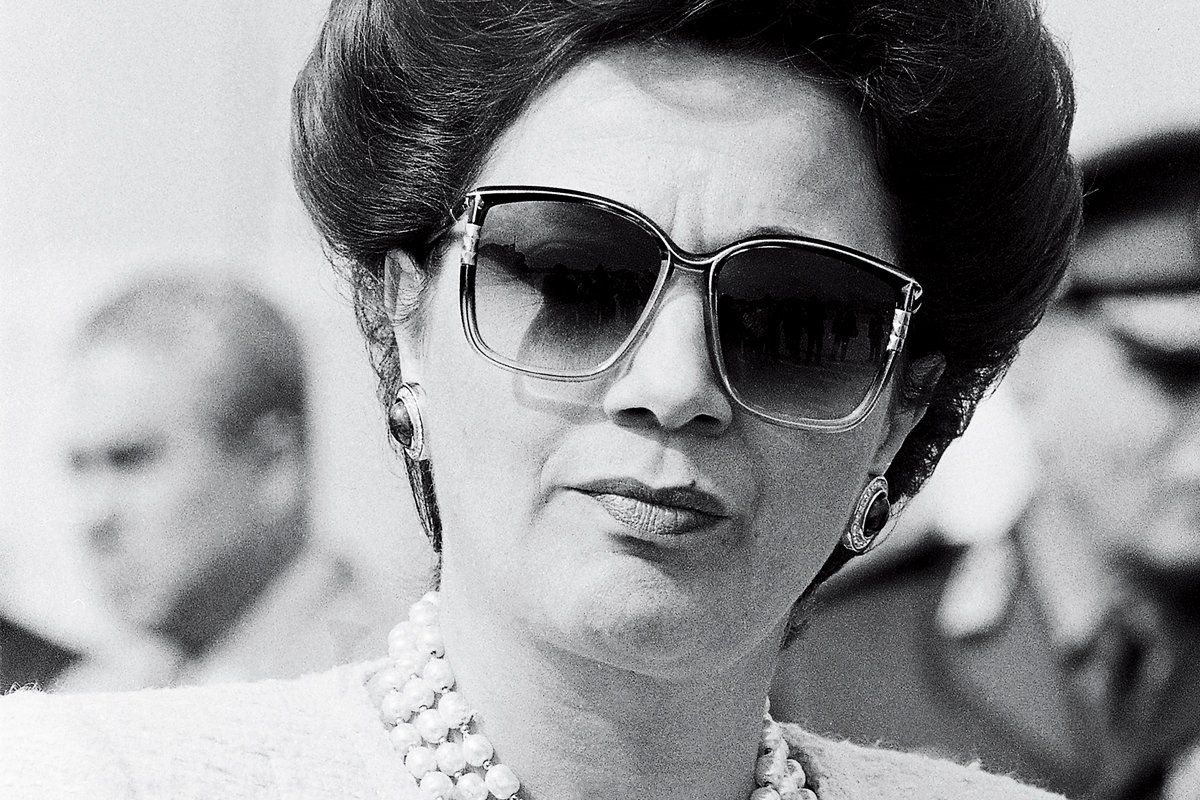 On one of the first days of the Egyptian revolution, Suzanne Mubarak, the president's wife, spoke to her friend Farkhonda Hassan by phone. Cairo's buildings were burning. The first lady, Hassan says, was "very, very calm." Suzanne did not believe a crisis was coming. She did not know the depth of the problem. She certainly did not see that the House of Mubarak was about to fall.
To spend time with a supporter of Suzanne Mubarak is to get the tiniest glimpse of what it must have been like to be the Egyptian first lady before the Arab Spring: arrogant, deluded, out of touch. The revolution, her friends say, took the 70-year-old by surprise. Especially in her later years, Suzanne observed Cairo's garbage-strewn streets through a gilded peephole. For her, walls were scrubbed, flowers planted, grass grown, Egyptians bribed to smile. If you were part of the royal convoy, Cairo was clean and Egyptians were happy.
"Why people turn so quickly from support to extreme criticism is very strange," says Hassan, who heads one of Suzanne's main charitable organizations, the National Council for Women.
It may be that the entire elite is out of touch. The Western press often recalls Suzanne with gentle ambivalence, as if her feminine credentials and nonprofit do-goodings offset her role in the dictatorial family business. A 1988 profile in The New York Times described her as "poised and articulate."
But Suzanne was hardly the willowy wife behind the evil giant. Her political power mushroomed as her husband's dissipated. "She wasn't associated with the regime," one feminist says. "She was the regime." For much of his reign, Hosni Mubarak was an unimpressive leader—a phantom pharaoh. In his last five years as president, he retreated to his vacation villa at Sharm al-Sheikh, increasingly spacy, hard of hearing, and dependent on his wife and sons. The first lady, or el hanem, as they called her, pushed the country to the brink.
"As Mubarak got older, indeed her influence and control became greater—and not in a good way," says one former U.S. official. "The U.S. had had multiple conversations with Mubarak encouraging him to move to a democratic form of government. It was clear that the person most opposed to that was not Mubarak himself, but Suzanne." Now, as violence spreads across Egypt and the military continues to brutally repress citizens, it's questionable whether fundamental change can truly come to a country so long led by a Mubarak's iron fist.
With her husband on trial for his life, Egypt's former first lady has all but vanished. She reportedly suffered a panic attack in May, after being detained and questioned over illegal acquisition of wealth. She was released quickly after forfeiting $3.4 million and a Cairo villa—though some estimates place the family wealth in the billions. She is in touch with few friends, and Newsweek's many efforts to reach her went unanswered.
Egyptians offer various explanations for the Mubarak psychosis that engulfed the country for three decades: absolute power corrupts; the Mubaraks believed Egypt would crumble without them; the couple simply didn't know how bad things were. A quick cab ride through Cairo's stark poverty and -ruined infrastructure suggests Egypt went largely ungoverned for years. What kind of woman wouldn't notice that she was justifiably despised by 80 million people?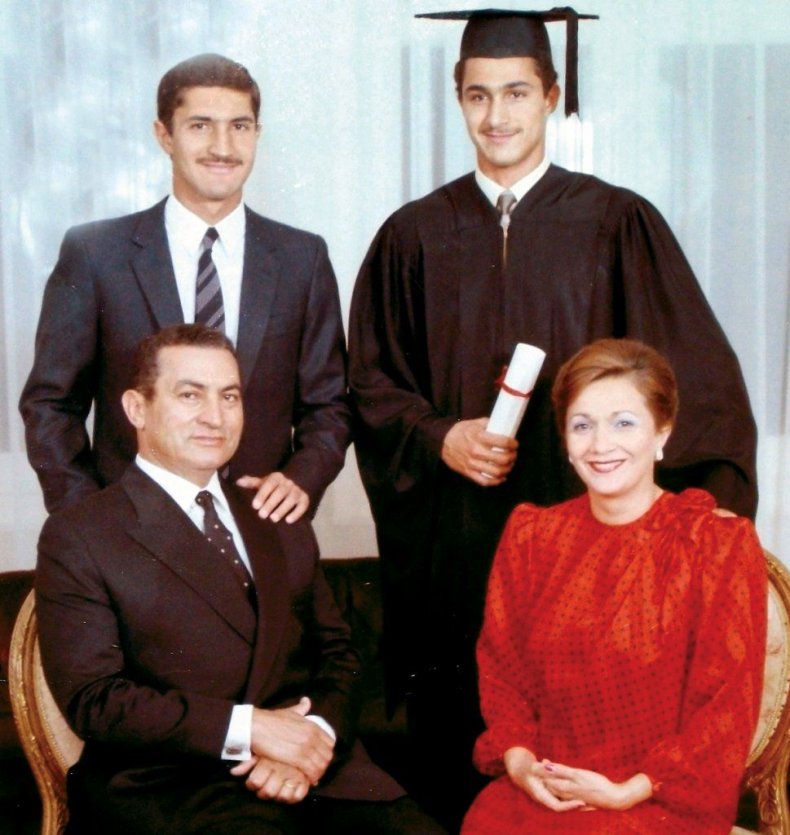 "We never thought that things would turn out to be like this," says Hassan. "You know?"
Suzanne Thabet was born middle class in the Nile River town of Minya to an Egyptian father, a doctor, and a Welsh mother, a nurse. Later the family moved to Cairo's posh Heliopolis neighborhood; the young Suzanne swam on a team at the local Heliolido Club. A magazine article from 1956 said the 15-year-old loved detective stories and ballet, and wished to become an "air hostess" when she grew up.
The slightly geeky, smiling teenager in the magazine photo didn't know she was soon to meet her true fate. Suzanne was part of a generation that married young, and rarely for love. When she was 17, she hitched her wagon to a 30-year-old military officer named Hosni Mubarak, and they quickly had two sons, Alaa and Gamal. The plainly pretty woman with thick, dark hair and good bone structure would mutate into the classic first lady. She professed to hate that term, calling it a "Western title," but the Mubarak regime was, after all, a reflection of the West. A glance through photos of Suzanne over the decades brings to mind Nancy Reagan or Laura Bush: the hair miraculously suspended, like a scrub brush around a frozen face; the boxy, tailored suits; the straight and dutiful posture; the stiff, sexless walk.
After her husband became vice president and her children went to college, the ambitious and curious Suzanne enrolled too. She majored in political science at the American University in Cairo, eventually getting a master's degree in sociology and writing a thesis called "Social Action Research in Urban Egypt: Case Study of Primary School Upgrading in Bulaq."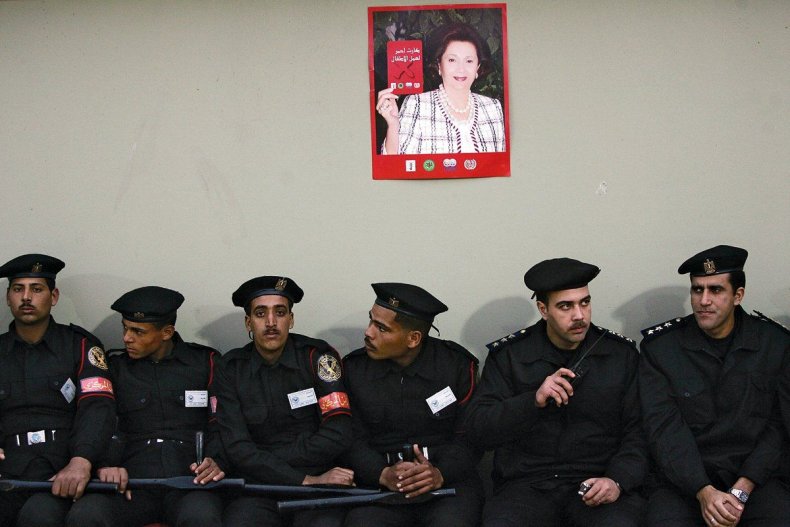 Suzanne displayed earnestness in school, but obedience to the state came first. One of her professors was Saad Eddin Ibrahim, a sociologist. Today he is a well-known democracy activist. Sitting in one of the university's shady courtyards, Ibrahim, 73, recalls the first time he became aware that the vice president's wife was taking his class (she'd enrolled under her maiden name). He had been lecturing on the population explosion in Egypt, for which he blamed early marriage. "I criticized the leadership because the leadership was advising average Egyptians to delay marriage," even though then-president Anwar Sadat had "married his daughter off at the age of 16," Ibrahim said.
A middle-aged student raised her hand. "This is a personal matter of the president, and we should not discuss it here," the woman said. The professor and student argued a bit. The woman insisted, "I think you should not bring His Excellency into the discussion." Ibrahim replied that "he wasn't His Excellency, he was Mr. Sadat." Suzanne Mubarak asked to be excused from the class. But much to Ibrahim's surprise, she returned the following year, took every one of his courses, and eventually introduced him to her husband, who would frequently seek Ibrahim's counsel.
Nawal El Saadawi, one of Egypt's foremost feminist activists, also met Suzanne around that time, when Ibrahim invited Saadawi to give a lecture. "[Suzanne] was in the audience, and she didn't like what I said, that women should revolt against patriarchy. She stood up and said women should obey their husbands! And family values. She spoke about the family values exactly like George W. Bush."
Suzanne Mubarak's views held fast after her husband became president in 1981. For her first 10 years as first lady, she remained a humble person, friends say, focusing on education and children. She came to helm countless NGOs: the Egyptian Society for Childhood and Development, the National History Museum for Children, the Egyptian Red Crescent Society, and so on. The one program even her critics applaud is Reading for Everybody, which published thousands of cheap, popular books for the poor. (Suzanne's photo appeared on every volume.)
In the '90s, her priorities shifted. She worked closely with the culture minister to build libraries and museums. She also began to focus on women, but feminists say her work was largely self-serving and destructive. As Amal Abdel Hady, of the New Woman Foundation, told me, "She's not a human-rights defender. And she's not a feminist. She was doing this as part of her personal glory." The regime even banned feminist NGOs.
As the Mubaraks entered their third decade in power, Suzanne's bid for glory expanded from the domestic stage to the international. ("Well, you know, we all want more than Egypt," one woman joked.) So she turned to grander concerns: she founded the Suzanne Mubarak Women's International Peace Movement in 2003 and initiated an End Human Trafficking Now! campaign. (Most Egyptians pointed out that trafficking wasn't one of Egypt's most pressing problems.)
Yet her résumé boasts countless honors for her global humanitarian work. In fact, when asked what was most important to Suzanne, Farouk Hosny, the former minister of culture and one of her close friends, thinks for a moment and replies, "To win an international award." Many Egyptians whispered that she dreamed of the Nobel Prize.
The Mubaraks were always close. Ali Dessouki, whose mother was a lifelong friend of the first lady, said Suzanne and Hosni were "good to each other," but the president's third-rate intellect and nonexistent leadership skills often made Dessouki wonder, "How can they be married?" It seems it was family above all.
By the turn of the century, the presidency had mutated into a strikingly different institution. With Hosni Mubarak aging and frail, his son Gamal and a clique of businessmen friends were absorbing control of the country. What had been a military regime helmed by one powerful soldier turned into a family-run oligarchy. "Egypt has no problem with a strongman at the top, especially when he comes from the military," said Tarek Osman, author of Egypt on the Brink. "What was very new was having a ruling family."
The evolution began ruthlessly. In 2000, Suzanne Mubarak's old professor, Ibrahim, appeared on a talk show to speak about the death of Syrian President Hafez Assad, suggesting that Assad's son Bashar would likely succeed him. A member of the audience said that such a thing might also happen in Egypt. Ibrahim agreed. The next day an Arabic magazine reprinted Ibrahim's words as part of a cover story. "Issues of that magazine arrived in the Egyptian market on Friday," Ibrahim says. "By midday all the copies were confiscated. By midnight I was arrested.
"Suzanne told our common friends that her husband came to her with the magazine and said, 'Look, next time he will be with us in the bedroom, under our bed. So choose between your friend and your son.'"
Ibrahim spent the next three years being tortured in prison. Mother and son, it seemed, had plans for the future, too. The Egyptian revolution was born of thousands of injustices, but the threat of Gamal's succession helped spark the final fury. It is widely accepted that Suzanne was at the heart of those plans; what is a matter of debate is whether Hosni always supported the idea. Certainly, at one time he did not.
"I never heard from him that he wanted it," Farouk Hosny says. "I was in an airplane with the president four or five years ago, and he said, 'I am not crazy to lead my son to destruction with my own hands.'"
The Mubaraks— sequestered in palaces, refusing to allow opposition newspapers into their homes—likely didn't understand Egypt's metamorphosis. It was a country coming of age, questioning not only military regimes but the new, corrupt elite. The population was swelling, Internet access was expanding, and the young began to see their relationship with their rulers differently.
Suzanne continued to push for the family to stay in power. Some acquaintances portray her as virtually Shakespearean—conniving, manipulative, shrewish in her zeal, chiding her husband not to be weak. Many say the president was too ill to govern, spending more and more time away from the capital. In 2009 the Mubaraks' 12-year-old grandson Muhammad died of a mysterious illness. The tragedy devastated the family, no one more than Hosni. Yet Suzanne believed her family had to go on, to protect Egypt from the Muslim Brotherhood and to sustain the Mubarak web of financial interests. And on a simpler level, perhaps Suzanne could not imagine a world in which a Mubarak male did not rule; the alternative was unthinkable, a personal apocalypse.
Ali Dessouki also believes Suzanne's delusions were nurtured by the system. Dessouki's mother had been Suzanne's friend since they were schoolgirls, and Dessouki knew the Mubaraks well. A 45-year-old Eisenhower fellow in Cairo who works on poverty alleviation, Dessouki distinguishes his feelings for the woman from his feelings about her regime. As a person, he found her "serious, cultured, and somewhat charismatic." "I genuinely believe she meant well; she -wanted to have a better educational system and combat poverty," he says. And he affirms that she was unhappy. "'It's a horrible life'—she used to say that."
Of the regime, however, he expresses disgust. "I am really blaming a culture and a system for putting unprepared people in such high positions," he says. "I don't blame the people, because they are very ordinary people who found themselves in a godlike position. There's only so much you can do to resist that, and in 30 years you become so isolated, you become literally insane. When was the last time they touched a car handle? When was the last time she actually saw money? But when you allow your close entourage to be villains—that says something about you."
Investigators have found suspicious accounts at a number of Suzanne's nonprofits and cultural concerns—a journalist has accused her of controlling a $145 million account linked to the Bibliotheca Alexandrina—but Dessouki scoffs at the idea. "That's just bad management and bad governance of their NGOs and everything else," he says. "Talk to me about gas. Talk to me about state security companies. Talk to me about strategic products, subsidized products. That is where the money is, that is where the corruption is."
What's strange is that Suzanne is the only Mubarak not in jail or on trial. Since her brief stint in custody last spring, the Illicit Gains Authority has continued to pursue her. The Swiss have frozen $340 million worth of bank accounts belonging to the Mubaraks, and Egyptian authorities expect to discover even more hidden money. (Their lawyer, Farid el Deeb, told Foreign Policy magazine that the money was acquired outside Egypt, when the sons worked abroad.) Estimates of the Mubaraks' wealth range from $2 billion to, wildly, $70 billion.
It's possible that cultural sensitivity to Suzanne as an older woman might keep her out of prison for now, but allegations of her own crimes and complicity abound. One of the quirkier rumors involves former minister of antiquities and famed blowhard Zahi Hawass. Many claim that he stole from his treasure trove to ply Suzanne with gifts (something Hawass vehemently denies).
Today, Suzanne Mubarak passes her time at a villa outside Cairo, spending her days visiting her husband as he awaits trial. Gamal and Alaa are in jail—in the same cell that once held Saad Eddin Ibrahim, he says. The state of Egypt pays for Hosni Mubarak's health care, according to his lawyer, and Suzanne lives off her husband's pension, $15,500 a month. The average Egyptian employee earns about $100 per month.
The Egypt that Suzanne leaves behind has just begun to move into its post-Mubarak era with elections last fall. But the Mubarak legacy remains visible every day—the decades-long frustration and anger spilling into the streets, the soldiers beating and sexually assaulting women, the rise of the Islamists, the uncertainty, the poverty, the suffering. Suzanne Mubarak did her part by sanctioning, and perhaps even prolonging, the Egyptians' hell.
Yet the strangest thing about arriving in Cairo and trying to get a sense of Suzanne Mubarak is that Egyptians don't know much about her. The Mubaraks weren't personalities. There wasn't anything special about them, and there's little to remember. "The truth is, they were just mediocre people," one Egyptian man said to me, though he did say that if he saw her walking down the street he'd "punch her in the face."
With Mandi Fahmy in Cairo.