SVB Collapse Leaves Joe Biden in Lose-Lose Situation
Joe Biden is in a difficult position following the collapse of Silicon Valley Bank, the biggest banking failure since the 2008 financial crisis.
The Federal Reserve's decision to raise interest rates last year contributed to the bank's failure.
The economy could be the make-or-break factor in Biden's 2024 re-election bid.
President Joe Biden may be in a difficult political position following the collapse of Silicon Valley Bank (SVB) in the biggest banking failure since the 2008 financial crisis.
U.S. authorities stepped in over the weekend to backstop depositors with money at SVB as part of an effort to prevent a potential spread of panic following the collapse of the regional bank based in California's Silicon Valley tech corridor on Friday after its customers initiated a run on their deposits.
The U.S. has now seen the second and third largest bank failures ever in recent days as SVB failed and customers at Signature Bank withdrew more than $10 billion in deposits, leading to a government takeover.
The Biden administration has stepped in and the president assured Americans that the U.S. banking system remains "safe" and that "no losses will be borne by the taxpayers" in remarks on Monday.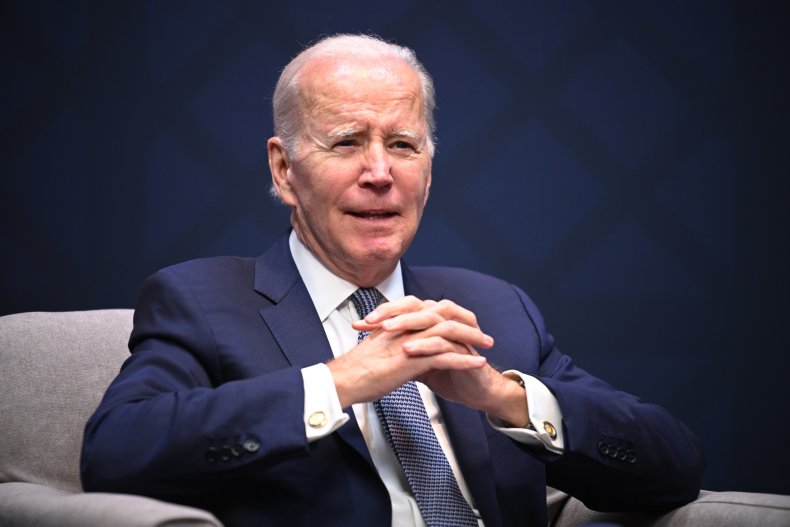 However, Biden is not able to control decisions by the Federal Reserve, which is independent and appears determine to continue its fight against inflation through interest rate rises.
The Fed's decision to raise interest rates last year was a key contributing factor in SVB's failure because the bank had invested billions in long-dated U.S. bonds such as mortgage-backed securities. As interest rates surged, the value of the bank's bonds plunged—causing SVB's bond portfolio to significantly lose value.
The ongoing concerns about the banking sector, inflation and the economy more broadly are likely to prove a political headache for Biden, according to political scientists who spoke to Newsweek on Tuesday.
Political and Economic Dangers
The failure of SVB is reminiscent of the financial crisis of 2008 and represents similar political problems for the administration, but there are also important differences between that crisis and issues surrounding SVB.
"The SVB collapse puts Biden in a difficult position, politically," Robert Singh, a professor of politics at Birkbeck, University of London, U.K, told Newsweek.
"While this is not 2008—the focus here is on small and medium sized banks rather than ones that are 'too big to fail'—the political and economic dangers are not dissimilar. Federal intervention to stop the contagion has worked thus far, and the stock price falls do not imply that banks lack sufficient reserves," he said.
Singh said the "issue here is irrationality—if savers fear, rightly or wrongly, that their deposits are at risk, that can spread rapidly and destabilize the entire sector."
"Biden then faces the problem of intervening to 'bail out' banks that are among the most unpopular of public institutions in the U.S. already," Singh said.
"As we saw fifteen years ago, most Americans will not take kindly to an administration— Democrat or Republican—that does this, even if the underlying reasons for the intervention are perfectly sound," he said.
However, Singh warned that if the Fed chooses to "delay interest rate rises necessary to quell growing inflation, Americans will not look kindly on a Washington that is presiding over a growing cost of living hike."
"Either way, Biden faces difficult choices with no good options," Singh added.
Weighing on 2024
President Biden has said he intends to run for the White House again in 2024, though he has yet to make a formal announcement about the matter. Concerns about the health of U.S. banks and the economy could have a major effect on the next presidential race.
"As with so many presidential cycles, the economy could prove the make-or-break factor in deciding Biden's re-election bid," Thomas Gift, founding director of University College London's Centre on U.S. Politics, told Newsweek.
"That's especially true now with the financial stability of the banking industry coming under scrutiny, inflation still looking stubbornly resistant to taming, and worries about a looming recession coming into focus," he said.
The annualized rate of inflation in February was 6 percent, according to figures released on Tuesday by U.S. Bureau of Labor Statistics (BLS). That's down from a 6.4 percent annualized rate in January but still ahead of the Fed's 2 percent target.
"Biden may not be responsible for any cascading effects of SVB's collapse, and the Fed's decisions over interest rate hikes are outside his control—but how they shake out are likely to weigh heavy on 2024," Gift added.
The Beauty of Capitalism
Biden could ultimately benefit from taking decisive steps to handle an impending crisis but the situation may also show the limitations placed on the federal government.
"Over the weekend, the beauty and terror of capitalism was rammed home to President Biden," Mark Shanahan, an associate professor at the University of Surrey in the U.K, and co-editor of The Trump Presidency: From Campaign Trail to World Stage, told Newsweek.
"To leave SVB and other small to medium sized banks to the vagaries of the market might have pleased the libertarian right, but also may have triggered a run on the banking system that could have devastated thousands of small businesses," he said.
Shanahan noted that big banks "are not under threat, but the whole system runs on confidence."
"If smaller banks were allowed to fail, it could have had a very nasty impact on their larger cousins," he said. "So, Biden's action to step in—no new laws, no long drawn-out battles with Congress—is largely pragmatic."
"This isn't 2008, but the system still has weaknesses. Push-back on Trump's rollback of the Dodd-Frank Act seems sensible and still gives the federal government a very limited control over a privately-operated system," Shanahan said.
In 2018, then President Donald Trump signed a law that relaxed regulatory requirements for regional banks with less than $250 billion in assets, exempting them from stress tests.
That was a change to the 2010 Dodd-Frank Wall Street Reform and Consumer Protection Act, which required banks with over $50 billion in assets to submit to stress testing.
Shanahan said that SVB "may give Biden's opponents something to carp over in the short-term, but may well save banks, investors—and frankly everyone else—from the kind of uncertainty that business and government hates."