SVB Merchandise Floods eBay After Bank Collapse: 'Corporate Swag'
Even though Silicon Valley Bank (SVB) has collapsed, it hasn't stopped people from turning a profit from its ashes.
Branded company merchandise including picnic sets, boxes and beanies are among items being flogged online just days after federal regulators stepped in to close the bank on Friday. Similarly, a new line in parody risk management t-shirts, poking fun at the financial meltdown, have cropped up on sites including eBay.
SVB's failure marked the second-largest bank collapse in United States history after Washington Mutual closed in the 2008 financial crash. Within 48 hours of the SVB implosion, the New York-based Signature Bank was seized by regulators as the Biden administration looked to prevent wider economic damage.
The administration's pledge to cover deposits—including those exceeding the $250,000 federally insured limit—looked to ensure depositors, many of which were technology start-ups, could continue trading.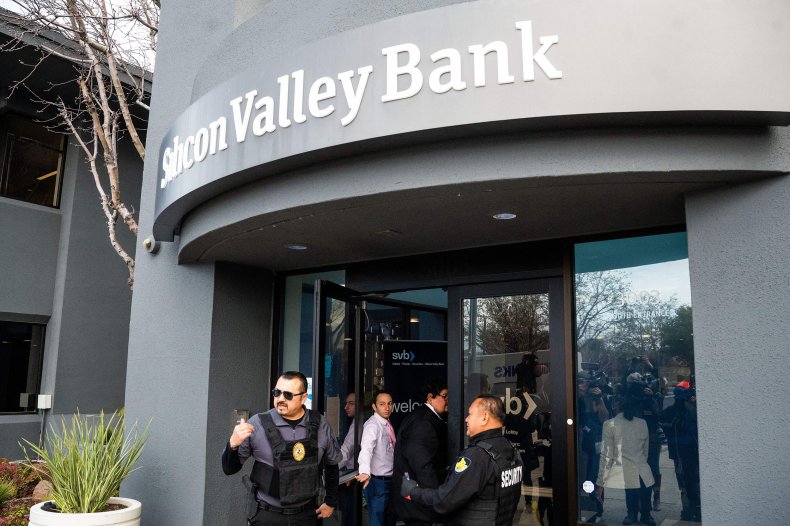 On Monday, the Federal Deposit Insurance Corporation (FDIC) transferred all deposits held by SVB and Signature into newly-created "bridge banks" run by the agency.
But out of SVB's demise, people with their hands on company merchandise—usually given away for free at corporate events—are selling "corporate swag" that is now "limited edition" at high prices.
Listings on eBay show an SVB picnic set, including a cheese board and utensils, selling for $46; a beanie and scarf set for $76; and a reusable water bottle for $86.
One person is even selling a branded cardboard box which they said they "received after getting [an] offer letter one month before the bank blew up."
"Need to pay rent this month, please bid," they added. As of 7 a.m. ET Thursday, the bid was at $203.50.
The collapse of SVB is just the latest in a long line of financial institutions to have folded and seen corporate paraphernalia traded as memorabilia of a business disaster.
Gear from crypto firm FTX, which filed for bankruptcy in November, has appeared in online listings, as has stash from Melvin Capital, the hedge fund that closed in 2022 after betting against Reddit investors in Gamestop stock. Rare items from Lehman Brothers, which famously fell in 2008, still occasionally crop up.
Federal regulators took control of SVB on Friday after a run on the bank in which depositors rushed to withdraw their funds all at once. This was sparked by an announcement on Wednesday that it had sold securities at a loss to plug a hole in its finances, according to CNN.
The hole emerged after the Federal Reserve drastically increased interest rates to tackle inflation, which also saw bond prices fall. SVB was among many banks which invested in government bonds when interest rates were close to zero during the pandemic.
While the merchandise is being sold for its authenticity, the bank's collapse has also opened up a market for parody t-shirts and baseball caps. Online sellers are offering SVB-branded "risk management department 2023" and "250k bank run" tees made to look like marathon wear—the latter a reference to the FDIC's usual limit for insured deposits.
"I gave my money to SVB and all I got was this lou$y t-shirt," the slogan on one of the parody shirts reads.
"Not that there's humor in economic collapse, but it is somewhat funny," David Coley, an options trader based in North Carolina, told the Wall Street Journal after purchasing one of the t-shirts. "Especially the risk-management department. Like, where were they in all of this?"
Earlier in the week, it was reported that SVB had not had a chief risk officer between April 2022 and January this year, a little-known fact until the company's most recent Securities Exchange Commission filing was made.
Newsweek reached out to SVB via email for comment.