Democratic Congressman Clowns Trump Jr.'s 'Witch Hunt' Halloween Costume: 'Closest to Fatigues Any Trump Has Ever Worn'
President Donald Trump's eldest son Donald Trump Jr. and his girlfriend Kimberly Guilfoyle were ridiculed for their witch hunt Halloween costumes by a Democratic congressman who remarked it was the "closest to fatigues" any Trump family member has worn.
Trump Jr. on Thursday posted a photo of himself wearing army print clothing and holding an apparatus, with Guilfoyle, who is a Trump campaign senior adviser, dressed as a witch.
"Witch Hunt!!!" Trump Jr. wrote, using his father's favorite line for his impeachment inquiry and the Mueller probe. "Happy Halloween folks! With all the bullshit the Democrats are throwing out there we just couldn't resist."
While Trump Jr. intended to mock Democrats, he was trolled in return.
Rep. Eric Swalwell shared the image and tweeted, "Closest to fatigues any Trump has ever worn. Did the hereditary bone spurs slow down the hunt, @DonaldJTrumpJr?"
The California congressman brought up bone spurs because Donald Trump received that diagnosis in his heels in 1968 during the Vietnam War draft and was medically exempt from serving in the military. Who diagnosed him and exactly how we was exempt from serving in the war is still unclear. While campaigning for the 2016 presidential election, Donald Trump said he could not recall who signed his diagnosis paperwork.
Swalwell, who announced his 2020 bid for president in April and dropped out of the race in July, has not been shy to attack Trump Jr.
In May, Swalwell said on CNN that Trump Jr. met with Russians who offered dirt on his father's 2016 election opponent Hillary Clinton and said the first son lied about it, and therefore should not be allowed to set the terms of his testimony before the Senate Intelligence Committee.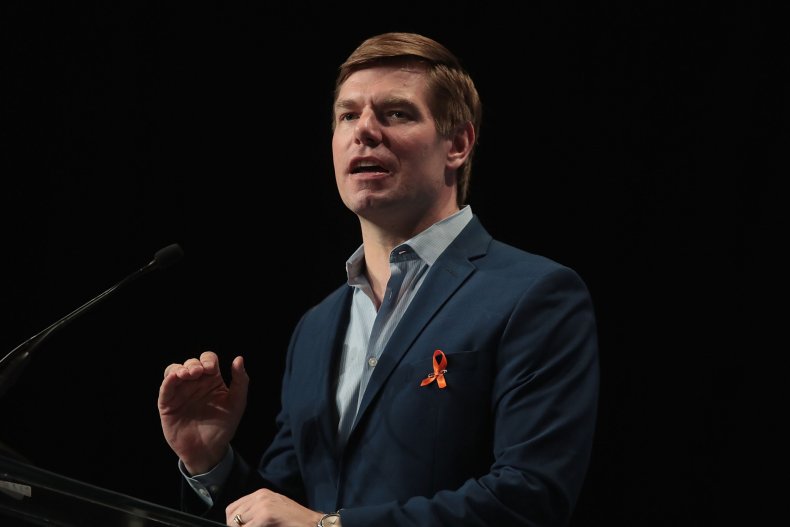 Trump Jr. has gone after Swalwell as well. In May, Swalwell tweeted a video and wrote regarding his presidential bid, "I may be 'another white guy,' but I know where there are gaps in my knowledge or my experience and I know when to pass the mic."
The president's son mocked Swalwell by tweeting, "Hard to believe that this isn't a parody account."
Swalwell and Trump Jr. are likely to continue sparring, as the congressman is a member of the House Intelligence Committee and is poised to play a role in Trump's impeachment hearings. On Halloween, the House of Representatives voted along party lines to back the impeachment inquiry into the president's contact with Ukraine.