Eric Swalwell Derides Ken Buck's AR-15 Raccoons Comment
Representative Eric Swalwell has derided Republican lawmaker Ken Buck's argument that the type of gun used in the mass shooting in Uvalde, Texas, shouldn't be restricted because it is used for pest control.
Swalwell, a Democrat who represents California's 15th congressional district, mocked comments made by Buck, a Colorado Republican, about the AR-15 that 18-year-old Salvador Ramos used to kill 21 people, including 19 children, at an elementary school on May 24.
Buck said that in rural Colorado, the AR-15 is the "gun of choice for killing raccoons before they get to our chickens," and was also the weapon used for "killing a fox."
"It is a gun that you control predators on your ranch, on your farm, on your property," he said, adding that denying access to the popular semi-automatic weapons "makes absolutely no sense."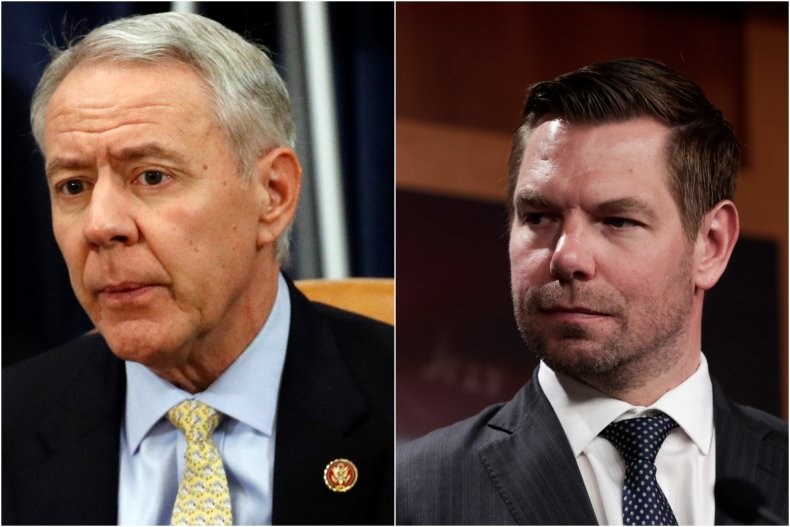 But Swalwell begged to differ, sharing a clip of Buck's comments, with the sarcastic message, "Oh—Why didn't y'all just say so? We have to protect the chickens from the raccoons."
"Cool cool. So that's why our kids have to die in their classrooms. So we can protect the chickens. Makes total sense now."
In response, Buck told Newsweek in a statement: "It's clear from these remarks that progressive Democrats do not believe there are legitimate uses for firearms.
"The Second Amendment provides a right to bear arms, and all the overheated rhetoric in the world won't change that."
The video of Buck was initially tweeted by media outlet The Recount and as of Friday morning had received more than one million views.
Buck is a vehement opponent of tougher gun laws and even has an inoperable locked and stripped rifle in his office, according to CNN. In 2020, he challenged President Joe Biden, then on the campaign trail, and former U.S. Rep. Beto O'Rourke, who were arguing for measures to combat gun violence, to take the semi-automatic weapon he has at work.
Another Republican lawmaker, Sen. Bill Cassidy of Louisiana, has also argued that assault weapons are needed to kill small animals, telling Vice News that they were used to kill "feral pigs" in his state.
The perennial debate over Second Amendment rights has returned to the fore after the Uvalde shooting and other mass killings.
As well as Uvalde, 10 people were killed in May in a racially motivated mass shooting at a Buffalo, New York grocery store. Meanwhile, this week, four people were killed in a mass shooting at a hospital campus in Tulsa, Oklahoma.
On Thursday, Biden urged Congress to take action on guns, calling for a ban on assault weapons and high-capacity magazines. If this was not possible, he said background checks needed to be strengthened and the minimum age for purchase raised from 18 to 21.
Biden also highlighted the need to "address the mental health crisis" linked to gun violence, repeating a Republican talking point that mental health issues were behind the mass shooting.
Update 06/04/22, 3 a.m. ET: This article has been updated with a statement from Rep. Buck's office.