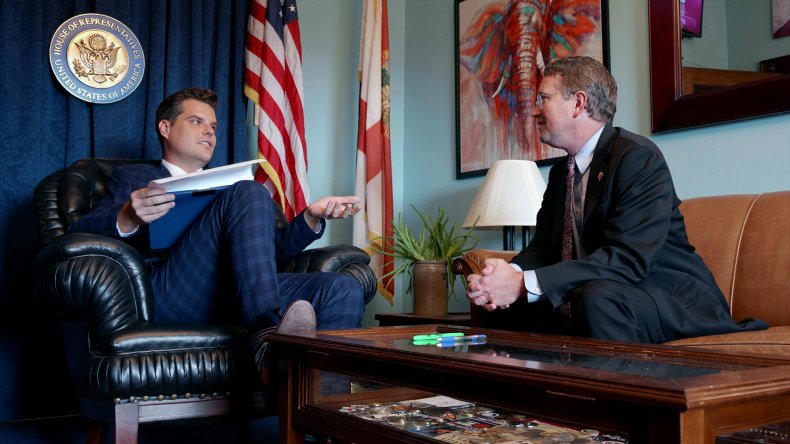 U.S. Rep. Thomas Massie sums up his decision to take part in a new eye-opening documentary set to air on HBO this week like this: "If people want to drain the swamp they are going to have to get more informed about how the swamp works," the Kentucky Republican told Newsweek.
HBO's The Swamp, which premiers Tuesday, offers an unprecedented view inside Congress, as seen through the eyes of Massie and fellow Republican U.S. Reps. Matt Gaetz of Florida and Ken Buck of Colorado during the height of the Democrat-led impeachment inquiry into President Donald Trump.
A spokesman for Gaetz declined Newsweek's request for comment on his role in the documentary. Buck's office didn't immediately respond to Newsweek's request.
Filmmakers Morgan Pehme and Daniel DiMauro admit they are liberal and in an interview with Newsweek said they were upfront about that with the conservative lawmakers their movie follows.
"I hope that people watch this film and realize, like we did making this film, that as bad and dysfunctional and corrupt you think Congress is already, it's far worse," DiMauro said.
Pehme said he sees the film, 14 months in the making, as having an even more pressing need during the coronavirus pandemic.
"It's very easy for us to muddle along as a country when things are going well," he said. "But I think everybody in this country knows right now that we are in trouble and facing profound problems...Congress can't afford to fail us at this moment."
A recurring image in HBO's The Swamp is of Washington landmarks—the U.S. Capitol and the White House among them—being ensnarled by overgrowing vines and pulled into murky waters.
The sense of dread hangs heavily before another insider tidbit is exposed—like how lawmakers really get their plum committee assignments or what takes place inside the respective parties' House campaign fundraising arms.
"On both ends of the political spectrum people are sick of how broke and dysfunctional Congress is," DiMauro said.
The film was shot before the coronavirus pandemic shut down normal social activity around the nation's capital.
Today, there are not widespread fancy dinners with lobbyists at restaurants, and there are fewer gatherings among members and their constituents.
"It's not more functional—just different and quieter," Massie told Newsweek.
But the film paints a vivid picture of what happens in "The Swamp" just three years after President Donald Trump was elected to the White House on a wave of "Drain the Swamp" chants.
"It's not just about these Republican members, it's about how the American people's interests are being trumped by the special interests," Pehme said. "We need to restore the founder's vision."
Harvard Law professor and one-time Democratic presidential candidate Lawrence Lessig stars as the film's outside liberal voice, and U.S. Rep. Ro Kanna, a California Democrat, also is featured prominently, attempting to work across the aisle with Gaetz.
Gaetz, who has become a conservative darling and close Trump ally, was especially game for filming, allowing the crew to tape his morning routine—applying make up, deciding to wear "Ivanka's favorite" shoes and musing that he lost weight because his mother told him he needed to if he was going to be on television so much.
Pointing to a photo of himself next to Trump for the signing of a bill that he had no involvement in, Gaetz shrugged, "I have no idea why I was there."
Gaetz also allowed the cameras to record private conversations he had with the Trump—without appearing to notify the president of the recording.
In one of those calls at the height of the impeachment inquiry, Trump praised Gaetz and other Judiciary Committee Republicans.
"This whole impeachment nonsense must be stopped now," Trump said in audio recorded through the phone. Trump told Gaetz that first lady Meliania Trump said Gaetz was "handsome" on television. "He's very happy," Gaetz gushed after hanging up the phone.
Later in the film, the cameras joined Gaetz for a campaign event back in his district where a woman claimed kids don't know the Pledge of Allegiance or the Star Spangled Banner these days. Gaetz then led the group in singing the national anthem.
Massie, who has occasionally drawn Trump's ire, noted that the president's approval rating in his district is higher than 90% and said getting on the wrong side of him can prompt a nasty tweet or off-hand comment from Trump at any time.
"That's what makes it difficult—not that he's powerful but that he's so popular," he said.
He said he's seen people suggest that the solution is voting out every incumbent lawmaker and starting over.
"If that would fix the problem I would volunteer to lead," Massie said. "But unless they get more informed about how the swamp works, they have no hope of draining the swamp."
An engineer with two degrees from the Massachusetts Institute of Technology who went "off the grid" and became a farmer before joining Congress, Massie said he believes he and Gaetz are playing "the outside game instead of the inside game" and by using social media and cable news appearances they can find a "detour around the swamp."
"Take your message to the people," Massie said.
The Swamp airs at 9 p.m. ET Tuesday on HBO and will be available for streaming on HBO Max.