'Swampiest Thing I've Ever Heard,' MSNBC Host Blasts Elaine Chao for Reportedly Steering Millions to Husband's State
MSNBC host t slammed President Donald Trump's Transport Secretary Elaine Chao on Tuesday morning after it was reported that she allegedly helped get grants totaling tens of millions of dollars sent to her senator husband Mitch McConnell's state, Kentucky.
"She has figured out a way to funnel tens of millions of dollars to her husband's state for projects as he runs for re-election," Scarborough, who hosts Morning Joe and previously served as a Republican in Congress, said.
"Is that legal?" Mika Brzezinski, Scarborough's co-host and wife, interjected.
"It's about the swampiest thing I've ever heard in my life," Scarborough continued. "In other years," he continued, laughing, "in other decades, in other administrations, she would be fired at once," he said. "And yes, she would be investigated. It certainly sounds, if not illegal, extraordinarily questionable and let's just say swampy."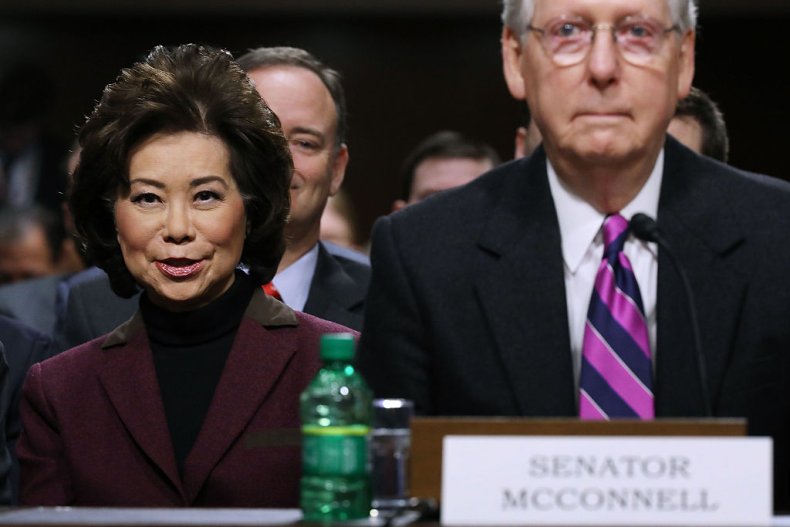 Politico reported on Monday that Chao's Transportation Department had designated a special liaison to assist specifically with grant applications and other requests from her Republican husband McConnell, who is also the Senate majority leader. This effort set the stage for the approval of $78 million worth of projects in Kentucky, as McConnell runs for reelection in the state next year.
"Where a Cabinet secretary is doing things that are going to help her husband get reelected, that starts to rise to the level of feeling more like corruption to the average American," John Hudak, the deputy director of the Center for Effective Public Management and a senior fellow in Governance Studies at the Brookings Institution told Politico. "I do think there are people who will see that as sort of 'swamp behavior.'"
Trump famously campaigned on "draining the swamp" in Washington, vowing to weed out political corruption and establishment figures who work to benefit themselves over the American people. In reality, his administration has been stacked with millionaires and billionaires, and plagued by numerous accusations of ethical violations. A report by Politico in March of last year pointed out that Trump's cabinet was the "wealthiest in modern history," although there has been some reshuffling and resignations since then.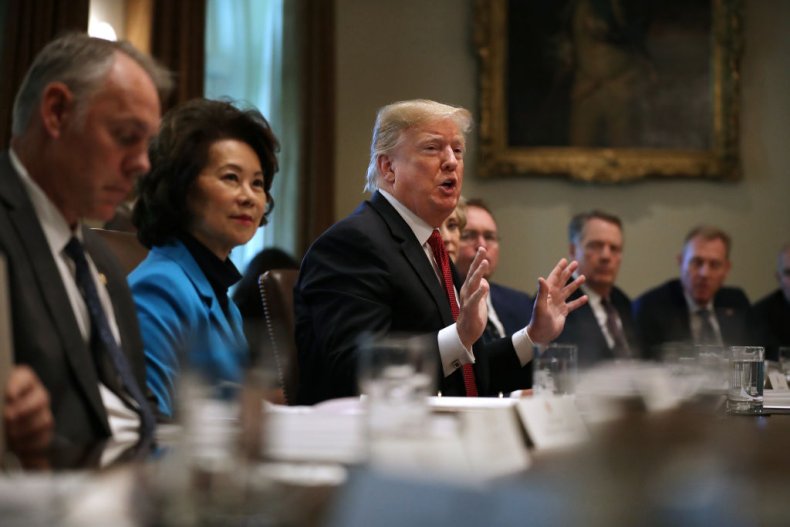 Chao, who previously served as labor secretary under President George W. Bush, has also come under scrutiny for her families ties to China. Her father founded the Foremost Group, which has become a major international shipping corporation with deep ties to China's business elite. According to a report from The New York Times earlier this month, Chao's position has boosted her family's business profile in China. Meanwhile, the company actually benefits from policies that Trump has fought against in his ongoing trade war with the Asian nation.
"This is a family with financial ties to a government that is a strategic rival," Kathleen Clark, an anti-corruption expert at Washington University in St. Louis told the Times. "It raises a question about whether those familial and financial ties affect Chao when she exercises judgment or gives advice on foreign and national security policy matters that involve China."