Swamp Sparrows Have Sung Same Songs for Centuries Because They Want to Fit In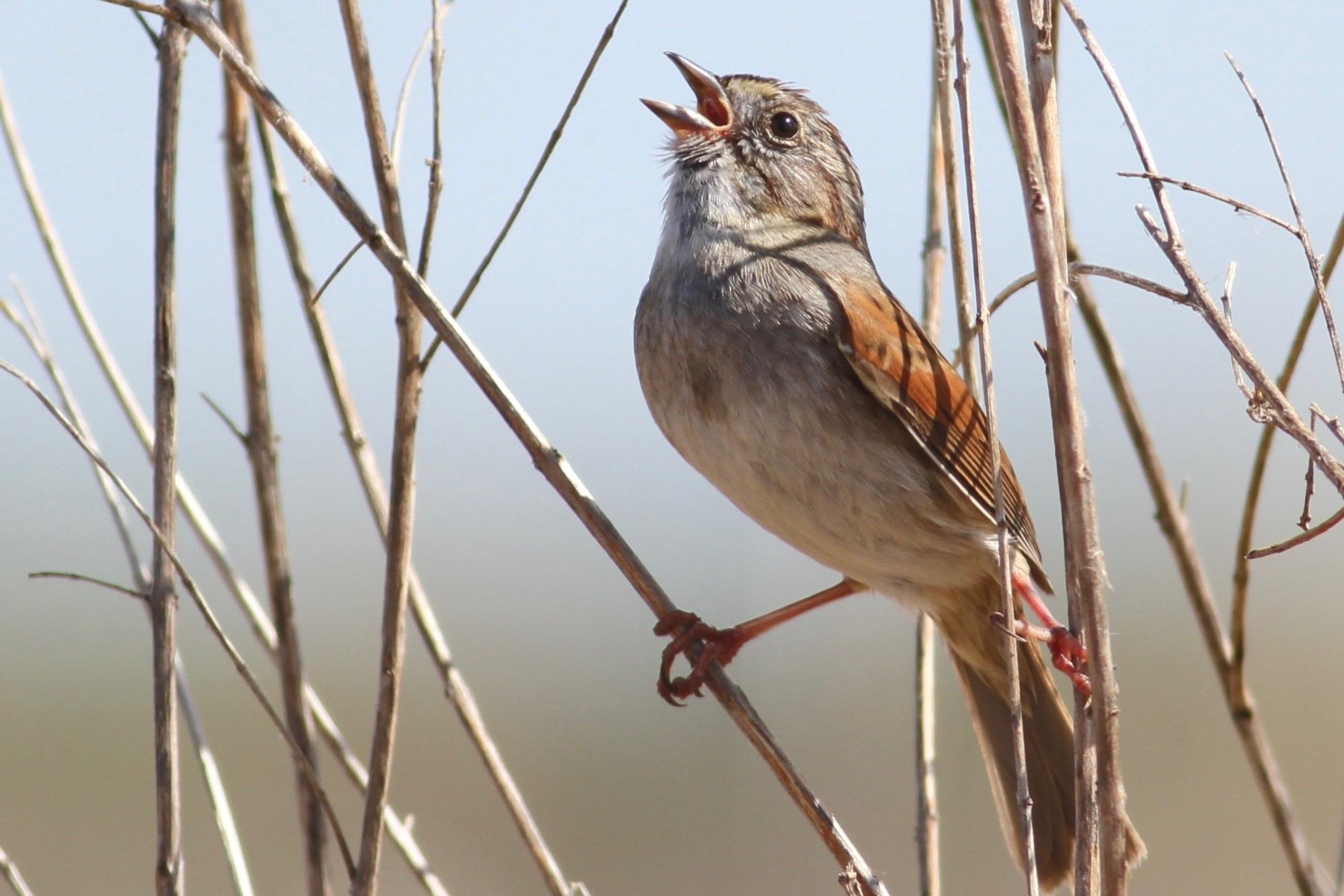 When the swamp sparrow sings, it looks almost proud, puffing out its feathered chest and lifting its head high before letting out a long sputter of chirps. As it turns out, this creature my have reason to take pride in it's melodic chatter. The list of songs it knows is short, but this tiny bird has been singing the same tunes for the last 1,000 years, according to a new study.
Scientists have found evidence that the swamp sparrow is so adept at mimicking the sounds of its elders, that little has changed in centuries. Now, it appears like these birds preserve their cultural traditions much like humans do, according to research published on Wednesday in the journal Nature Communications.
"If you go to a marsh in the northeast of the U.S. that has been relatively undisturbed, and you listen to the swamp sparrow songs there, the odds are that the commoner ones you hear are quite ancient traditions," said Robert Lachlan, the study's lead author and a biologist at Queen Mary University of London.

Not unlike humans, the baby birds start learning from their elders early in life. Within the first few weeks after leaving the nest, young males will memorize the songs they hear and by the next spring they will start singing several songs, before whittling their repertoire down to the final few, Lachlan told Newsweek.
"They have evolved a communication system for which culture plays a central role," said Lachlan.
During 2008 and 2009, the team of scientists recorded the birdsongs of more than 600 male swamp sparrows in the northeastern United States. Then, they measured the degree of diversity in the birds' repertoires using acoustic analysis software to break down the sound into notes. The findings revealed that the swamp sparrows accurately learned their songs 98 percent of the time.
This research suggests swamp sparrows learn songs with a "conformist bias," which means it is important for them to sound like they fit in. Until recently, this was thought to be a uniquely human trait. These findings provide the first clear example of conformist bias in wild animals.
"Swamp sparrows do not pick songs to learn at random. Instead, they appear to selectively choose the commoner song types that they hear to copy," Lachlan said.
Swamp sparrow songs serve two functions. The songs are sung only by male birds, who use them to defend territories during the breeding season. Females use songs to choose their mates. So, if a male swamp sparrow develops under stress or is infected with a disease, it is less able to learn its song precisely and female birds will be less likely to seek that bird out as an attractive mate.
Swamp sparrows do not have big brains, and do not show other signs of cognitive sophistication along the lines you might see in primates or crows.
"Instead, the study suggests that simply learning accurately can generate some aspects of culture," said Lachlan.
Swamp Sparrows Have Sung Same Songs for Centuries Because They Want to Fit In | Tech & Science