'Swamp Thing' on The CW: Why The Show Has Already Been Canceled
Swamp Thing is the latest show in The CW's extensive library of TV show featuring DC Comics heroes and villains. The first episode of the show, which originally aired on DC Universe, will air on The CW on Tuesday, October 6 at 8 p.m. ET / 7 p.m. CT.
However, viewers should not get too into the show. At things currently stand, the show has already been canceled by DC Universe. The show's episode run was first reduced from 13 episodes to 10 in April 2019, then in June of that year, the show was canceled, just five days after the first episode of the show aired.
The show was thought to be canceled as part of the winding down of original scripted TV shows at DC Universe. Once WarnerMedia started working on releasing its streaming service HBO Max, the company started moving the focus away from the superhero streamer, which in January 2021 will shut down its movie and TV show streaming options, become DC Universe Infinite and become simply a comic book subscription service.
However, just because the show is currently canceled, this does not mean it could not return for Season 2 as a CW exclusive. CW president Mark Pedowitz has not ruled out that the show could come back for more episodes.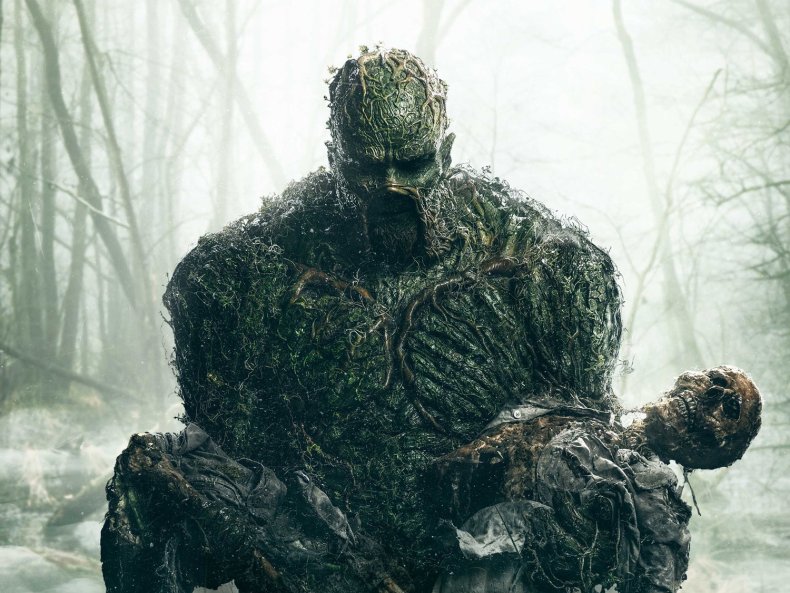 In a call to reporters in May, he said: "At the moment, it's just the one season. I do not know if it would come back. Obviously, that would be a discussion for Warner Bros. and The CW. But at this time, Swamp Thing is just the episodes we have."
The character also made a cameo in the Arrowverse crossover Crisis on Infinite Earths, suggesting that he could fit into The CW's roster of DC shows like The Flash, Batwoman and Supergirl.
However, it seems that if The CW did decide to order Swamp Thing Season 2, they might have to start almost from scratch. Per The Hollywood Reporter, the decision to cancel came at the point when the studio who makes the show had to decide whether or not to store the show's sets. The fact that they canceled the show suggests these sets have been dismantled and would have to be recreated—something that would surely make Season 2 more expensive.
When the show was first announced, its creators hinted they had a three-season plan for the show, so there would be plenty of material ready if someone did want to take a chance on Swamp Thing Season 2.
Swamp Thing, however, was not among the former DC Universe shows that were given a second life on HBO Max. That streamer has ordered Doom Patrol and the animated Harley Quinn series both for a third season, for example.
Swamp Thing airs Tuesdays at 8 p.m. ET / 7 p.m. CT; Season 1 is streaming in full on DC Universe.