Swan Lets Man Save Her Eggs From Rising Water by Building a Makeshift Raft
A swan let a man save her eggs by building a makeshift raft in the dark on Saturday night, after they were threatened by rising water in a marina.
The water level had "shot up" at the Jones Boatyard marina in the seaside town of St Ives, U.K., the organization wrote on Facebook.
Rob Adamson, who lives on a boat at the marina, saw that the water was "lapping around" a swan's nest at 9 p.m. local time on Friday May 14, according to the post. He made a makeshift raft and lifted the nest, swan and her nine eggs onto it.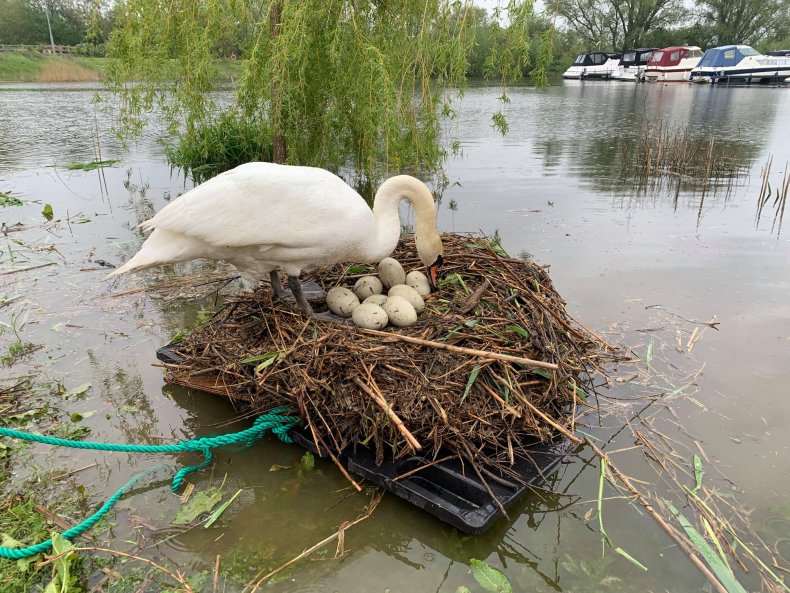 He attached a rope to the raft so it could be moved in the water, BBC News reported on Tuesday.
Jones Boatyard told Newsweek the eggs have since started hatching, and "most not all" had hatched since Adamson saved them. This is thought to be the first time the swan's eggs have been able to hatch.
Adamson told BBC News that he has been helping the swan for the past decade. He described it as "the unluckiest swan" after she had lost her eggs to foxes and floods in the past.
"I needed to make sure they survived," he told the broadcaster.
Adamson said: "You're not supposed to interfere, but it had got to the point where they were all going to die.
"I couldn't go to bed knowing that. I knew I would regret it if I didn't do anything to save them.
"The dad was watching too, but neither of them attacked me. I think they knew it was their best chance."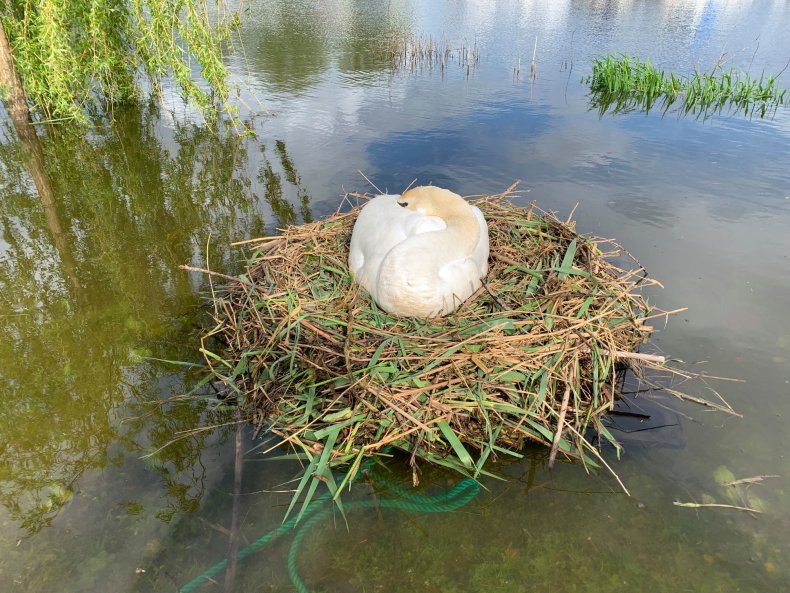 This is not the first time Adamson's heroics have seen him hit headlines. In 2018, he raised an orphaned baby swan after it was found injured at the boat yard. The cygnet, named Sidney, lived with Adamson on his boat. This earned him the name "the swan man" locally, according to BBC News.
He told The Cambridge News at the time: "Being a wildlife lover I'm in dreamland.
"To get the opportunity to look after a cygnet, you're not going to get that again."
Adamson said "being at the marina seems an ideal place for him to grow up.
"He's been out in the kayak and we walk in the boatyard and he follows me around. It's like having a little puppy."
The pair grew so close that when Adamson released him at a wildlife center to live with other swans when he was old enough, Sidney became distressed and the center asked if he would take him back, The Times reported.
Adamson told BBC News this week that he hasn't seen Sidney for a number of years but says he's sure he will be back.