Swarm of Crickets Taking Over San Antonio Has Residents, Students Chirping on Social Media
Wave on wave of crickets arrived in San Antonio, Texas Tuesday, and it had folks hopping to social media to chirp about it.
The insect typically makes its rounds throughout Texas in cycles, and the University of Texas at San Antonio (UTSA) was one of their primary landing spots beginning early Tuesday morning, according to the San Antonio Express-News.
The thick mass of crickets lining the sidewalks, stairwells, walls and entrances of buildings had students running for cover, and the university acknowledged its new guests on campus in a Twitter post. The school even warned students and faculty to not feed the crickets, because "they aren't as friendly as the squirrels."
"Well, this is new. We are aware of the current cricket situation on campus, 'Runners. @UTSAFacilities is working on finding a solution for our chirping visitors," the school's official Twitter announced Tuesday morning. "Thanks for your patience. Please refrain from feeding the crickets - they aren't as friendly as the squirrels."
Students at UTSA, home of the Roadrunners, weren't worried about the Tasmanian Devil on Tuesday, but whether or not they could avoid crickets—and perhaps have classes cancelled.
One student wrote, "Wow... these crickets really sitting in my class like they pay tuition. Then got the nerve to be disruptive and chirp the whole time."
Another wrote, "There's a turf war going on between squirrel's and crickets at UTSA and your boi is just trying to get to class lol"
This student said she was fine with skipping her exam tonight. "i have an exam tonight but idk if i'm willing to go after seeing all these pics of the crickets @ utsa."
Another tweeted, "UTSA Roadrunner Cafe finna have fried crickets on the menu."
One wrote, "imagine if we had actually raided area 51 like the crickets are invading utsa"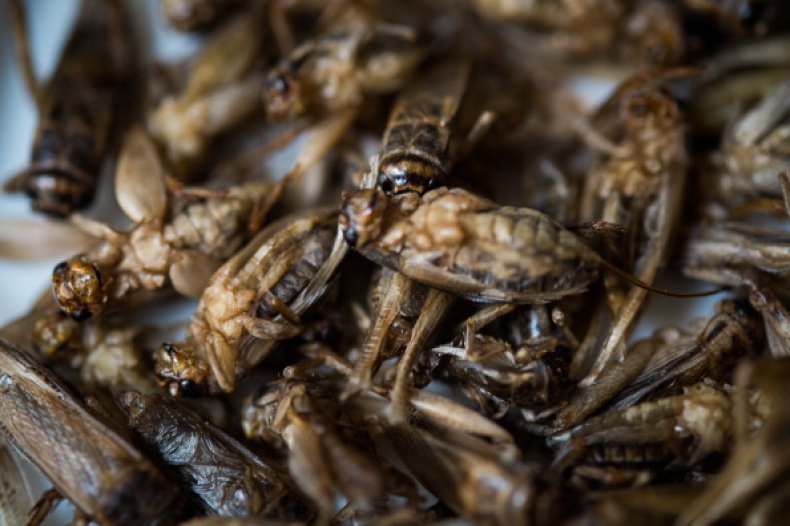 The UTSA campus was not the only area invaded by crickets. Much of the city felt the swarm, including in nearby Schertz, where a FedEx warehouse saw its largest infestation around 4 a.m.
"Today was literally the first day of the infestation," said FedEx warehouse worker Julius Johnson. "They were flying around the warehouse and getting into everything. There were a good 200 or more scattered around the warehouse and that's a low guess."
Is this normal? Well, Molly Keck of the Texas A&M AgriLife Extension office said when temperatures go from sweltering summer heat to slightly cooler conditions in late summer or early fall—from 100s and 90s to a more comfortable 80s in this case—then it's not uncommon for crickets to show up in massive waves.
Keck added that with low temperatures dipping into the 60s at night and creeping into just the low- to mid-80s in the daytime, Tuesday's quick cricket invasion probably won't be the only day the insects will be around.