Swarthmore College Fraternities Disband After Protests Over Leaked Documents Referencing 'Rape Attic'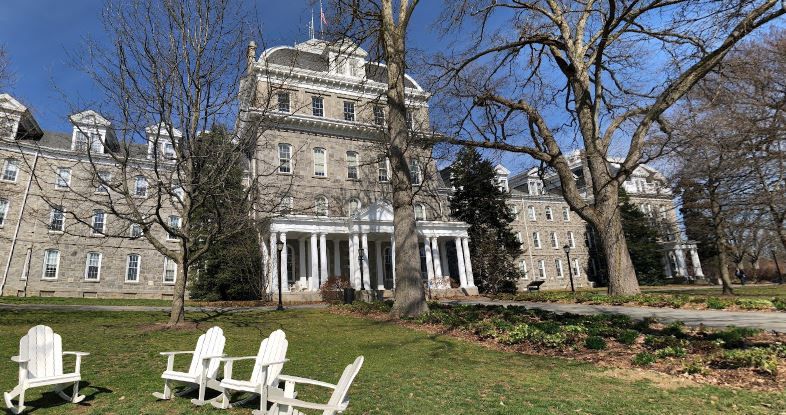 After days of protests over leaked documents containing offensive jokes and descriptions about sexual encounters, Swarthmore College fraternities Phi Psi and Delta Upsilon's chapters have decided to disband.
Fraternities have long attracted criticism, as well as allegations of rape, sexual assault, fatal hazing and racism are nothing new at campuses across the country. In 2019, a University of Georgia fraternity was suspended after a racist video surfaced, Miami University's Delta Tau Delta was suspended for hazing and the University of Texas at Arlington prohibited all Greek Life activities over allegations of rape, hazing and near-deadly drinking.
In April, Swarthmore students were outraged by leaked documents containing details about sexual encounters, along with racist, homophobic and misogynistic language. The allegations prompted calls for the closure of two fraternities at the Pennsylvania liberal arts college.
On Wednesday, Swarthmore College president Valerie Smith announced in a campus-wide message that Phi Psi and Delta Upsilon decided to disband and relinquish their houses. The announcement came days after Smith suspended all fraternity activity pending the outcome of an investigation into disturbing documents dated from 2013 to 2016.
"At this time, we have no evidence that any current student participated in the behaviors documented in those materials," Smith said. "An external investigator will still analyze the documents to confirm whether this is the case."
Phi Psi is a common nickname for Phi Kappa Psi, but the Swarthmore College Phi Psi has no affiliation with the national organization. Despite the lack of connection, Phi Kappa Psi told Newsweek they were "appalled and shocked" by the actions and supported the victims of sexual assault.
"In contrast, the membership of Phi Kappa Psi is diverse, and our policies have never restricted ethnicity, religion, sexual orientation or physical ability," Phi Kappa Psi said. "From day one of their affiliation, members are taught to treat all people with dignity and respect. We take pride in and celebrate the diversity of our great Fraternity and the positive contributions our members are making to society every day."
The documents, as published by Voices, a student-run publication at Swarthmore, detail various sexual encounters, including ones that were photographed and filmed possibly without consent. Also included in the documents were alleged conversations about women and minority groups that contained offensive language.
"Also how embarrassed would you be if you were in [Delta Upsilon] right now? Your parties suck, you have both a rape tunnel AND a rape attic (gotta choose one or the other)," one of the alleged Phi Psi "minutes" said.
Along with the leaked documents, an anonymous Tumblr titled "Why Swarthmore's Fraternities Must Go" was started for people to post their experiences, which included stories of rape.
After the documents were leaked, students staged a multiday sit-in at Phi Psi to urge the university to terminate leases with the fraternities.
Phi Psi representatives repeatedly pointed out that its current members were in middle school or high school when the comments were allegedly made, but also condemned the language used. Ultimately, on Tuesday, they made the decision to disband.
"We were appalled and disgusted by the content of these minutes, which led us to question our affiliation with an organization whose former members could write such heinous statements," Phi Psi wrote in a Facebook post announcing the disbandment. "We cannot in good conscience be members of an organization with such a painful history."
Delta Upsilon also issued a statement on Facebook, saying they hoped their former house would "provide a space that is inclusive, safe and promotes healing."
Smith said that she respected the students' decision and appreciated their strong condemnation of the behavior that was described.
This article has been updated to include comment from Phi Kappa Psi.