Iowa Man Blames Ignorance For Outrage Over Swastika Painting He Put Opposite School: 'People Don't Know What Their History Is'
A man from Des Moines, Iowa, has defended a swastika painting displayed in the yard of his house, which happens to be opposite an elementary school.
William Stark painted a number of flags on six wooden pallets, including the Confederate flag, a police-supporting "back the blue" flag, the Stars and Stripes, as well a composite American-Confederate flag.
Stark also painted a swastika in front of black bars and a red background on another pallet and decided to place all six in front of his house on Southwest 15th Street, which is adjacent to Morris Elementary School, the Des Moines Register reported.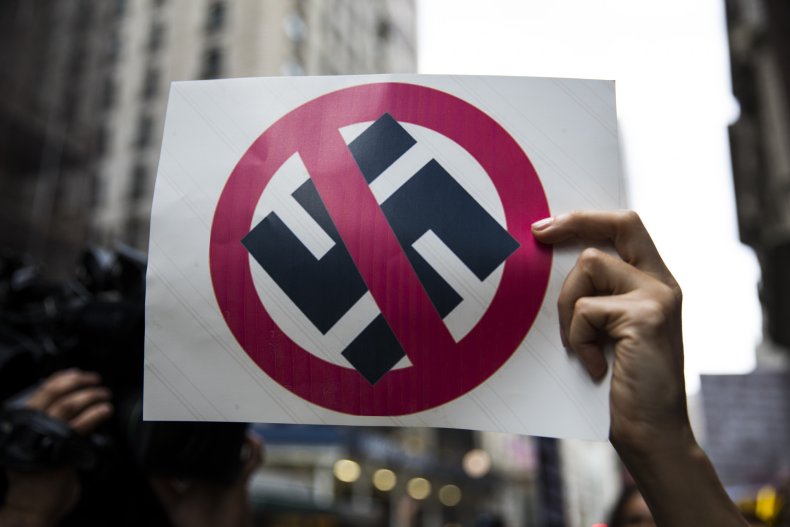 Anger about the painting spread quickly. Meg Viola, who has a son at the school, said she associated the symbol with "white supremacists," adding, "it's super offensive and just disgusting," We Are Iowa reported.
But Stark denied he was racist, telling CBS affiliate KCCI that he had only painted the swastika because a buyer had asked him to and then dared him to put it on his front lawn.
"He [the buyer] dared me to put it out with the rebel flags because he knew I got grief about the rebel flags," Stark said, adding that "people don't know what their history is."
"They turn things into different things. It could be religious if you know what a swastika is," he said, apparently referring to its status as a symbol in some Indian religions.
Stark told the network he is not bigoted "in the slightest," and did not support the Nazis, adding that his grandfather had fought during World War II.
Images of five of the pallets appear on Stark's Facebook page, minus the one with the swastika. He describes on his Facebook page that they had been painted by a "40 years professional painter" with "complete primer and finish coats."
City of Des Moines communications manager Al Setka said that even if the city finds the signs "inappropriate and repugnant" it must be noted that "these residents have First Amendment rights protecting their freedom of speech, especially in and around their homes."
"As ruled by the U.S. Supreme Court, 'such speech cannot be restricted simply because it is upsetting or arouses contempt,'" Setka added, according to the Register.
Newsweek has contacted the city of Des Moines for further comment.
In a statement, Des Moines Public Schools said the school had conflicts with Stark in the past and would call police if he sets foot on school property.
"We should all be sickened that someone would promote the hatred espoused by Confederates and Nazis within sight of the front doors of an elementary school," the statement said.