Family Finds Swastika Drawn on Head of Elderly Uncle at Care Facility: 'It Was Really Horrifying'
The family of a 65-year-old resident of a Toronto nursing care center were horrified when they went for a visit and found him disheveled, confused and with a Nazi symbol drawn on his scalp.
CityNews reported that Larry Morrow, who has Alzheimer's and Parkinson's disease, was found by his nephew Shane Morrow at the Glendale Care Centre in Toronto's Swansea neighborhood. His hair was unkempt, his clothes were dirty, he had bruises on his arm, and a swastika had been drawn on his head in what appeared to be magic marker.
"It was really horrifying," Shane Morrow told CityNews. "When he had come out, it looked like stitches on the top of his head. And then I kind of looked closer and my mom looked at me and I raised my eyes and said, 'Do you see that on his head?' ...and I took a closer look and it was a swastika, and I was horrified. My mom couldn't believe her eyes either."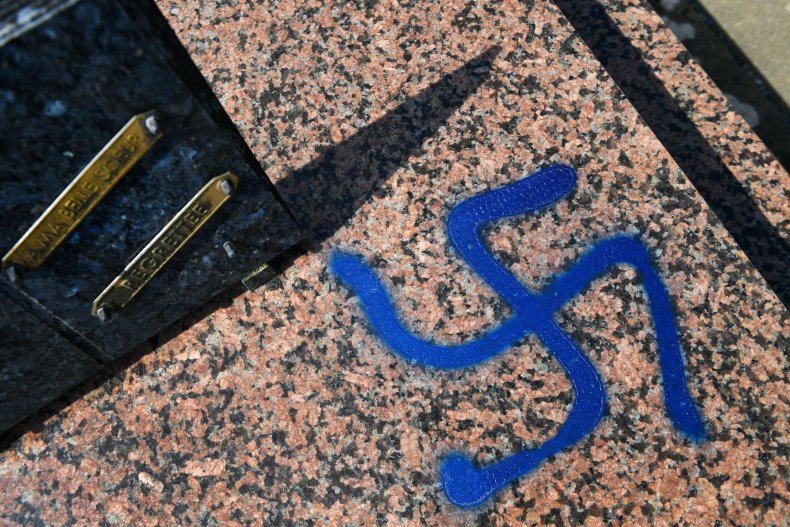 It was unclear how long the drawing had been on Larry Morrow's head.
Shane Morrow said that when he alerted staff to the bizarre drawing, they attempted to pick the marker off with their fingers before saying that another patient at the home had drawn it. When asked who it was, the staff claimed it was a "younger man" and he had been taken away by police. They also said that the assailant had drawn another swastika on Larry Morrow's back, but the staff had been able to wash it off.
According to toronto.com, an arrest was made and the man is in custody. The name of the suspect has not been released and it is not known whether he was a resident, staff member, or visitor to the care facility.
Larry Morrow has been a resident of the facility for two years, according to The Jerusalem Post. His family is waiting to place him into a retirement community. Glendale Care Centre is not licensed by the city of Toronto as a long-term care home, but rather as a rooming house.
The facility's website claims, "Glendale Care Centre believes that is the right of all people to be treated with dignity and respect. We believe that a home is a place where comfort is found, and all the 'members' of that home will have understanding, tolerance and support for each other."
CityNews went back to the facility with the Morrows several days later and found Larry Morrow alone in a corner, covered with the drying remains of his breakfast.
The Morrows are not Jewish, so it is unknown why the symbol was drawn on Larry's head. That hasn't stopped prominent Jewish groups and individuals from condemning the act and the situations at the facility that enabled it to happen.
Glendale Care Centre did not respond to Newsweek's request for comment.