Swastika, NY Town Board Votes To Keep Its Name, Cites Use In Hindu, Buddhism
The board members of a small community in northern New York decided last week to keep the area's controversial "Swastika" name after a visitor proposed a change earlier this summer.
Swastika is an unincorporated area within Black Brook, a small town located in Clinton County. Black Brook's town supervisor, Jon Douglass, told North Country Public Radio (NCPR) that the board did not think changing the name was necessary because of the term's meaning prior to its use in Nazi Germany.
The board discussed the name for about five minutes before voting unanimously to keep it, NCPR reported.
Douglass acknowledged that many in the U.S. think of the swastika in terms of its association with white supremacy, but he told NCPR, "I believe there are others that do not associate it with hate." Douglass pointed to the Hindu and Buddhist religions, both of which have used a version of the swastika icon to represent spirituality. The symbol in Sanskrit that is used in Hinduism, Buddhism and Jainism means "well-being," according to the BBC.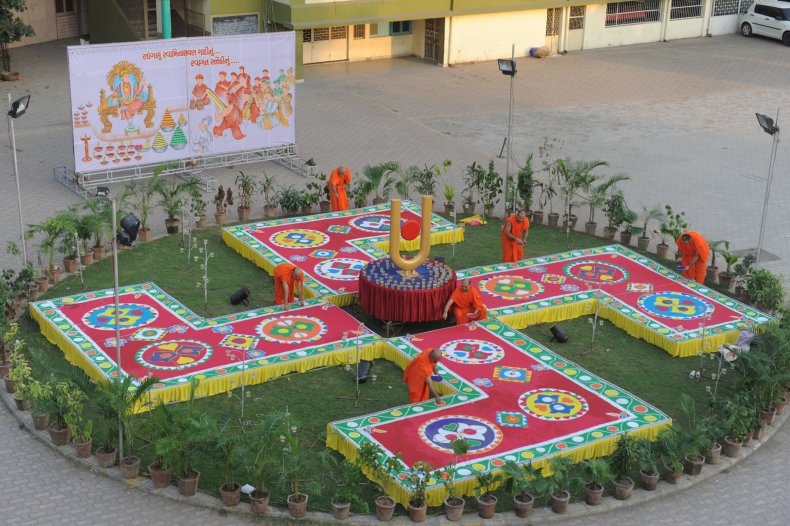 Swastika's original settlers decided on the name in the 1800s, and those who lived there in the wake of World War II defended the name for its original meaning, Douglass told NCPR. "Some of the residents that were from that area actually fought in World War II and refused to change the name just because Hitler tried to tarnish the meaning of swastika," he said.
The World Hindu Council of America (VHPA)'s American Hindus Against Defamation (AHAD) initiative has in recent months argued in favor of differentiating between the swastika used as a "sacred symbol" and the version used by Nazis, known as the Nazi Hakenkreuz. In July, the AHAD encouraged the New York Senate to make the distinction clear while considering a new piece of legislation, which proposed requiring "New York school children be educated regarding the meaning of swastikas and nooses as symbols of hatred and intolerance."
The proposed legislation would "perpetuate ignorance and promotes HinduPhobia in schools across New York state," AHAD Convenor Ajay Shah said in a statement.
The AHAD's statement went on to say that identifying the differences between swastikas used in religion and the version used by white supremacists was important in embracing cultural diversity.
"To label the Swastika as a symbol of hate would be a grave insult to 1.8 billion Hindus and Buddhists around the world," the AHAD said. "Maligning this ancient heritage would be a step backwards in promoting interfaith harmony and would lead to increase in hate crimes and Hinduphobia."
In a statement shared with Newsweek, Shah said, "We appreciate and welcome the decision made by the town of Swastika. We believe that the town of Swastika's decision is much more thoughtful than the NY State Senate's vote.
"Swastika is a sacred symbol, not just to those who are from dharmic traditions that originated from India, including Hindu, Buddhist, Jain and Sikh faiths but also in many other cultures including Southeast Asia, Native America, South America, parts of Africa and even ancient Europe. For the past 10,000 years, Swastika has been an integral part of temples and homes across Asia. No dharmic tradition home or temple would be complete without this symbol."
Newsweek reached out to Douglass for comment.
Update (9/25/2020, 6:20 p.m.): This article has been updated to include a response from AHAD Convenor and Executive Vice President of World Hindu Council of America Ajay Shah.