SWAT Leader Killed, 3 Officers Injured in Texas Standoff
Sergeant Josh Bartlett—the leader of the Special Weapons and Tactics team of the County Sheriff's Office of Lubbock, Texas (LCSO)—was killed during a standoff in Levelland, Texas on Thursday afternoon.
Three other police officers were wounded as a suspect barricaded themselves in a house, according to KCBD. One of the wounded officers was confirmed as a Levelland Police Officer. Two other officers—one from Lubbock County and one from Hockley County—who were also wounded are in critical condition. The names of the injured officers have not yet been publicly released.
Bartlett died at the Lubbock hospital, according to a statement from the Justices of the Peace and Constables Association of Texas. The three other injured officers were transported to the University Medical Center in Lubbock, Texas, nearly 30 miles away.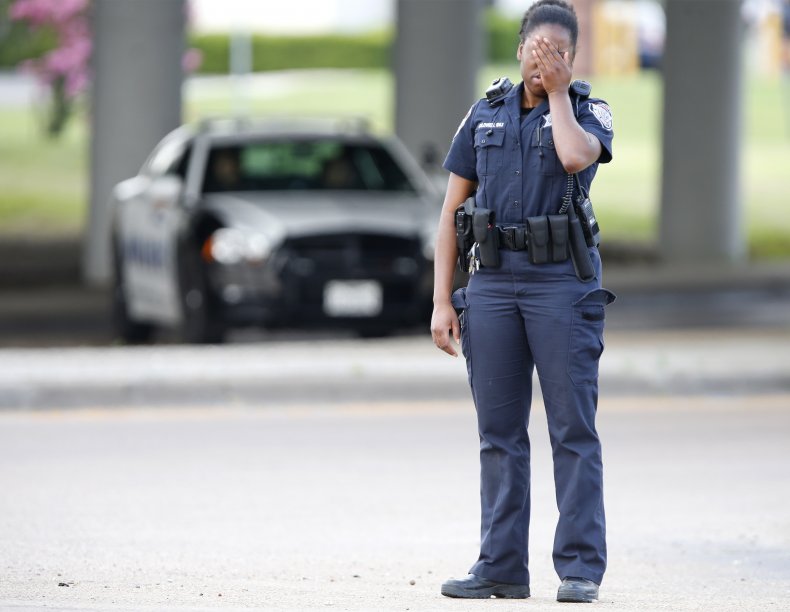 Levelland police received a call at 1:12 p.m. local time, reporting a possibly armed suspect, according to KCBD. The suspect reportedly barricaded himself inside the home after officers arrived.
The LCSO Swat Team responded at 2:15 p.m. to assist Levelland police after reports of shots fired. Bartlett was shot as officers exchanged gunfire with the suspect, the LCSO said in a statement.
"The Lubbock County Sheriff's Office is mourning the loss of one of our own," the LCSO wrote in a Thursday evening statement. "We appreciate the public's support during this difficult time and ask for continued prayers for [Bartlett's] family, both blood and blue."
The block where the suspect barricaded themselves contains a tire shop and a Mexican butcher shop, according to Google Maps. The Levelland Hockley Emergency Management has advised local residents to avoid the area as legal authorities address the incident.
Covenant Health Levelland, a hospital near the standoff site, went into lockdown as a precautionary measure, a hospital spokesperson said.
"We will remain under lockdown until any threat is clear," the hospital spokesperson told The Lubbock Avalanche-Journal. "We are supporting our community and law enforcement officers in Levelland and are keeping the Levelland community and the injured officers in our prayers."
Agents with the Texas Department of Public Safety and Lubbock's SWAT team remain onsite. The LCSO has said that it is working with the Levelland Police Department; The Texas Department of Public Safety; The Lubbock Police Department; Hockley County Sheriff's Office; the Bureau of Alcohol, Tobacco and Firearms; the Department of Homeland Security; the FBI and the US Marshal's office to resolve the standoff.
Newsweek contacted the LCSO for comment.